NEXT STORY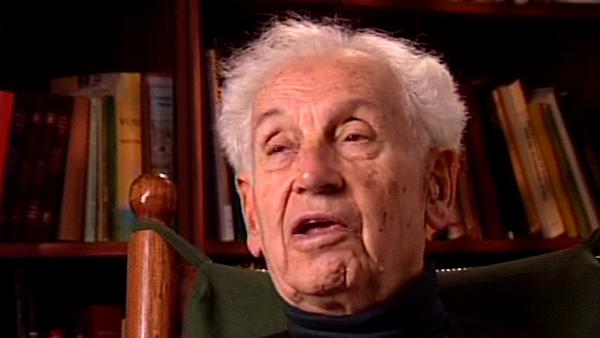 Reworking Principles of Systematic Zoology
Working with Earle Gorton Linsley
1
...
6
7
8
9
10
...
15
I discovered in the years after I'd published my Systematics and the Origin of Species that I hadn't said nearly enough on the actual methodology and the basic principles of… of modern systematics, particularly of the new systematics, that I really would need to write a book. There was a book in German by [Bernhard] Rensch which tried to fill that gap, but I didn't think it was particularly good, and so I sat down and wrote a manuscript, and had it pretty much completed, and talked about that with my entomological colleagues at the American Museum [of Natural History]. And one of them wrote this to an entomologist in California, Gorton Linsley. And Gorton Linsley wrote back, 'But my colleague Usinger and I have also just published… just completed such a manuscript'. And Linsley said, 'Well, couldn't we… Mayr and us two get together and make this into one book instead of having two competing books coming out?' And I was only interested in helping the field so I was perfectly willing to combine it with… with the manuscript of the others, and here came a very peculiar… coincidence, or accident is a better word perhaps. Linsley said, 'I am sending our manuscript to your house in Tenafly, and I am coming indirect, I have to go to a meeting in Florida, and then I come right up and see you'. So, he arrived at my house and he said, 'Now, how did you like our manuscript?' And I said there was no such manuscript, nothing reached me. And so we telephoned to his office in… in California and they said, oh that manuscript, just… they had unfortunately addressed it to Linsley at my Tenafly address and the post office had said, 'Addressee had moved back to California'. Well it turned out that Linsley had been doing… one summer when I was in Cold Spring Harbor, stayed in my house working at the American Museum and the mailman had the… this was more than three years earlier, the mailman had had the memory of an elephant. And he said, 'Oh yes, that man Linsley, he was here at one time, but he moved back to California'. So, without asking any questions or checking on anything he just immediately sent it back. So we had to, Linsley and I, we had to come to an agreement without me ever seeing their manuscript. And frankly speaking, it was a very difficult job to get these two manuscripts together and they were very much interested in all sorts of technicalities of publishing, what kind of paper to use, how big the print should be, what kind of a… dictionary to… to employ… that's all…. Well, anyhow we… we brought out that book in 1953, it wasn't bad but it wasn't very good either.
The late German-American biologist Ernst Mayr (1904-2005) was a leading light in the field of evolutionary biology, gaining a PhD at the age of 21. He was also a tropical explorer and ornithologist who undertook an expedition to New Guinea and collected several thousand bird skins. In 1931 he accepted a curatorial position at the American Museum of Natural History. During his time at the museum, aged 37, he published his seminal work 'Systematics and Origin of the Species' which integrated the theories of Darwin and Mendel and is considered one of his greatest works.
Title: Working with Earle Gorton Linsley
Listeners: Walter J. Bock
Walter J. Bock is Professor of Evolutionary Biology at Columbia University. He received his B.Sc. from Cornell and his M.A. and Ph.D. from Harvard. His research lies in the areas of organismal and evolutionary biology, with a special emphasis on functional and evolutionary morphology of the skeleto-muscular system, specifically the feeding apparatus of birds.
Tags: Systematics and the Origin of Species, American Museum of Natural History, California, Tenafly, Florida, Cold Spring Harbor, 1953, Bernhard Rensch, Earle orton Linsley, Robert Usinger
Duration: 3 minutes, 43 seconds
Date story recorded: October 1997
Date story went live: 24 January 2008