NEXT STORY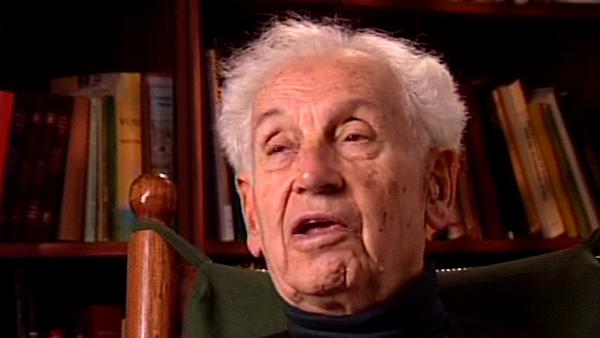 Discriminated against for being German
Applying for American citizenship
1
...
6
7
8
9
10
...
15
It so happens that my coming to America, particularly when looked at from much later times like now, seemed to coincide with the political situation in Germany. However, as I've often emphasized I got my offer in October 1930, and I came in January 1931 at a time when the Weimar Republic was still in power in Germany, and my coming had absolutely nothing to do with Hitler or the Nazis. Nor do I have any Jewish ancestors. Quite a few people think, well, he came to America, he's… he's probably part… part Jewish. Well, it so happens, I'm not. Not that I'm particularly proud of that but it simply is a fact. Well, when I got finally this very good offer from the American Museum [of Natural History] to become curator of the Whitney-Rothschild collection, naturally I accepted it. But my wife was German too, and we felt at that time, we still had a lot of the German ideas and ideals and culture and so forth, and we… have a saying that one doesn't change citizenship as one changes a shirt, and I was particularly, in a way, annoyed by all my British friends in the United States, none of whom ever bothered to become an American citizen. They said our British citizenship is good enough. I will stay… British. And I said, well, German citizenship is good enough too. Why should I change? Well, I did take out the first papers, and I said, well, if necessary, in due time I will probably feel American enough and I'll take out the second papers. Then when the situation became politically more difficult, Hitler marching into Poland or whatever it was, or… I applied for citizenship. I said, well, now is the time to become a citizen. Well, while it was being processed, America declared war on Germany and all naturalization proceeding were immediately stopped, so I was an enemy alien… legally, in America. And nothing particular happened for a long time, but one day about half a year later in the summer, a group of FBI [Federal Bureau of Investigation] agents came into our house and searched our house for, I guess, subversive literature or God knows what, and all we had as enemy aliens, we had to give away our… my… my bird gun I had to… to give to the police and… and our short wave radio and so forth. But anyhow the FBI came and of course they found… I never, for instance, I never read Hitler's Mein Kampf which they expected that every German would have had read. And, however, they… according to an order by the Attorney General or whatnot, as enemy aliens we had to be fingerprinted, we had to be photographed en face and from the side, and we were formally, I think, arrested and then released again. And if we hadn't had our two American-born daughters who were American citizens that way, I think we probably would have been among the many Germans that were at that time sent to concentration camps. However, we had a lot of trouble all through the war. My wife was not permitted to leave the little town of Tenafly without a permission from the Attorney General in Trenton, New Jersey.
The late German-American biologist Ernst Mayr (1904-2005) was a leading light in the field of evolutionary biology, gaining a PhD at the age of 21. He was also a tropical explorer and ornithologist who undertook an expedition to New Guinea and collected several thousand bird skins. In 1931 he accepted a curatorial position at the American Museum of Natural History. During his time at the museum, aged 37, he published his seminal work 'Systematics and Origin of the Species' which integrated the theories of Darwin and Mendel and is considered one of his greatest works.
Title: Applying for American citizenship
Listeners: Walter J. Bock
Walter J. Bock is Professor of Evolutionary Biology at Columbia University. He received his B.Sc. from Cornell and his M.A. and Ph.D. from Harvard. His research lies in the areas of organismal and evolutionary biology, with a special emphasis on functional and evolutionary morphology of the skeleto-muscular system, specifically the feeding apparatus of birds.
Tags: America, Germany, 10-1930, 01-1931, Weimar Republic, Nazi Party, American Museum of Natural History, Whitney-Rothschild Collection, United States of America, Poland, Federal Bureau of Investigation, Mein Kampf, World War II, Tenafly, Trenton, New Jersey, Adolf Hitler
Duration: 4 minutes, 7 seconds
Date story recorded: October 1997
Date story went live: 24 January 2008