NEXT STORY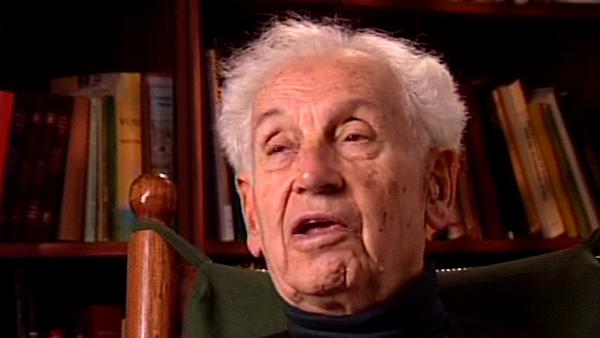 The natives
My first expedition: New Guinea
1
2
3
4
5
...
15
Finding the right kind of an expedition was not so easy as [Erwin] Stresemann had first told me. He first tried an expedition that was going to Peru, and that after a while didn't work out, they wouldn't want to have me. Then another one to Cameroon in Africa, and that looked more favourable, but ultimately also didn't work out. And then finally, some of my many famous accidents happened: Lord [Walter] Rothschild in England, who was the greatest private collector of birds, had an collector out in New Guinea who worked extremely well, sent lots of material. But he suddenly had a stroke and Rothschild needed a collector in New Guinea. And Professor Stresemann, who was very friendly with Rothschild and his curator of birds, recommended me very highly and it was... I was told to go to the International Zoological Congress in Budapest in September 1927 and meet Lord Rothschild. And I did, and I was presented to Lord Rothschild, and somehow or other he didn't object to my looks and he engaged me as his collector. Now came a very hectic time for me to get prepared for this, get all the equipment, learn how to skin birds, etc, etc. And finally in February 1928 I was ready to leave first for Genoa where I was supposed to take the steamer and from there on all the way east. Well, Stresemann and the whole bird department in Berlin went to the train station at the Anhalter Bahnhof to see me off, and I still remember how they looked at me... with a feeling, 'Well, are we going to see him again, or is this a final goodbye', because at that time there was a high mortality of people who went to New Guinea from diseases, trouble with the natives, etc. Well, I was on my steamer going first to Singapore and then to Java to Jakarta to... the old Batavia, then from there to the colonial museum in Java where I was very much... very warmly received, and they helped me a great deal. They taught me a good deal about what to wear and what equipment I needed in New Guinea, and they even lent me three Javanese assistants who had been on previous expeditions and were very good bird skinners, so that now I could – with a good deal more confidence – get going to New Guinea. And finally after seven weeks of travelling I arrived at the main port of Dutch New Guinea and unloaded my expedition and from there we went with a small fleet of canoes, outrigger canoes, across a wide bay to the... to the beginning where the... where we could start for the mountains. And there was a... a Javanese, or actually a Moluccan government official who sent word up to the mountains that he needed 30 porters. And sure enough two days later the 30 porters appeared and we distributed my belongings to these 30 porters, each one of them supposed to carry about 30 pounds, and off we went into the woods. And there was mostly not even a trail, we walked in the bed of a little mountain brook and finally there was a bit of a trail and after strenuous climbing for about six hours they decided we had done enough and we set up camp in the middle of the forest, and I had a tent but the others were just, sort of, lying on their straw mats. And the next day we reached a peak of the coastal range and descended into the valley behind to a village where I was then stationed for about six weeks sending out my collectors all the time.
The late German-American biologist Ernst Mayr (1904-2005) was a leading light in the field of evolutionary biology, gaining a PhD at the age of 21. He was also a tropical explorer and ornithologist who undertook an expedition to New Guinea and collected several thousand bird skins. In 1931 he accepted a curatorial position at the American Museum of Natural History. During his time at the museum, aged 37, he published his seminal work 'Systematics and Origin of the Species' which integrated the theories of Darwin and Mendel and is considered one of his greatest works.
Title: My first expedition: New Guinea
Listeners: Walter J. Bock
Walter J. Bock is Professor of Evolutionary Biology at Columbia University. He received his B.Sc. from Cornell and his M.A. and Ph.D. from Harvard. His research lies in the areas of organismal and evolutionary biology, with a special emphasis on functional and evolutionary morphology of the skeleto-muscular system, specifically the feeding apparatus of birds.
Tags: New Guinea, International Zoological Congress in Budapest, 09-1927, 02-1928, Genoa, Berlin, Anhalter Bahnhof, Singapore, Java, Jakarta, Batavia, Dutch New Guinea, Erwin Stresemann, Walter Rothschild, E Hartert
Duration: 4 minutes, 35 seconds
Date story recorded: October 1997
Date story went live: 24 January 2008