NEXT STORY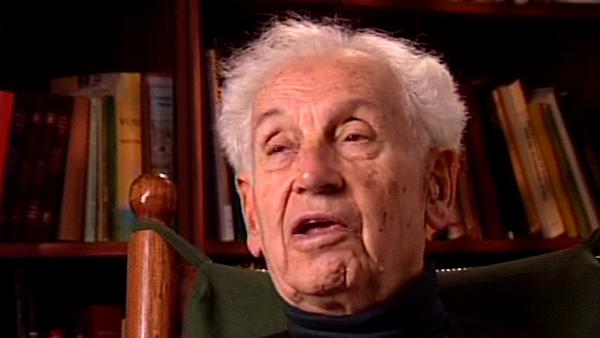 Helping European ornithologists after the war
Discriminated against for being German
1
...
6
7
8
9
10
...
15
When the war was ended I immediately said again to the naturalization people, 'Now I want to have my citizenship', and they delayed it, and… there were several things happened during the time also. For instance, there were two people who were my sponsors. One of the was Professor Schrader, whom you know of course, and… because he lived in the same town of Tenafly, and he asked the agents one… one day, he said, well, why don't you let Mayr… lift all these things, restrictions on him, he's as good an American as any of us? And this agent said, 'Well, if he was a baker or butcher or some tradesman like that, that's what we would do. But we don't trust these intellectuals'. And then, I say something which is the honest truth and it may be held against me when I say it now: my colleague Robert Cushman Murphy went down to the naturalization office in New York and he complained. This was already '46 or '47, several years after the end of the war and said, 'What is holding it up?' And that office at that time was entirely staffed to the last man by Jewish agents, and one of them said to Murphy, quote, 'As long as we are here, no goddamn German is going to be naturalized'. Now, this is an important thing to know because many people in America know that such things happen all over the world, but of course they couldn't happen possibly in America. Well, this has happened in America. I finally had to sue the naturalization service for citizenship and I came to a court case and I had to submit… my wife and I had to submit 50 statements from various American citizens among whom were, I think, 17 Jewish friends of ours, saying that we were perfectly good material for citizenship and there was no reason to hold it up any longer. And finally we got… we got it in 1950, too late to go to the Uppsala Congress and the office – the naturalization office with these particular agents – urged me to go to Uppsala on a German passport, and I said that's all they want in order to stop it again and, see, he's used the German passport to travel. See, how much of a American citizen he is. And so I couldn't go to the Congress because it might have again jeopardised my becoming an American citizen. I'm glad I had an opportunity now to say all this, I have never said this in public before, but all these facts can be checked in official documents, and we… neither my wife nor I… my younger brother for instance, when the Nazis came to power, was immediately dismissed and put in the army; there wasn't anybody in my family who was a Nazi. I had been fighting with Nazis when I was a student, so there was no justification for this treatment.
The late German-American biologist Ernst Mayr (1904-2005) was a leading light in the field of evolutionary biology, gaining a PhD at the age of 21. He was also a tropical explorer and ornithologist who undertook an expedition to New Guinea and collected several thousand bird skins. In 1931 he accepted a curatorial position at the American Museum of Natural History. During his time at the museum, aged 37, he published his seminal work 'Systematics and Origin of the Species' which integrated the theories of Darwin and Mendel and is considered one of his greatest works.
Title: Discriminated against for being German
Listeners: Walter J. Bock
Walter J. Bock is Professor of Evolutionary Biology at Columbia University. He received his B.Sc. from Cornell and his M.A. and Ph.D. from Harvard. His research lies in the areas of organismal and evolutionary biology, with a special emphasis on functional and evolutionary morphology of the skeleto-muscular system, specifically the feeding apparatus of birds.
Tags: World War II, Tenafly, New York, 1946, 1947, United States of America, 1950, Uppsala Concert & Congress, Uppsala, Nazi Party, Robert Cushman Murphy, Franz Schrader
Duration: 3 minutes, 46 seconds
Date story recorded: October 1997
Date story went live: 24 January 2008