NEXT STORY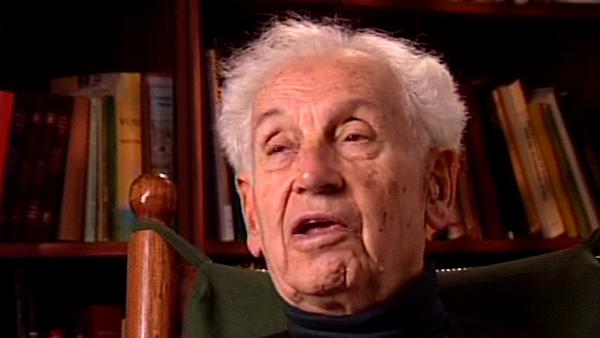 Reporting on building a canal
Serving on national commissions
1
...
8
9
10
11
12
...
15
In the National Science Foundation, eventually I moved up into the… to become the chairman of the… the divisional committee, I believe it was, and that took more time and having to write reports. Then I was assigned to the so-called Facility Panel, that is when scientific institutions in the United States wanted to build a new wing or a new laboratory or a… a climate chamber or anything that meant building or… or a new facility. And that had to be visited and it was a small committee and we would travel from… usually we… we checked on five or six of these facility applications and that took us through, let's say, St Louis and… and Kentucky and then down to Texas and then to California and so forth. Was quite time-consuming but also very interesting, and the person in charge from the National Science Foundation, Lou Levin, was a superb chairman of this group. He once… he knew institutions and applications and everything so well that, as we started out on a trip, he said, 'I can predict what the committee will decide for each of these', and then he wrote it on a piece of paper and sealed it in an envelope and at the end of the trip we opened it up and by God, yes, he had just about everything right. But it was, as I said, time-consuming. And finally there were two more of my… of those national things. One was I was chosen by the President of the National Academy [of Sciences], Phil Handler, to be on a special commission to study the life sciences and report on them. And I was very much an assistant of his in this thing, and we had to write very numerous reports. We had a number of meetings where the preliminary reports were analyzed and discussed and finally a quite a fat report came out. Unfortunately, I don't think, as is usually the case, I don't think the government paid much attention to… the recommendations that were made. And I think it was my work on this commission that impressed Handler so much that he nominated me for the National Medal of Science, far more than for my research, but… because, I got this Medal of Science at a rather early age.
The late German-American biologist Ernst Mayr (1904-2005) was a leading light in the field of evolutionary biology, gaining a PhD at the age of 21. He was also a tropical explorer and ornithologist who undertook an expedition to New Guinea and collected several thousand bird skins. In 1931 he accepted a curatorial position at the American Museum of Natural History. During his time at the museum, aged 37, he published his seminal work 'Systematics and Origin of the Species' which integrated the theories of Darwin and Mendel and is considered one of his greatest works.
Title: Serving on national commissions
Listeners: Walter J. Bock
Walter J. Bock is Professor of Evolutionary Biology at Columbia University. He received his B.Sc. from Cornell and his M.A. and Ph.D. from Harvard. His research lies in the areas of organismal and evolutionary biology, with a special emphasis on functional and evolutionary morphology of the skeleto-muscular system, specifically the feeding apparatus of birds.
Tags: National Science Foundation, United States of America, St Louis, Kentucky, Texas, California, National Academy of Sciences, National Medal of Science, Louis Levin, Philip Handler
Duration: 3 minutes, 1 second
Date story recorded: October 1997
Date story went live: 24 January 2008