NEXT STORY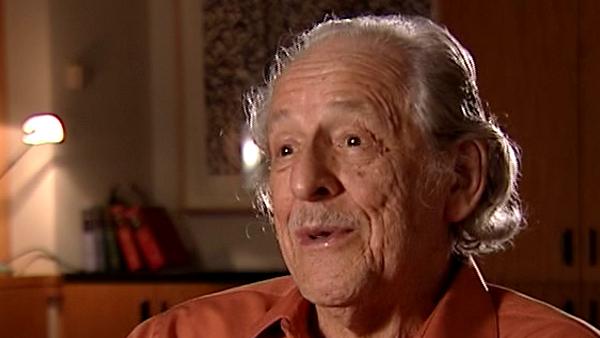 My first wife leaves me and coping as a single parent
Eugene Garfield
Scientist
1
2
3
4
5
...
9
Now, when I went to Columbia I had to pick a major. Now, I originally wanted to go to medical school and I had signed up for that, but they told me much later... I only, I was only at the summer session in Columbia and then I went back. By that time my, my first wife had moved to California and that's how I, I went out to Berkeley. She was already registered there. And, on the GI Bill, you know, I took the pre-med program, but then when I got through my... the VA, or whoever was in charge of, I guess, it's the VA that does that, they said to me, you don't have enough GI credits to finish a medical education, under this programme, which was called PL16, because you had a medical discharge you have to be able to be employed at the end of your education, so you've got to pick a different career objective, okay. So, that's how I decided to go into biochemistry. I, I picked a biochem major. And, so when I finished, however, 2 years at... Berkeley, my wife applied, I'd already been married by that time and she applied to medical school and got into Temple, and then we went, moved from Berkeley where we'd been living in Oakland, to New York. And, when I got to New York I signed up at Columbia but I couldn't get into medical school at that point and I wasn't going to be able to get the money for it, either. So, I became a, a chem major at Columbia and I went to, to Columbia to continue, and I graduated in '49 from there, and that was when I ran into the problem of finding a job.
Eugene Garfield (1925-2017) was an American scientist and publisher. In 1960 Garfield set up the Institute for Scientific Information which produced, among many other things, the Science Citation Index and fulfilled his dream of a multidisciplinary citation index. The impact of this is incalculable: without Garfield's pioneering work, the field of scientometrics would have a very different landscape, and the study of scholarly communication would be considerably poorer.
Title: Columbia and Berkeley
Listeners: Henry Small
Henry Small is currently serving part-time as a research scientist at Thomson Reuters. He was formerly the director of research services and chief scientist. He received a joint PhD in chemistry and the history of science from the University of Wisconsin. He began his career as a historian of science at the American Institute of Physics' Center for History and Philosophy of Physics where he served as interim director until joining ISI (now Thomson Reuters) in 1972. He has published over 100 papers and book chapters on topics in citation analysis and the mapping of science. Dr Small is a Fellow of the American Association for the Advancement of Science, an Honorary Fellow of the National Federation of Abstracting and Information Services, and past president of the International Society for Scientometrics and Infometrics. His current research interests include the use of co-citation contexts to understand the nature of inter-disciplinary versus intra-disciplinary science as revealed by science mapping.
Duration: 2 minutes, 22 seconds
Date story recorded: September 2007
Date story went live: 23 June 2009