NEXT STORY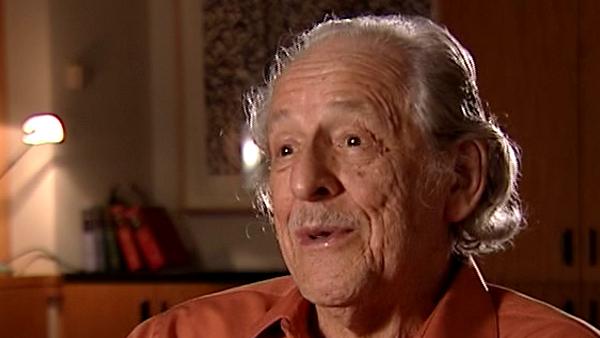 Childhood memories
My family and my relationship with my father
Eugene Garfield
Scientist
1
2
3
4
5
...
9
My grandpa... mother was a very important part of my life because my mother became a mother at the age of 16. My sister's 2 years older than me, and she was already... so my mother was only 16 years older than my, my sister. And... because my father basically deserted her, she had to go to work and so we spent a lot of time with my grandparents, stayed there constantly. And...
[Q] Did you ever meet your father or...?
Oh, yeah. It was a very... a very tempestuous family life. I... which, I... you know, I once wrote up as... Barry Blumberg and I belong to this club of 80-year-olds, you know, people who were born the, 1925, and we, we've been up to his place in Maine, every, every 5 years he has a gathering of six or seven scientists who were born that year, and they... I, I... they asked me to write my autobiography so I described all this. Basically I have the, I have a theory that probably my mother, I have no proof of this, but my mother probably got pregnant and my uncle was, was livid. Her older brother was... she had five brothers, and her oldest brother was a, a relatively successful businessman in the, in the garment district. He, he owned a company called Wolf & Barse, and I... later on I actually worked there. And, as I understood it, he got a hold of my father and, and beat him up, or they had a fight, and the two of them hated each other from that day forward, okay. And, every chance either one of them got to express that anger it got out, it affected us, you know, because on the one hand... I'm not saying my, my step, my father was actually not an angel by any... not only did he... what he did... he, I, he never did... I don't know, my sister was born, they must have lived together and then he left even before I was born, okay. And, the interesting thing about that is that he then later married the woman who then became his, his sweetheart, whatever, girlfriend, and they stayed together until, until he died, so he was married to the same woman, who, who I did meet. Her name was Anne. And, she was actually nicer to me than he was, but I did not see my father until I was about 5 years old. He came... I can still remember him coming to... we had a, a three-room, I think it was three-room apartment on the fifth floor of a tenement building in the East Bronx. And, that's when my aunt came to live with us. We stayed in one room, my sister was in another bed, and my, my mother must have slept in the other room, and then there was the kitchen. And, there were these two beds, my father was sitting on the one bed and I was sitting on the other looking at him, and he says, I want to show you something, and he pulls out a gun. My father was a bootlegger. Why he showed me the gun, I don't know, but you, you have to think about that he was probably, what, about 23 years old, and always think about that when, when I think about... you know, by the time I was, I was the father also, because later on I got... when I got married I was 21 and Stefan was born in 1947, so, I was born in '25, so by the time I was not even 22, Stefan was born, okay. And, so then after that I didn't see my father again for 5 years. He did everything possible to avoid helping my mother. He never, he... for 10 years he did not give us a nickel, okay. And my uncle, on the other hand, supported us, so he became a, kind of, a surrogate father even though I never... the only time I would ever see him was Friday night we'd all meet and my uncle would come, frequently with business friends, to partake of my grandmother's cooking which was really outstanding. And, so every Friday night we'd go there and all my, my uncles would be there and my mother, as I said, had five brothers from... she was the second oldest. My, the oldest was Sam, the, the one who hated my father, and then after them there were five other brothers, four others, Abraham, Nate, Hyman, and Bernard, Bernard.
Eugene Garfield (1925-2017) was an American scientist and publisher. In 1960 Garfield set up the Institute for Scientific Information which produced, among many other things, the Science Citation Index and fulfilled his dream of a multidisciplinary citation index. The impact of this is incalculable: without Garfield's pioneering work, the field of scientometrics would have a very different landscape, and the study of scholarly communication would be considerably poorer.
Title: My family and my relationship with my father
Listeners: Henry Small
Henry Small is currently serving part-time as a research scientist at Thomson Reuters. He was formerly the director of research services and chief scientist. He received a joint PhD in chemistry and the history of science from the University of Wisconsin. He began his career as a historian of science at the American Institute of Physics' Center for History and Philosophy of Physics where he served as interim director until joining ISI (now Thomson Reuters) in 1972. He has published over 100 papers and book chapters on topics in citation analysis and the mapping of science. Dr Small is a Fellow of the American Association for the Advancement of Science, an Honorary Fellow of the National Federation of Abstracting and Information Services, and past president of the International Society for Scientometrics and Infometrics. His current research interests include the use of co-citation contexts to understand the nature of inter-disciplinary versus intra-disciplinary science as revealed by science mapping.
Duration: 6 minutes, 7 seconds
Date story recorded: September 2007
Date story went live: 23 June 2009