NEXT STORY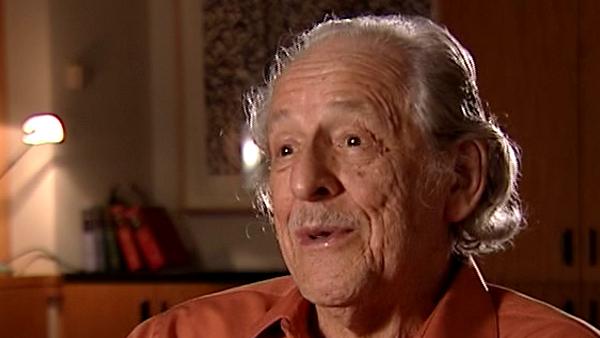 The Atlas of Science
Sharing information and encyclopedists
Eugene Garfield
Scientist
1
...
5
6
7
8
9
Brett had picked up on the idea that I had talked about in library school, I wrote a paper about what I called the librarians' encyclopaedia, and basically what it was was a system for getting reference librarians to co-operate in sharing their FAQs, they call them today, I don't know what they call them, frequently asked questions. So, the idea was that instead of people constantly looking up the same reference questions over and over again and doing the work, share the information. Well, back then in 1953 or '54 it wasn't all that easy to share information, and today it is. And so, then Brett came along and wanted to start kind of an online shared reference service, I think it was called, I forget the name of it. I actually invested in it, and before it even got to the point of losing all the money, which it was about to do anyhow, he died suddenly. Brett was, was a partner, I think, with Dick Kollin in starting Management Contents...
Magazine Contents.
Magazine Contents. I gave him the name. I said what are you doing, he didn't have the right name, I said what are you doing, it's the Magazine Index. That's what they wanted and they got it. Somebody else had given me the same kind of break with Current Contents when we named it, you know. So, anyhow, encyclopedism has always been kind of an interesting project. I wasn't aware, fully conscious aware, of various people who have written and done research on that: Paul Otlet and La Fontaine. I was just reading about this the other day; somebody has done that sort of research. You know Boyd Rayward, I think he's one of the people who has done a sort of biographical account of his work. People forget how old some of these ideas are. When I was at Oak Ridge I told them that it was Henri La Fontaine got the Nobel Prize for, peace prize, for his work with the International Institute of Bibliography. He and Otlet developed the system that was supposed to, you know, bring peace and humanity to the world. It was part of the League of Nations. Otlet did not share in that prize, but I think he was recognised when he got the award that he was a contributor. And they were, I guess, early predecessors to the idea that HG Wells had put forth, the world of the encyclopedia, and then all these other people picked up on it. So many people, like the guy in Canada, Goodman, he was an encyclopaedist guy. And then our friend Manfred Kochen, he was, Manfred was a wonderful guy, and he was obsessed with that too, I think, the world encyclopaedia idea. There were so many different people. And then there was the other encyclopaedist work, Neurath - remember that?
Hans Neurath.
Hans Neurath had this idea of the unified encyclopaedia- I forget what they called it.
Index to science or unified encyclopaedia.
We used to write about some of those things. We cited some of that work long ago. So, all of these things are now coming to fruition with this, Wikipedia. And now I understand the founder of Wikipedia is going off to do, now they want to have more of a peer reviewed kind of Wikipedia because Wikipedia has got so much junk in it that people are upset about the fact that it is not really authenticated. I don't know how much you've... I know that when they first started that thing I put in a couple of paragraphs about citation indexing, and the last time I looked at it I couldn't recognise what I had written; so many different people had made changes in it, which sort of took away what I thought was the thrust, the important stuff.
Eugene Garfield (1925-2017) was an American scientist and publisher. In 1960 Garfield set up the Institute for Scientific Information which produced, among many other things, the Science Citation Index and fulfilled his dream of a multidisciplinary citation index. The impact of this is incalculable: without Garfield's pioneering work, the field of scientometrics would have a very different landscape, and the study of scholarly communication would be considerably poorer.
Title: Sharing information and encyclopedists
Listeners: Henry Small
Henry Small is currently serving part-time as a research scientist at Thomson Reuters. He was formerly the director of research services and chief scientist. He received a joint PhD in chemistry and the history of science from the University of Wisconsin. He began his career as a historian of science at the American Institute of Physics' Center for History and Philosophy of Physics where he served as interim director until joining ISI (now Thomson Reuters) in 1972. He has published over 100 papers and book chapters on topics in citation analysis and the mapping of science. Dr Small is a Fellow of the American Association for the Advancement of Science, an Honorary Fellow of the National Federation of Abstracting and Information Services, and past president of the International Society for Scientometrics and Infometrics. His current research interests include the use of co-citation contexts to understand the nature of inter-disciplinary versus intra-disciplinary science as revealed by science mapping.
Duration: 4 minutes, 43 seconds
Date story recorded: September 2007
Date story went live: 23 June 2009