NEXT STORY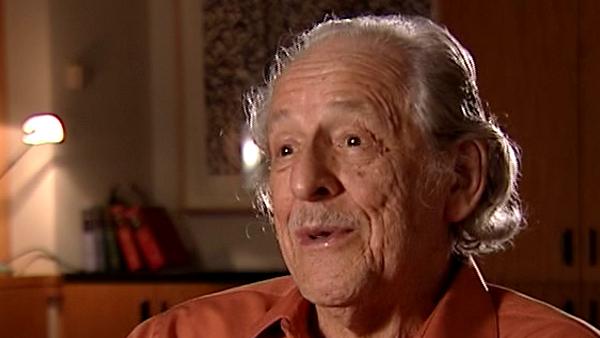 Duplication in research and a citator for patents
The future of open access and retractions in citations
Eugene Garfield
Scientist
1
...
5
6
7
8
9
It will be curious to see how much you really find out when books... full text of books are available, but maybe less than a lot of people assume you will find out. But it will be interesting, I'm sure. Whether you will ever overcome the objections of people like MacRoberts I don't know. They always said that...
[Q] You don't cite your influences.
He, he just... he must have passed away or something because I never hear anything more about them. They sort of withered away, I don't know what happened to them. Their field wasn't scientometrics, their field was really...
[Q] Botany.
Botany. It's too bad that we don't know them, probably someone will have written a good obituary if they did die. They were a couple I believe. Did you ever talk to them?
[Q] Never.
He was very strange. But I think they may have gotten somewhere, grants or something; I'm not sure. Anyhow people are... the field is so big now that there are issues that we talked about many years ago, and now people need to... want to re-review. I just got a request to referee a paper which apparently is about the degree to which retractions are reflected in citations. In other words, if people retract their results do the people find... do other people find out about it, to the extent that they stop citing the paper and all about the retraction? And a lot of people don't even know that WOS does a pretty good job in recording those retractions, you know. I think it was me and Marie McVeigh had to recently publish a rebuttal to something where they weren't even aware... it was in the Annals of Internal Medicine, and I think they published the letter we wrote pointing out that ISI has been processing retractions as corrections. It's a question of K coding; instead of calling them erratum, in some of the journals, we index all of those corrections as one code. But they're all there. They do a pretty good job of that when they find them. But that doesn't mean that people are going to find them, unless the two are linked, you know. That was the, actually when you think about it, that was the original basis for starting out the SCI, for launching it, when I wrote that paper in '55 I quoted... I think it was Professor Stanley or something like that, from Johns Hopkins, about the fact that people publish errors and they go on being cited, that unwittingly people keep on citing the same errors over and over. Well, that's because they didn't have citation indexes to help them. Now, if you have a citation index, unless it's automatically linked, there's no guarantee that you're going to look for those corrections. In the early days you had to teach people that; you couldn't expect them to find the corrections, although any citation could potentially be thought of as a correction. Why are you citing some earlier work? Hopefully you have improved on it or done something different with it, you know. But if it was a real serious error and it was known, it doesn't have to be a formal correction, someone just has to say well, so-and-so was wrong or I disagree with it. I remember when... it's sort of reminded me of when Professor Czapski came to visit, he always reminded us of a paper which he wrote once which put a stop to a field. Everybody had been, you know, citing some earlier work, which it turns out was completely wrong, and he then did this experiment which proved it was wrong, and then presumably citations to that earlier work stopped. But I never checked up on that. A lot of other people might have made the same claim.
Eugene Garfield (1925-2017) was an American scientist and publisher. In 1960 Garfield set up the Institute for Scientific Information which produced, among many other things, the Science Citation Index and fulfilled his dream of a multidisciplinary citation index. The impact of this is incalculable: without Garfield's pioneering work, the field of scientometrics would have a very different landscape, and the study of scholarly communication would be considerably poorer.
Title: The future of open access and retractions in citations
Listeners: Henry Small
Henry Small is currently serving part-time as a research scientist at Thomson Reuters. He was formerly the director of research services and chief scientist. He received a joint PhD in chemistry and the history of science from the University of Wisconsin. He began his career as a historian of science at the American Institute of Physics' Center for History and Philosophy of Physics where he served as interim director until joining ISI (now Thomson Reuters) in 1972. He has published over 100 papers and book chapters on topics in citation analysis and the mapping of science. Dr Small is a Fellow of the American Association for the Advancement of Science, an Honorary Fellow of the National Federation of Abstracting and Information Services, and past president of the International Society for Scientometrics and Infometrics. His current research interests include the use of co-citation contexts to understand the nature of inter-disciplinary versus intra-disciplinary science as revealed by science mapping.
Duration: 5 minutes, 2 seconds
Date story recorded: September 2007
Date story went live: 23 June 2009