NEXT STORY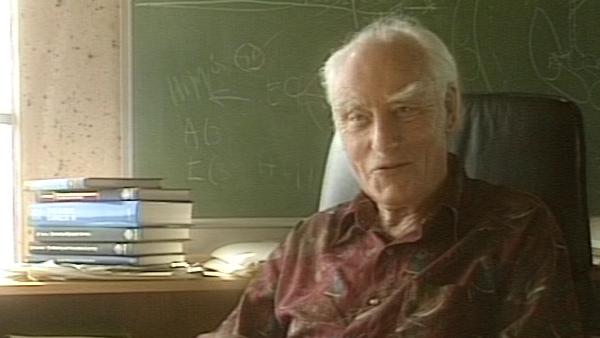 James Watson - the bald American
1
2
3
4
5
6
...
9
I had had some more experience and I had worked with… with scientists of some reasonable standing and so the reason I was able to get into the thing was because of personal recommendations of people who had known me during the war, essentially. Basically, [Harrie] Massey for whom I had worked, and he introduced to me to AV Hill who is a Nobel laureate and a physiologist, and he introduced me to the Medical Research Council, and so on. And then eventually after working in a tissue culture lab they set up this unit in the… in the physics lab and again I went and talked to [Max] Perutz and produced a sufficiently favourable impression, so it was all that sort of thing.
[Q] It sounds like a whole series of accidents then that somehow… I mean, were you gravitated by accident, do you think, into this… the right place at the right time issue, which was what you called it?
Well, as it looks like… as we know now, of course, it was that I was… it was an accident but I… I would have likely to have got into something with that degree of motivation and wanting to get into it. It might have been somewhere else, I mean, for all I know it would have been Oxford. Just… it was just that AV Hill was a Cambridge man and said you ought to go to Cambridge, you see. And so I went down and talked to several people in Cambridge and that's how I got started and then it was an accident that… that the Medical Research Council was setting up Perutz. And it was certainly an accident that Jim Watson came and that there was work going on in King's [College London] on the experimental side, so it was a whole series of accidents. But if you look at most people's careers, it is bound to be a series of accidents. I mean, what you have to ask is, what would they have done if this hadn't happened? Well, it clearly, in the case of the DNA structure, it was a very crucial thing because it gave one a reputation and made it easier to go around and do other things, but I would have expected, nevertheless, one would have done something. I didn't have very high expectations of doing things. I thought the problem would last me my lifetime. I had no idea it would be solved within 20 years, you see. I was… I mean, it was embarrassing almost, it got to the stage when, instead of this problem lasting for one's life, one had to look around for another problem. There's plenty to…plenty to do as we… as we already said.
The late Francis Crick, one of Britain's most famous scientists, won the Nobel Prize in Physiology or Medicine in 1962. He is best known for his discovery, jointly with James Watson and Maurice Wilkins, of the double helix structure of DNA, though he also made important contributions in understanding the genetic code and was exploring the basis of consciousness in the years leading up to his death in 2004.
Title: The road to Cambridge
Listeners: Christopher Sykes
Christopher Sykes is an independent documentary producer who has made a number of films about science and scientists for BBC TV, Channel Four, and PBS.
Tags: World War II, Nobel Prize, Medical Research Council, Oxford University, Cambridge University, King's College London, AV Hill, Harrie Massey, Max Perutz, James Watson
Duration: 2 minutes, 16 seconds
Date story recorded: 1993
Date story went live: 24 January 2008