NEXT STORY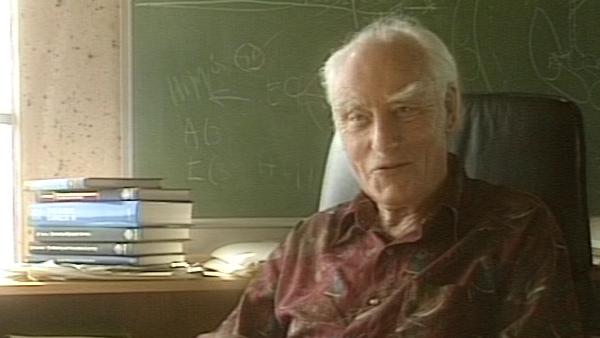 Gradual acceptance of the structure of DNA
Life Story - a dramatisation of our work on DNA
1
...
3
4
5
6
7
...
9
I think it gives a reasonable impression but I don't think it addresses very well how we interacted together because to do that you have to… to make… give it really some life. You have to go into the technical details which you can't do into a thing like Life Story so you get a rather superficially impression, you know. We just talked a bit here and there but, in fact, it wasn't like that. It was a lot of detailed arguments, some of which were quite off… off centre which, looking back, we can see were irrelevant and some of which were very elaborate or fairly elaborate, I wouldn't say very elaborate, fairly elaborate. And it's… it's that level of discussion that's important, to get down to the nitty-gritty and argue, you know, well this experiment shows this in this detail or could've been a mistake or what could have gone wrong there and should we ignore that and so on. It gets really quite… and it's very demanding, in other words you usually go on for hours and you wouldn't go on for hours unless you were very interested in the topic. You can easily exhaust somebody who isn't interested if you talk to them about it. So, you have to have two people who are both very interested in some topic and then they collaborate very closely, so I don't think that Life Story got that over so well. It just showed there was a collaboration and we had some mutual interests and there were one or two exchanges but it didn't show the depth of what we were doing.
The late Francis Crick, one of Britain's most famous scientists, won the Nobel Prize in Physiology or Medicine in 1962. He is best known for his discovery, jointly with James Watson and Maurice Wilkins, of the double helix structure of DNA, though he also made important contributions in understanding the genetic code and was exploring the basis of consciousness in the years leading up to his death in 2004.
Title: "Life Story" - a dramatisation of our work on DNA
Listeners: Christopher Sykes
Christopher Sykes is an independent documentary producer who has made a number of films about science and scientists for BBC TV, Channel Four, and PBS.
Tags: Life Story
Duration: 1 minute, 23 seconds
Date story recorded: 1993
Date story went live: 24 January 2008