NEXT STORY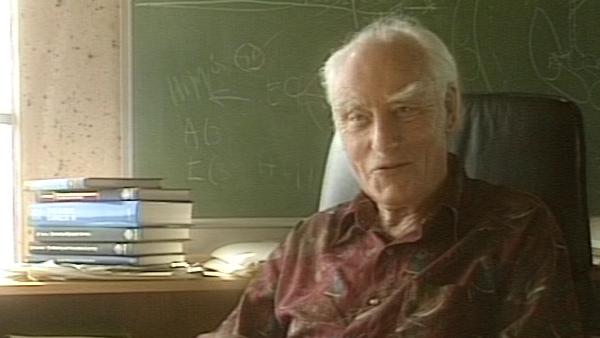 The question of qualia
How does the brain control memory and consciousness?
1
...
4
5
6
7
8
9
Well, there are various things people want to know like the general questions, what is the nature of memory? We already know now there are several types of memory. The… the… one way of expressing it is that the memory of knowing what you had for breakfast is not the same type of memory as the memory of what the word 'breakfast' means, or the third type, the memory of how you eat your breakfast. Those are different sorts of memories. We even have the beginning of understanding some of the molecular… some of the key molecules underlying one of those sorts of memories, one of the so-called glutamate receptors and so on. That's one sort of problem. And perhaps the key problem is how… is what is called consciousness, and in particular, to take a simple example, how it is we see things, how you're aware of the visible world outside. Why is it you just don't behave as an automaton with no picture of the world in your head, as it were, but just simply behave? As you can have… automata in… in factories nowadays making motorcars and things of that sort. They sense what the thing is in and then they make the right operations and so on, but there's no evidence that they've got any awareness. So that again is one of the… one of the key problems. And… and then the more elaborate forms of awareness like self-awareness, or even perhaps people would say the simpler ones like feeling pain, for example. So those are the major, major problems – how you see and hear and feel – and they're all extremely complicated. We know enough to know that the apparatus is very complicated. What we don't know is if there are simpler… simple ways of looking at the way it's all organised. That, we haven't yet discovered.
The late Francis Crick, one of Britain's most famous scientists, won the Nobel Prize in Physiology or Medicine in 1962. He is best known for his discovery, jointly with James Watson and Maurice Wilkins, of the double helix structure of DNA, though he also made important contributions in understanding the genetic code and was exploring the basis of consciousness in the years leading up to his death in 2004.
Title: How does the brain control memory and consciousness?
Listeners: Christopher Sykes
Christopher Sykes is an independent documentary producer who has made a number of films about science and scientists for BBC TV, Channel Four, and PBS.
Tags: memory, consciousness
Duration: 1 minute, 50 seconds
Date story recorded: 1993
Date story went live: 08 January 2010