NEXT STORY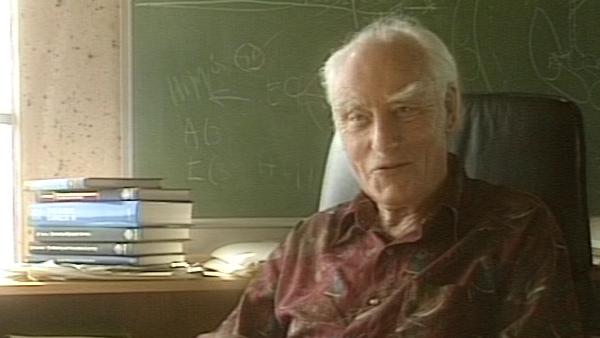 Cooperation and rivalry in science
Wining the Nobel Prize is a lottery
1
...
5
6
7
8
9
The most exciting thing was seeing the structure, no doubt about it at all. You must realise that although you have to have a certain merit to get a Nobel Prize, there's a certain amount of a… of a lottery about it. I mean, there are lots… I have… certainly friends and colleagues who I think ought to have Nobel Prizes who haven't got it, and I can think of one or two who have it who might perhaps not have been given… given it, you see. So it's… the… the… what's odd about the Nobel Prize is that to people outside science, it represents a particular thing. You either have a Nobel Prize or you don't. Within science, it isn't that. You have good scientists, some of them have got Nobel Prizes. Some of them don't have Nobel Prizes for what you might say trivial reasons. For… for example, [Vincent] Wigglesworth, who's the… the… founded the subject of insect physiology, he really ought to have had a Nobel Prize, but it doesn't apparently come… insect physiology doesn't come under physiology, you see. But, I mean, but he's perfectly… he's at that stature. And there are certain… you can find other examples of people, or you could find people who, just by the luck of somebody got a prize and theirs was so close… a little bit too close to it, therefore they haven't got it. But to lay people, on the other hand, it is a sort of label, you see. And among scientists, they… they notice whether people have got Nobel Prizes, but it isn't thought to be the overwhelming thing. In fact, there's sometimes a negative feeling that once you've got a Nobel Prize you won't do anything good after it. And there's a lot to be said for that. Most people don't do so well after they've got a Nobel Prize as they did before simply because they're getting older, I would say. I think it's certainly true in my case. The work I did before the Nobel Prize is better than the work I've done since. But I think… I think… again because I think younger people do the better work. That's one of the things you learn in science, that the people from about 25 to 35 to 45 are the ones who are really doing the interesting work. And the more intellectual the subject is, the younger the age. This is particularly true when you go to theoretical physicists and mathematicians; they do their work usually very young, and the more experimental it is and the less intellectual it is, then often the work… the best work is done later, as a general rule. But, of course, even that has exceptions.
The late Francis Crick, one of Britain's most famous scientists, won the Nobel Prize in Physiology or Medicine in 1962. He is best known for his discovery, jointly with James Watson and Maurice Wilkins, of the double helix structure of DNA, though he also made important contributions in understanding the genetic code and was exploring the basis of consciousness in the years leading up to his death in 2004.
Title: Wining the Nobel Prize is a lottery
Listeners: Christopher Sykes
Christopher Sykes is an independent documentary producer who has made a number of films about science and scientists for BBC TV, Channel Four, and PBS.
Tags: Nobel Prize, Vincent Wigglesworth
Duration: 2 minutes, 20 seconds
Date story recorded: 1993
Date story went live: 08 January 2010