NEXT STORY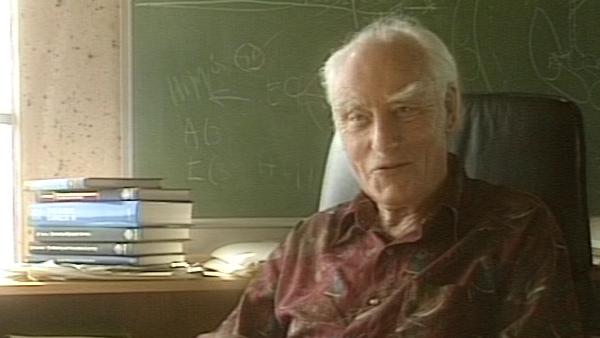 What makes science unique?
The effect of individual personalities in science
1
...
5
6
7
8
9
I think… well, I think the work of art is… has more personal quality in it but… but because you can have discoveries… can have discoveries made which are made by a number of people so it's not very personal. People have argued the other way, that… that, in certain cases, it's the personality of the scientist, and it certainly helps in the short term, I think, that the personality of the scientist can help sometimes – or perhaps sometimes hinder – in putting the ideas over. And probably one of the more important things that Jim Watson and I did was to put over the ideas because we were, sort of, felt… expressed ourselves fairly forcibly and fairly clearly, and we clearly… and we thought logically and so on, and we were keen to promote, or even do, in some cases, key experiments. So, I think we… we did contribute in… in that way. I don't think there's anything you'd see correspondingly in something Shakespeare did. It's not as if he ran a workshop for young… young playwrights and it's well known those things are not always terribly successful. And… and anyhow, the whole… the whole character, I think, of the enterprises are different because science builds in this slow way with one thing on top of the other, so you're always building on the results of what a lot of people have done beforehand. And although there is some truth of that in literature, in that you're adding on to a tradition, as it were, it's not nearly as strong.
The late Francis Crick, one of Britain's most famous scientists, won the Nobel Prize in Physiology or Medicine in 1962. He is best known for his discovery, jointly with James Watson and Maurice Wilkins, of the double helix structure of DNA, though he also made important contributions in understanding the genetic code and was exploring the basis of consciousness in the years leading up to his death in 2004.
Title: The effect of individual personalities in science
Listeners: Christopher Sykes
Christopher Sykes is an independent documentary producer who has made a number of films about science and scientists for BBC TV, Channel Four, and PBS.
Tags: James Watson, William Shakespeare
Duration: 1 minute, 20 seconds
Date story recorded: 1993
Date story went live: 08 January 2010