NEXT STORY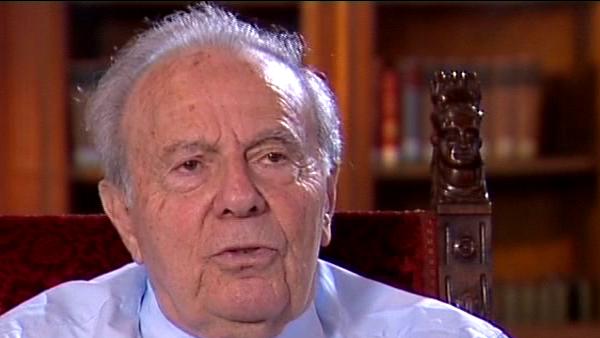 A discovery worthy of the Nobel Prize
Presenting the entire model
1
...
3
4
5
6
7
8
On annonce l'ensemble du modèle. Et alors là on a fait plusieurs trucs. Il y avait deux conférences... Oui, il y avait deux papiers. Parce que moi j'ai fait le papier sur cette histoire là. Sydney a fait je ne sais plus quoi. Et Monod a fait le truc général, qui était les conclusions théléonomiques, comme il disait.
[Q] Vous pouvez dire ce que c'est théléonomie d'ailleurs parce que c'est... c'était quoi? Ben je crois que ça voulait dire que... C'était pour dire... orienté vers une fin, mais ne pas utiliser le mot traditionnel.
Oui, c'est ça. Pour ne pas parler de théologie, il parlait de théléonomie. C'est exactement ça. Alors ça c'est le mot qui... Alors, oui c'est exact.
[Q] Mais vous étiez un peu les vedettes de ce Cold Spring Harbor...
Oui. A Cold Spring Harbor, on a été vraiment les vedettes, parce que là on est arrivé avec le truc tout frais et on a sorti ça... Attendez voir, parce que on n'était pas tellement les vedettes parce qu'il y avait Jim qui est arrivé avec l'ADN aussi. Non, c'était avant. C'était en 58. Là, c'était 61. Ça c'était 61. Jim, c'était quand? Parce qu'il y a eu un Cold spring... Moi, J'ai rien compris à l'article ou je n'ai pas lu beaucoup de très près les articles de Nature. Mais j'ai été à un Cold Spring Harbour où il y avait Jim qui a raconté son modèle. Je ne sais pas si vous voyez Jim avec la chemise sortie... Je l'ai vu plus âgé... Je l'ai pas vu à cette époque-là. Il y a des photos de lui avec la chemise dehors, le truc en l'air pour montrer-Avec sa façon de parler inimitable. Et là, c'était très clair, le modèle.
[Q] Mais ça devait être juste en 53, non? Ça devait être juste après l'article de 'Nature'.
Vous avez raison, c'était en 53.
We present the entire model. And then we did a series of things. There were two conferences... Yes, there were two articles. Because I wrote my article on that. I don't remember what Sydney wrote. And Monod wrote a general thing, which were the teleonomic conclusions, as he called them.
[Q] Can you tell us what teleonomy is because it's... What was it? Well, I think that it meant... it was to say... oriented towards an end, but without using the traditional word.
Yes, that's it. So as not to speak of theology, he would speak of teleonomy. That's exactly it. So that's the word that... so yes, that's right.
[Q] But you were sort of the stars of that Cold Spring Harbor...
Yes. At that Cold Spring Harbor, we really were the stars, because we arrived with something fresh and we came out with that... wait a minute, let me see because we weren't really the stars because Jim was also there with the DNA. No, that was earlier. It was in 1958. This one was in 1961. This one was in 1961. Jim, when was it? Because there had been a Cold Spring Harbor... I really didn't understand that article or I didn't really pay close attention to the Nature articles. But I attended a Cold Spring Harbor where Jim was explaining his model. I don't know if you remember Jim with his shirt hanging out... I saw him when he was older... I didn't see him at that time. There are photos of him with his shirt hanging out, his finger in the air to show... with his inimitable way of speaking... and at that point, his model was very clear.
[Q] But that must have been in 1953, don't you think? It must have been straight away after the 'Nature' article.
You're right, it was in 1953.
François Jacob (1920-2013) was a French biochemist whose work has led to advances in the understanding of the ways in which genes are controlled. In 1965 he was awarded the Nobel Prize in Physiology or Medicine, together with Jacque Monod and André Lwoff, for his contribution to the field of biochemistry. His later work included studies on gene control and on embryogenesis. Besides the Nobel Prize, he also received the Lewis Thomas Prize for Writing about Science for 1996 and was elected a member of the French Academy in 1996.
Title: Presenting the entire model
Listeners: Michel Morange
Michel Morange is a professor of Biology and Director of the Centre Cavaillès of History and Philosophy of Science at the Ecole Normale Supérieure. After having obtained a Bachelor in biochemistry and two PhDs, one in Biochemistry, the other in History and Philosophy of Science, he went on to join the research unit of Molecular Genetics headed by François Jacob, in the Department of Molecular Biology at the Pasteur Institute, Paris. Together with Olivier Bensaude, he discovered that Heat Shock Proteins are specifically expressed on the onset of the mouse zygotic genome activation. Since then he has been working on the properties of Heat Shock Proteins, their role in aggregation and on the regulation of expression of these proteins during mouse embryogenesis. He is the author of 'A History of Molecular Biology' and 'The Misunderstood Gene'.
Michel Morange est généticien et professeur à L'Université Paris VI ainsi qu'à l'Ecole Normale Supérieure où il dirige le Centre Cavaillès d'Histoire et de Philosophie des Sciences. Après l'obtention d'une license en Biochimie ainsi que de deux Doctorats, l'un en Biochimie, l'autre en Histoire et Philosophie des Sciences, il rejoint le laboratoire de Génétique Moléculaire dirigé par le Professeur François Jacob à l'Institut Pasteur. Ses principaux travaux de recherche se sont portés sur l'Histoire de la Biologie au XXème siècle, la naissance et le développement de la Biologie Moléculaire, ses transformations récentes et ses interactions avec les autres disciplines biologiques. Auteur de "La Part des Gènes" ainsi que de "Histoire de la Biologie Moléculaire", il est spécialiste de la structure, de la fonction et de l'ingénerie des protéines.
Tags: Cold Spring Harbor, 1953, Jacques Monod, James Watson
Duration: 1 minute, 51 seconds
Date story recorded: October 2004
Date story went live: 24 January 2008