NEXT STORY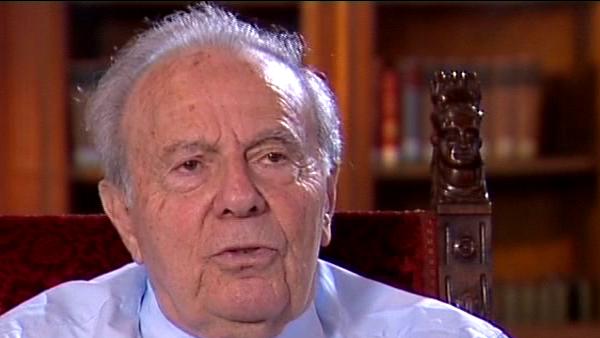 Francis Crick
The molecular biology community
1
...
3
4
5
6
7
8
There were, I don't know, maybe a maximum of 20 guys. And so there were meetings here and there. I remember several meetings. I think that the Rockefeller foundation had given a group constituted of Ephrussi, Ole Maaløe...
[Q] Did you ever meet Ole Maaløe?
He was a Dane, a very charming guy, very friendly. And then, there was Ephrussi, Maaløe who were the first geneticists... and probably Cavalli the Italian... had given some money to these guys do to a series of conferences. There was one in Denmark, there was one in Pallanza in Italy and then there was another one I don't remember where. And there were 15 or 20 guys, always the same ones. It was a very small... Roughly there were Delbrück's guys... there was the Delbrück-Luria group, Jim who came from it because he was Luria's student. In England there was Crick and Sydney. And there was us here. And that's it.
It's quite a change compared to nowadays... And everything happened by post or phone. We knew roughly six month ahead of publication what was being written, what everyone was doing. It was rather exceptional for a while.
[Q] You spoke of golden age when referring to that time.
Yes, that's more or less it. But I mean, there was... I particularly remember that story... I told you that there was a meeting at Sydney's with Francis. And it took place in Sydney's room in his college... King's or something like that. And they asked me to summarise what we were doing in Paris which I did. And the conclusion was... there needs to be something, an intermediary x. And that's when they leapt up and said, 'But about three weeks or a month earlier, I had made the exact same speech, exactly the same one, in Denmark, in Copenhagen, with the same guys, and not one of them bat an eyelid'. That's how it was!
Il y avait, je sais pas, 20 types à tout cassé. Et alors il y avait des réunions à droite et à gauche. Je me souviens de plusieurs réunions. Je crois que la fondation Rockefeller avait donné à un groupe qui était formé d'Ephrussi, Ole Maaløe...
[Q] Vous avez pas connu Ole Maaløe?
C'était le Danois, un type très charmant, très sympathique. Et puis, alors il y avait Ephrussi, Maaløe c'était les premiers généticiens... Et probablement l'Italien Cavalli-avait donné quelques argents à ces gars là pour faire une série de colloques. Il y en a eu un au Danemark, il y en a eu un à Pallanza en Italie et puis il y en a eu un je ne sais plus où. Et là il y avait 15 ou 20 types, qui étaient toujours les mêmes. C'était une très petite... En gros, il y avait les gens de chez Delbrück... il y avait le groupe Delbrück-Luria, Jim qui en était issu puisque c'était un élève de Luria. En Angleterre, il y avait Crick et Sydney. Et puis il y avait ici. Puis c'est tout.
Ça change beaucoup par rapport à l'époque actuelle... Et puis alors tout se passait par lettre ou par téléphone. On savait à peu près six mois avant la publication ce qui avait été fait, ce que faisait chacun etc. C'était assez exceptionnel pendant quelque temps.
[Q] Vous avez parlé de l'âge d'or d'ailleurs pour désigner cette période.
Oui, c'est un peu ça. Mais je vous dis, il y avait... Je me souviens en particulier de cette histoire là- Je vous ai dit qu'il y avait une réunion chez Sydney avec Francis. Et c'était dans la chambre de Sydney dans son collège... Kings ou quelque chose comme ça. Et alors ils m'ont demandé de résumer ce qu'on faisait à Paris et je leur ai résumé. Et la conclusion était... il faut qu'il y ait un truc, un intermédiaire x. Et c'est là où ils ont sauté en l'air et ont dit, 'Mais à peu près trois semaines ou un mois avant, j'avais fait exactement le même laïus, exactement le même, au Danemark, à Copenhague, avec les mêmes types, et pas un n'a moufté'. C'est comme ça!
François Jacob (1920-2013) was a French biochemist whose work has led to advances in the understanding of the ways in which genes are controlled. In 1965 he was awarded the Nobel Prize in Physiology or Medicine, together with Jacque Monod and André Lwoff, for his contribution to the field of biochemistry. His later work included studies on gene control and on embryogenesis. Besides the Nobel Prize, he also received the Lewis Thomas Prize for Writing about Science for 1996 and was elected a member of the French Academy in 1996.
Title: The molecular biology community
Listeners: Michel Morange
Michel Morange is a professor of Biology and Director of the Centre Cavaillès of History and Philosophy of Science at the Ecole Normale Supérieure. After having obtained a Bachelor in biochemistry and two PhDs, one in Biochemistry, the other in History and Philosophy of Science, he went on to join the research unit of Molecular Genetics headed by François Jacob, in the Department of Molecular Biology at the Pasteur Institute, Paris. Together with Olivier Bensaude, he discovered that Heat Shock Proteins are specifically expressed on the onset of the mouse zygotic genome activation. Since then he has been working on the properties of Heat Shock Proteins, their role in aggregation and on the regulation of expression of these proteins during mouse embryogenesis. He is the author of 'A History of Molecular Biology' and 'The Misunderstood Gene'.
Michel Morange est généticien et professeur à L'Université Paris VI ainsi qu'à l'Ecole Normale Supérieure où il dirige le Centre Cavaillès d'Histoire et de Philosophie des Sciences. Après l'obtention d'une license en Biochimie ainsi que de deux Doctorats, l'un en Biochimie, l'autre en Histoire et Philosophie des Sciences, il rejoint le laboratoire de Génétique Moléculaire dirigé par le Professeur François Jacob à l'Institut Pasteur. Ses principaux travaux de recherche se sont portés sur l'Histoire de la Biologie au XXème siècle, la naissance et le développement de la Biologie Moléculaire, ses transformations récentes et ses interactions avec les autres disciplines biologiques. Auteur de "La Part des Gènes" ainsi que de "Histoire de la Biologie Moléculaire", il est spécialiste de la structure, de la fonction et de l'ingénerie des protéines.
Tags: Ole Maaloe, Boris Ephrussi
Duration: 2 minutes, 52 seconds
Date story recorded: October 2004
Date story went live: 24 January 2008