NEXT STORY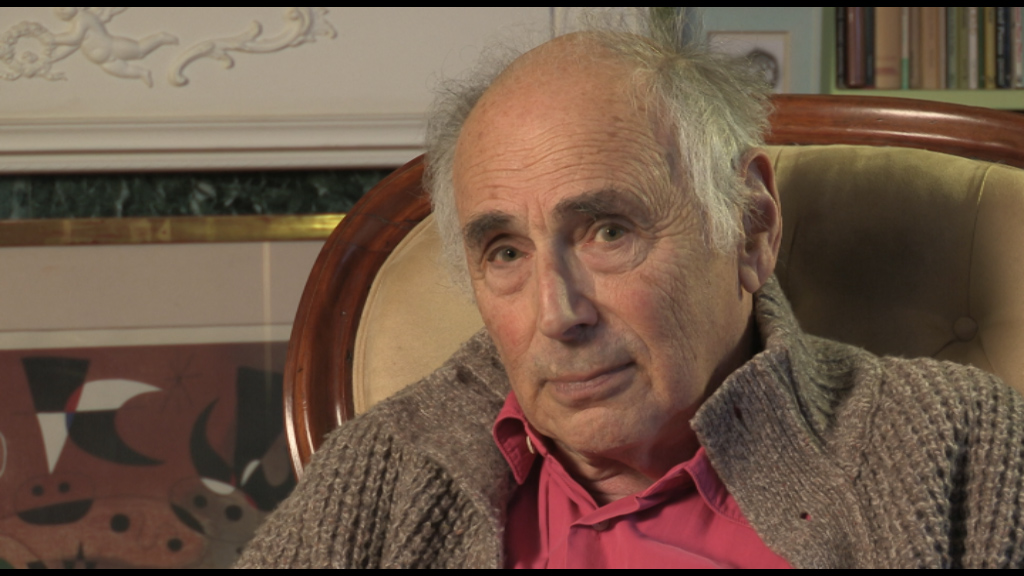 Bright people aren't always the most tactful
1
...
11
12
13
14
15
I think love is always a surprise. That's to say, it's not in the recipe. It only actually is discovered in the eating, so to speak. I don't think you can put love into a book and I... I remember that Pinter said that he could write any sort of scene except a scene of happy lovers. I think that told us more than perhaps one would like to know about... about poor Harold. I think when you're young, you tell girls... or in the 50s, you told girls you loved them and hoped that that would get their girdles and various other elaborate things off. I married very young and Beetle wasn't at all inhibited about saying that she loved me. And it was... it was an extraordinarily moving moment because I was an only child and my father had once said, when I was behaving I'm sure like a teenager, not without reason I suspect: we love you but we don't like you. I didn't really believe the love part and I was somewhat unnerved by the not liking part, but not very, because I knew that I was cleverer than my father, who was not a stupid man. And I sort of knew that I didn't want to live their life at all. I didn't want to live in the block of flats with a lot of gentiles or a lot of anything. And I did not want to be subject to love as a sort of limit to my life. And therefore I wrote a book called The Limits of Love in which I tried to suggest – very successfully this time – I tried to suggest, among other things that love was not a sufficient guide to how people should behave. God help me, I think I thought socialism might be, but never mind about that.
I was dubious of love because it had been oversold with wonderful comic propriety. The manager of the block of flats that we lived in in Putney was called Mr Love. He was also called Bernard. And he was a miserable, droopy man. I've written about it so I don't want to go on about him. Anyway. I thought that fucking beat love and I was keener on that than on the affection. But love will...you know, life will not meet your prescriptions. And Beetle was so extraordinary and found it so easy to be loving, or so it seemed to me, that she actually, so to speak, taught me to do it. Nabokov, who after all wrote some pretty difficult, strange, even macabre and perverse books, is one of the few writers who was able to do happiness. Happiness and love sort of go together. You can't arrange to be involved in either of them. They occur epiphenomenally, as the philosophers used to say.
There's a lovely story of Nabokov, a short story in which a couple are having a quarrel, I think in the Luxembourg Gardens in Paris. And the man looks up and he sees a child at the end of the alley looking at them. And he says to the woman, we can't behave like this. He is going to remember what he's seeing. Let's not be ugly to each other. Something of that order. That isn't happiness exactly but it's something to do with how you should look to the world. And how you look to the world is something to do with how you look to yourself and to each other. It's not a kind of different thing altogether. I like being happy with Beetle. I've enjoyed, you know, for a very long time, feeling that it's her and me. Not against the world but in the world. And that nobody else much matters. And my friend, Joe Epstein, with whom I correspond, and I were talking about friendship in our letters the other day. And I was saying, although it's not a particularly nice thing to say, There is virtually nobody in the world on whom I could not turn my back and walk away without ever thinking again, 'I wish I hadn't done that,' apart, of course, from my children and Beetle. And he said, well, I think that's what happy marriage does to you. If you are with a woman that you not only like to sleep with but also like a lot, then other people do become superfluous. And that has been my blessing. And if it's a curse – well then, that's the curse.
Born in America in 1931, Frederic Raphael is a writer who moved to England as a boy. He was educated at Charterhouse School and was a Major Scholar in Classics at St John's College, Cambridge. His articles and book reviews appear in a number of newspapers and magazines, including the Los Angeles Times and The Sunday Times. He has published more than twenty novels, the best-known being the semi-autobiographical The Glittering Prizes (1976). In 1965 Raphael won an Oscar for the screenplay for the movie Darling, and two years later received an Oscar nomination for his screenplay for Two for the Road. In 1999, he published Eyes Wide Open, a memoir of his collaboration with the director Stanley Kubrick on the screenplay of Eyes Wide Shut, Kubrick's final movie. Raphael lives in France and England and became a Fellow of the Royal Society of Literature in 1964.
Title: My thoughts on love
Listeners: Christopher Sykes
Christopher Sykes is an independent documentary producer who has made a number of films about science and scientists for BBC TV, Channel Four, and PBS.
Tags: Beetle, Vladimir Nabokov
Duration: 4 minutes, 50 seconds
Date story recorded: March 2014
Date story went live: 10 September 2014