NEXT STORY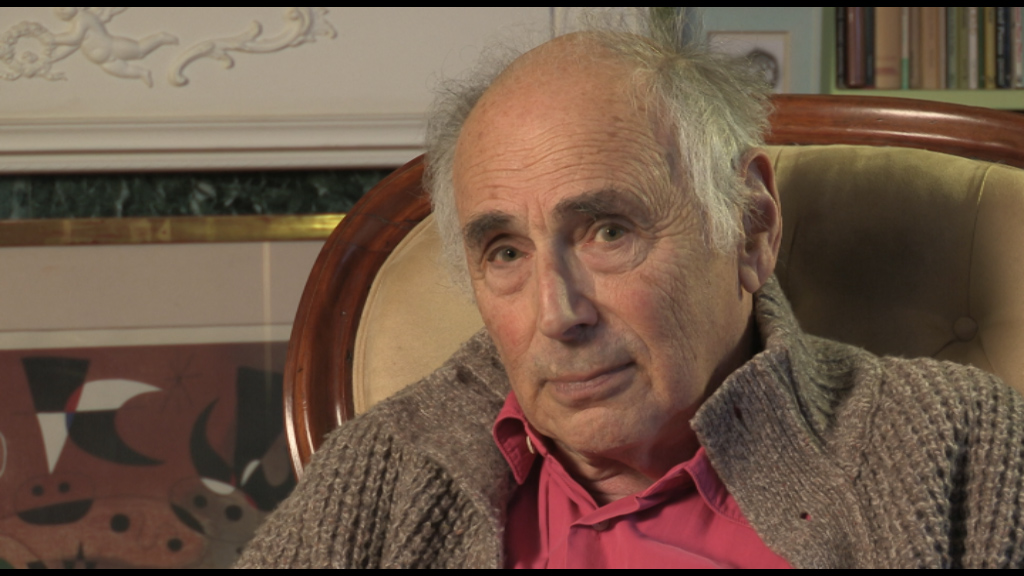 The scapegoat mechanism
An analysis of anti-Semitism
1
...
11
12
13
14
15
But I now cut to Luther. I cut to any number of European intellectuals, and you notice the 'warrant for genocide' – the phrase is Norman Cohn's said very calmly – is being prepared throughout the history of Christendom. And when the Jews were abandoned not only by, God knows, the Germans, the Ukrainians, the Hungarians, the Bulgarians... no, the Bulgarians was not so bad actually – very curious, that – nobody wished to save them, including the British and the Americans.
So that... should that make me feel very uneasy? No, because actually I'm the... I have the vanity of somebody who isn't threatened by eviction and the rage of somebody who notices how people who think well of themselves are actually capable of behaving. I notice for instance, with more irony than anything else, that Christopher Ricks – supposedly our greatest living critic of English and a master of nuances – actually said that the Holocaust was an improper term to apply to the murder of 6 million or so Jews. Of course, nice that they... people now argue about whether it was 500 and... 6 million five hundred or 6 million two or 5 million nine or whatever it is. I don't really think we need to do that. Anyway, Christopher Ricks said, number one, the Holocaust should not have a capital H. I don't know why not. But more important, he said it wasn't a holocaust because the Jews were not entirely consumed by fire. Well now again you come to one of those professorial excuse-me-but-may-I-just-say-something' moments. A holocaust of, for instance, an ox in a Greek ceremony – 'olo' means 'the whole,' 'kaust' means 'burnt' – the holocaust of an ox is a perfectly legitimate expression. It doesn't mean that all the oxen in the world have to be burnt before it's a genuine holocaust. It means the one that's being sacrificed has to be wholly burnt. And if you don't think that a large number of Jews were sacrificed on the altar of German vanity, rationalism, the Enlightenment, Christianity and what else have you got, then you don't know anything about anything. There's nothing wrong with calling people who throw babies into ovens – and that has happened literally, I'm not talking about gas ovens, and other people – there's nothing very wicked about accusing them of committing a holocaust because that's what they've done. So what is this fancy chat which always surrounds the Jewish issue? Anti-Semitism becomes a very elaborate, diagnostic matter. So although you may say 'bloody Jew' or, in the very recent case, make a gesture which is associated with anti-Semitism, that doesn't mean you're really anti-Semitic. So really anti-Semitic now becomes a metaphysical condition – meta and physical – because it's supposed to be that you can somehow discover whether people are really anti-Semitic or just saying something silly. And the answer is, I wouldn't bother because I don't believe it's ever a particularly serious belief, except with nutcases. On the whole, it's a form of trendiness, it's a form of declaring who you are by declaring who you're not – quite an important aspect of nationalisms of various orders and endlessly repeated.
Does it matter? Oh, I don't think it matters a lot if what you mean is you don't want me in your club. It matters a bit if you're going to kill my children. Or deny them an education as St Paul's and Winchester and Eton both tried to do with Jews immediately after the... after the Holocaust. Because of course, although they didn't mean it, old man, they sort of saw their opportunity to finish the work that Hitler began. I'm sorry, but I do think that. And that's why I also think that although I perfectly understand the deep scruples which lead people to examine Israeli behaviour with quite incredible care, I cannot quite let go of the fact that if Israel had not been founded on other people's land by people who did really, really bad things like hanging people who'd been hanging them, etc, etc, all of which I deplored... I was absolutely on the side of our people. How could the bloody Irgun Zvai Leumi and the Stern Gang do those things? Yes, okay. If Israel had not been founded partly because Balfour – as many people including friends of mine have said through a basic misunderstanding of what Jewish power in 1917 was – he didn't really grant a homeland to the Jews in Palestine out of the goodness of the British heart, he did it because he feared that Jewish international finance – always a very overrated enterprise – might be favourable to a German victory. So they said, tell you what, don't... don't side with them. We'll give you a bit of Palestine. What do you say? In whatever toffy accent Balfour used.
Born in America in 1931, Frederic Raphael is a writer who moved to England as a boy. He was educated at Charterhouse School and was a Major Scholar in Classics at St John's College, Cambridge. His articles and book reviews appear in a number of newspapers and magazines, including the Los Angeles Times and The Sunday Times. He has published more than twenty novels, the best-known being the semi-autobiographical The Glittering Prizes (1976). In 1965 Raphael won an Oscar for the screenplay for the movie Darling, and two years later received an Oscar nomination for his screenplay for Two for the Road. In 1999, he published Eyes Wide Open, a memoir of his collaboration with the director Stanley Kubrick on the screenplay of Eyes Wide Shut, Kubrick's final movie. Raphael lives in France and England and became a Fellow of the Royal Society of Literature in 1964.
Title: An analysis of anti-Semitism
Listeners: Christopher Sykes
Christopher Sykes is an independent documentary producer who has made a number of films about science and scientists for BBC TV, Channel Four, and PBS.
Tags: Israel, Palestine, Holocaust, Christopher Ricks
Duration: 5 minutes, 3 seconds
Date story recorded: March 2014
Date story went live: 10 September 2014