NEXT STORY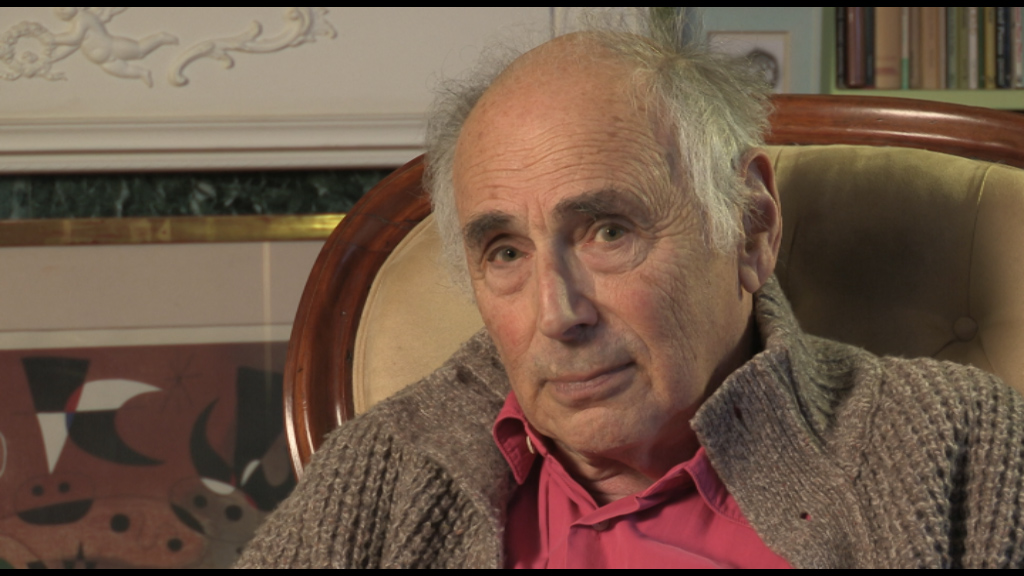 Effect of anti-Semitism on my early academic life
How I became an – unwilling – Charterhouse Scholar
1
2
3
4
5
...
15
So went to Winchester to take the scholarship with a friend of mine called Richard Bird who had been in America all his... all during the war; he was a linguist, I think. And the rule at Winchester was that you took the scholarship exams and they then added up the marks and the list was posted in the window of a bookshop, I can't remember the name of the bookshop, and those on the list went forward to the next stage whatever it was, or went to interviews. But there was a thing which happened which was that the gross marks determined the order in which people appeared on the list in the window, but there was something called 'weight for age' which meant that younger people got some kind of dividend for their few months, and Richard Bird was one of them... advantage over the older ones. Anyway, I came fourth in the list of scholars which appeared in the window, and since there were 12 scholarships my headmaster, Mr Workman, assured me that I was going to get a Winchester scholarship, and I believed him. I believed most people when they tell me anything actually and I still do; even though in principle I distrust everybody, in practice I trust exactly the same people pretty much. Anyway, but I did have to have an interview with the headmaster and a panel of his colleagues. Okay, so I went to my interview and his name was Canon Leeson. He was a Church of England clergyman. And he said to me more or less out of the... he didn't quiz me about Greek irregular verbs or any of the other things which I was quite competent at and he didn't ask me to recite chunks of Cicero which I was perfectly capable of doing. He certainly didn't ask me to explain the philosophy of Plato in simple terms or anything like that. No. He asked a few questions, I can't remember what, and then he said, 'What do you feel about going to chapel?' And I said in... I think quite honestly, but like an honest trimmer, 'It doesn't bother me. I went to... I go to chapel at my prep school' – I didn't mind going to chapel. And there was a kind of... look, or at least so I now somehow can wish upon these long-dead faces, and off I went. And when the edited list of scholars was published in the window of the bookshop I had lapsed from fourth place to 13th place and Richard Bird who had been in 11th place had advanced to fourth place and there were only 12 scholarships. So Mr Workman was stunned. And by this time we had gone back to Sussex where the prep school was originally positioned, and he couldn't believe it but there it was. He agitated a bit but they said, you know they were willing to accept me as a Commoner or an Exhibitioner or something, but my father couldn't afford the full fees of Winchester because his salary was not high enough and so, I was told I was not going to Winchester after all. Now, I had to take another scholarship fast. We were now towards the end of the summer and in those days the public schools had sort of echeloned exams. So, there was only one school left which my headmaster thought appropriate, worthwhile, and that was Charterhouse of which I had never in my life heard even though one of the masters had actually been there. So, with the bad losing tears, for which I'm afraid I have been well known – if I'm well known at all – I sat down to take the Charterhouse exam and sniffling and blubbing I wrote my way through all of the papers and of course since I had been well coached and since I was on automatic pilot, I steered a pretty good course, did all that I had to do and since there was no interview to get into Charterhouse, nobody asked me how I felt about chapel so I was awarded the whatever it was, I think it was the fourth or fifth Charterhouse scholarship and in the Oration Quarter, as Carthusians used to called it, of 1945 I went to Charterhouse absolutely without any wish whatever to do so; I rather wished I'd gone to St Paul's like my father had, but London was in this era of turmoil and there it all was. So I was a Scholar.
Born in America in 1931, Frederic Raphael is a writer who moved to England as a boy. He was educated at Charterhouse School and was a Major Scholar in Classics at St John's College, Cambridge. His articles and book reviews appear in a number of newspapers and magazines, including the Los Angeles Times and The Sunday Times. He has published more than twenty novels, the best-known being the semi-autobiographical The Glittering Prizes (1976). In 1965 Raphael won an Oscar for the screenplay for the movie Darling, and two years later received an Oscar nomination for his screenplay for Two for the Road. In 1999, he published Eyes Wide Open, a memoir of his collaboration with the director Stanley Kubrick on the screenplay of Eyes Wide Shut, Kubrick's final movie. Raphael lives in France and England and became a Fellow of the Royal Society of Literature in 1964.
Title: How I became an – unwilling – Charterhouse Scholar
Listeners: Christopher Sykes
Christopher Sykes is an independent documentary producer who has made a number of films about science and scientists for BBC TV, Channel Four, and PBS.
Tags: Winchester College, Charterhouse
Duration: 4 minutes, 56 seconds
Date story recorded: March 2014
Date story went live: 13 August 2014