NEXT STORY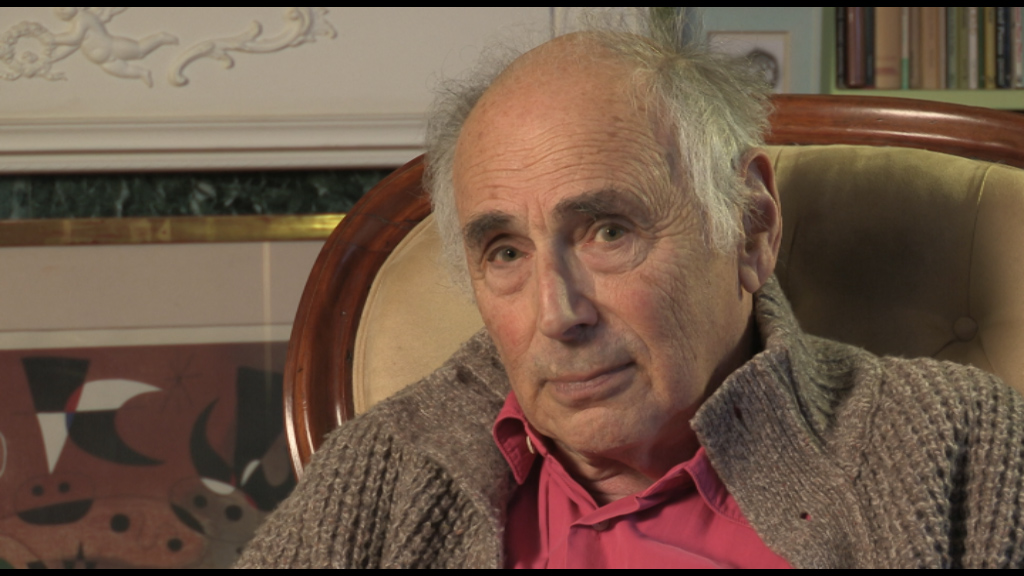 Rubbing shoulders with the workers
1
2
3
4
5
...
15
My father had a friend called Guy Ramsey who was the Daily Telegraph... he was on the Daily Mail and he had scooped the rest of the press by discovering where Rudolf Hess was hiding, or had been hidden after he landed in Scotland in 1941. And Guy was a hotshot journalist and he wore his coat round his, you know, round his shoulders and he had a hat and an umbrella. Anyway, a very sweet man, and I said to him you know, I was going to go to see the guy, at the Sunday... Daily Express and he said, well tell me how you're getting on. So I went to see the news editor who was slumped in his seat with ash and... he was... news editor of the Sunday Express, you know, was a high office, but it also was a high office which had Max Beaverbrook sitting on it night and day. Anyway, so Stanley Head said, 'What makes you think that you could be a journalist?' And I said... I said whatever I said, I don't believe I would have mentioned the Cambridge scholarship, I wasn't that stupid anyway. So he said, 'Well, I don't know. Brockie seems willing to take you on. We can't pay you more than just you know, a few bob expenses'. I said,' I don't mind about the money, sir, I don't want money'. Money! Jews and money was a thing which had always obsessed me. I wished I'd not been Jewy, God help me. Anyway, so Stanley Head said, 'Well, what you'd better do is you'd better go and do some kind of a story, you know. Find something to write about in the street or something, and write me the story and bring it back and you know, I'll tell you whether or not we can actually, you know, allow you to come into the newsroom'.
I had done verses like Ovid. I had done proses like Cicero. I had written Greek verses like Sophocles, you know, and I now had to do a news story for the Sunday Express. So, in my best English essay prize-winning form, I wrote up whatever it was that I wrote up. And because I wasn't entirely conceited or stupid, I thought I'd just show it to Guy Ramsey before I showed it to the news editor of the Sunday Express. So I showed it to Guy and I said, 'Do you think I need to do anything to this?' And Guy who was a very nice man said, 'Oh yes', he said, 'I think you should do something to it. I think you should tear it up. Because', he said, 'you've got semicolons in this!' He said, 'There isn't such a thing as a semicolon in the Daily Express or the Sunday Express or the Evening Standard. And', he said, 'you've got three syllable words in it!' The bottom line is then, I would say, is writing for the Express, it doesn't have to be followed, but the basic rule is: no sentence longer than three words, no paragraph longer than three sentences, and no story longer than three paragraphs. It's not an absolute rule, but if in doubt apply it. So what we're going to do is... Well, I am quite a quick learner, you have to be, that's what I did in the Classics, that's what Classicists do, they imitate. So I re-did it with Guy's guidelines and took it in to Stanley Head, and he was still slumped there and… 'It's not bad, okay, come in on Tuesday'.
Born in America in 1931, Frederic Raphael is a writer who moved to England as a boy. He was educated at Charterhouse School and was a Major Scholar in Classics at St John's College, Cambridge. His articles and book reviews appear in a number of newspapers and magazines, including the Los Angeles Times and The Sunday Times. He has published more than twenty novels, the best-known being the semi-autobiographical The Glittering Prizes (1976). In 1965 Raphael won an Oscar for the screenplay for the movie Darling, and two years later received an Oscar nomination for his screenplay for Two for the Road. In 1999, he published Eyes Wide Open, a memoir of his collaboration with the director Stanley Kubrick on the screenplay of Eyes Wide Shut, Kubrick's final movie. Raphael lives in France and England and became a Fellow of the Royal Society of Literature in 1964.
Title: Stymied by a semicolon
Listeners: Christopher Sykes
Christopher Sykes is an independent documentary producer who has made a number of films about science and scientists for BBC TV, Channel Four, and PBS.
Tags: Sunday Express, Guy Ramsey, Stanley Head
Duration: 3 minutes, 49 seconds
Date story recorded: March 2014
Date story went live: 13 August 2014