NEXT STORY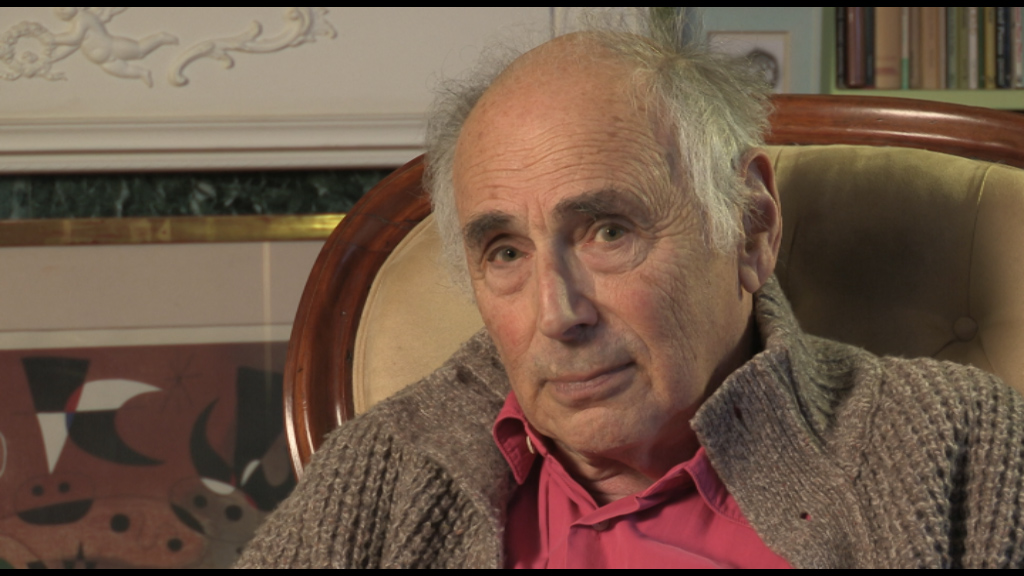 A published author by the age of 23
1
...
4
5
6
7
8
...
15
And eventually the time came when we had to go back to England, sometime I think, in... probably in early April. The book was finished and typed out. And we went back and we took a room in Vicarage Gate with a gas fire, a gas ring. Very simple. And we stayed there and I met up again with Leslie Bricusse. Now Leslie Bricusse had been transformed, as I had been, but by no means in the same way, because during my absence he had been, thanks to Jock Jacobson, he had been in a show on in the West End with Beatrice Lillie. Now Beatrice Lillie in those days was a very famous comedienne from the 30s and probably the 20s as well. She had... did a one man show, but she couldn't be on the stage all the time so Leslie had to do the bits in between. Her show was a great success, and Leslie received the worst notices anybody could possibly imagine, because of course, in the somewhat sophisticated world in which he was suddenly plunged, the jokes that had worked pretty well in Cambridge, which we had both written, no longer worked quite so well with a smart audience. So time and people had turned against him and the extraordinary thing about Leslie was that he showed absolutely no sign that anything was wrong whatever. Because, of course, it wasn't. Because he a) did not wish to be a performer and b) by the time I got back to London he had met Noel Coward, Connie Carpenter, he had met all kinds of people, Binkie Beaumont, he knew everybody in the West End of London. And he had a car and he had some money. And I had a little money too because I had written one or two of the pieces that he did, for which I was paid £6, I think, for as long as the show was in London, which was quite a long time.
It sounds as I tell it as though everything that happened to me was just incredibly fortunate and lucky, and, you know, there was the stairway to paradise and I took the steps and actually I suppose it's a bit true. The fact was that I could be morose about the lot of the world and the Jews and various other things fairly easily, and I wanted to be a serious writer and serious writers did not write jokes or know Binkie Beaumont, they went away and wrote serious books about the state of the world.
But in fact, Leslie had been asked to write a film for Max Bygraves who was a client of Jock Jacobson's. Max was then quite a big star, and was going to do a movie directed by Guy Hamilton, and Leslie was commissioned for, I think, £1250 which was quite a lot of money to write this film. But of course he was having a bit of trouble with the dialogue. So I can't remember how much of the £1250 he gave me, my memory is it was not half of it, but he'd done some work and he was writing the songs and it was the usual arrangement. But he gave me some money.
And it got better than that because they actually in those days made films as well as wrote them. So this film was going to be made, directed by Guy Hamilton, who later directed Bond films. And when Leslie said, can you write filmscripts, I said, all you have to do is show me one. Because of course I can write Greek verses and Latin verses, show me what it looks like and I'll reproduce the form. So he did and I did. I never went near the camera or anything like that. And that went quite well, they were going to make the film. So then, Leslie again through his connections and Jock Jacobson's – I think Jock's quite particularly – had contacts with the Rank Organisation.
So in the... towards the autumn of 1950... what was it? Still 1954? No, 1955. The Rank Organisation offered Leslie and me a contract for two films to be written in a year and we got £1250 each. Well. £1250 in 1955, I mean that's a lot of money. And Beetle and I were able to buy the lease, not the lease but the key which entailed the lease of a little flat in Chelsea Embankment. Actually, it was a basement flat but I wanted to live in Chelsea, because Chelsea was where artists lived. Never underestimate the naivety of people who think they're very smart, or anyone else.
Anyway, so we took this little flat and we had £1250 for a year and I delivered my manuscript of my novel to a man called George Greenfield who was a friend of my father's and an agent to quite a lot of people that he knew. And I also gave it to Elaine Greene, who was this agent at MCA, because in my innocence I thought they would enjoy reading it. So George Greenfield read it – he was a friend of my father's – and he liked it and he said he would represent me. He hadn't read it when I first gave it to him because his son was ill and... five-year-old son called Georgie, who then died, and it was a symptom of the times and the vanity of writers or ignorance – it never occurred to me that this child dying would stop him reading my book. One learns as one goes along.
Anyway, there was a bit of a cold atmosphere at the MCA building when I told Elaine Greene that I was actually going to go to George Greenfield because he wanted... he thought he could sell my book. Because she said, why did you ask me to read it and I think I could sell it, and I said, well he's a friend of my father's. And funnily enough, I couldn't really understand why she was upset. But she was upset, because about 35 years later, a friend of mine was coming down to France, a man called Stanley Baron, who was a publisher at Thames and Hudson, and he was travelling with Elaine Greene and he asked if he could come in and see us in our house in France which we had then. And I said, yes of course. And then he had to cancel because Elaine Greene still was not going to speak to me because I had done this terrible thing to her. It wasn't very, very terrible...
Born in America in 1931, Frederic Raphael is a writer who moved to England as a boy. He was educated at Charterhouse School and was a Major Scholar in Classics at St John's College, Cambridge. His articles and book reviews appear in a number of newspapers and magazines, including the Los Angeles Times and The Sunday Times. He has published more than twenty novels, the best-known being the semi-autobiographical The Glittering Prizes (1976). In 1965 Raphael won an Oscar for the screenplay for the movie Darling, and two years later received an Oscar nomination for his screenplay for Two for the Road. In 1999, he published Eyes Wide Open, a memoir of his collaboration with the director Stanley Kubrick on the screenplay of Eyes Wide Shut, Kubrick's final movie. Raphael lives in France and England and became a Fellow of the Royal Society of Literature in 1964.
Title: I hit the ground running
Listeners: Christopher Sykes
Christopher Sykes is an independent documentary producer who has made a number of films about science and scientists for BBC TV, Channel Four, and PBS.
Tags: Leslie Bricusse, Binkie Beaumont, Guy Hamilton, Jock Jacobsen, Elaine Greene, Max Bygraves, George Greenfield
Duration: 6 minutes, 44 seconds
Date story recorded: March 2014
Date story went live: 10 September 2014