NEXT STORY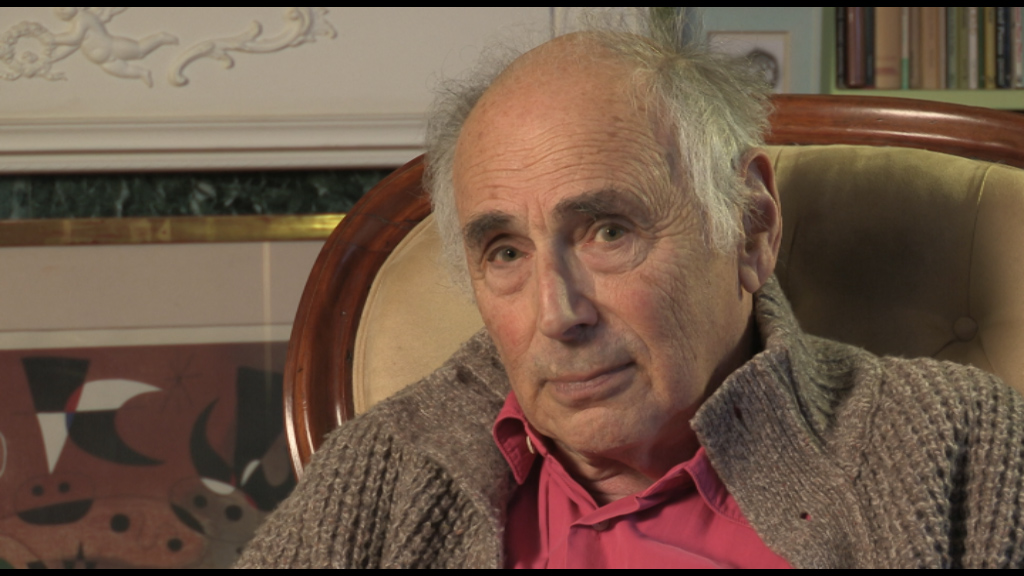 Book reviews and their impact
I'm only a writer when I'm in my house in France
1
...
8
9
10
11
12
...
15
Incidentally in the book Lindmann, which I wrote about the Jews in the ship... the word 'Jew' does not appear in the book. A sort of arrogance, a sort of disdain, a sort of humour impelled me not to do it. The word 'Greece' doesn't appear in the Greek book either, nor does 'Hellene' or 'Hellenic' or anything, but they are Greek.
It had a scene... it began with a scene with a group of young men going to a brothel... 1922. And... I thought it would be fun to go to a brothel, because, you know, I didn't actually... don't go to brothels myself because of missing the appointment mainly, but I thought it would be an entertaining beginning and then, you know, I could take it from there. It would kind of goose me into living the piece. And there were two particular people in this... who were going in this party. One was a man called Artemis, the same name as Artemis Denaxas who had taken us to Greece, and the other was – I can't remember his name now – who was a, sort of, right-wing rich man, and Artemis was an intellectual. And on the way to the brothel, as I was writing I thought, oh well, I don't know, is Maria here tonight and, you know, 'Hello, darling, what can I do for you?' and all of this. I don't really want to write that scene.
So the two young men realised before they got to the brothel that they desired each other more than they desired anybody in the brothel. I didn't write a homosexual love scene of any descriptive quality whatever. I kept to the dialogue mainly because that's what I tend to do in these cases, but I found it perfectly easy to imagine this homosexual... I wouldn't say love affair... yes, it was a sort of love affair and sex, though I had never taken part in anything like that. I had known John Schlesinger. I mean, I'd heard quite a lot of stuff. I didn't find it... I just thought I'd just do it. I did it. And there were other things, and there was the woman of course with one of the married, who had the affair with the first one, so it was about the fact that Greece... not about the fact, but it reflected the fact that Greece, like the Jews, has always been divided between various factions who both love and hate each other and often – or sometimes – kill each other or whatever.
I was very deeply into that book. I was so deeply into it that the telegraph man arrived from the village in St Laurent – we didn't have a telephone – knocked on the door of my little study which I... wonderful room where I do immense amounts of work, and I opened the thing and said 'Kalespera?' because I was, sort of, actually in Greece at the time and this guy saluted and said, 'Bonsoir, monsieur', and handed me the telegram. And La Gardelle over the years has turned into the place where I have done nearly all of my serious work and written a great deal of stuff. I don't deny that I have finished things in England. I have no wish not to write in England; I just find that mysteriously enough I'm a kind of journalist or I'm a showbiz person or something when I'm in England, and when I'm in my house in France I'm a writer.
Born in America in 1931, Frederic Raphael is a writer who moved to England as a boy. He was educated at Charterhouse School and was a Major Scholar in Classics at St John's College, Cambridge. His articles and book reviews appear in a number of newspapers and magazines, including the Los Angeles Times and The Sunday Times. He has published more than twenty novels, the best-known being the semi-autobiographical The Glittering Prizes (1976). In 1965 Raphael won an Oscar for the screenplay for the movie Darling, and two years later received an Oscar nomination for his screenplay for Two for the Road. In 1999, he published Eyes Wide Open, a memoir of his collaboration with the director Stanley Kubrick on the screenplay of Eyes Wide Shut, Kubrick's final movie. Raphael lives in France and England and became a Fellow of the Royal Society of Literature in 1964.
Title: I'm only a writer when I'm in my house in France
Listeners: Christopher Sykes
Christopher Sykes is an independent documentary producer who has made a number of films about science and scientists for BBC TV, Channel Four, and PBS.
Tags: Greece, Lindmann
Duration: 3 minutes, 26 seconds
Date story recorded: March 2014
Date story went live: 10 September 2014