NEXT STORY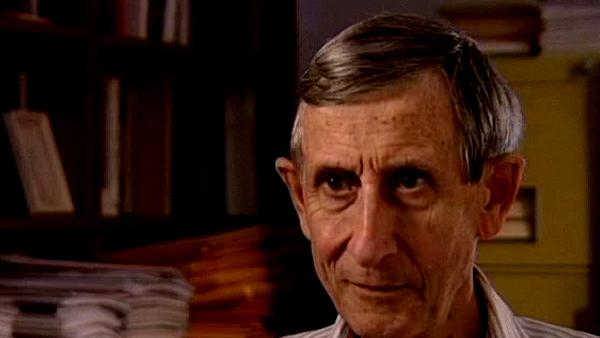 Being on the outside
Political feelings in the '30s: Communism and pacifism
1
2
3
4
5
...
16
I was at Winchester from '36 to '41 and in '36 the Spanish Civil War was still going on and everybody was either Communist or else close to it. I mean that in general all intellectuals essentially were deeply involved in the Spanish war, and if you had any sense you joined the Communist Party and so many of my friends did, and my uncle Oliver, in fact, used to send me left books. He belonged to the Left Book Club, or he enrolled me as a member in the Left Book Club.
[Q] And this is from your father's side?
No, that was my mother's brother. He was the doctor, but he was also a red hot Communist - which at that time was quite compatible with being a faithful servant of the empire. So once a month these bright, brilliant red books would arrive telling me about what was going on in the world from the point of the view of the extreme left, and so I was very much surrounded with this extreme left politics, I think. That was the time when the Cambridge spies were being recruited by the Party - I was fortunate to escape that and I might easily have become a spy if I'd been five years older. But I got disillusioned with communism and decided that wasn't going to solve the problem. What we were faced with at that time was war, and that Hitler was clearly out to make war on the rest of the world, and that communism wasn't the answer to that. Communism was a kind of a distraction and what we really ought to be worrying about was just to save the world from war, and that we had already just barely survived World War I, and World War II was coming up and it was going to be ten times worse. And so I decided the only possible hope for coming through this was pacifism rather than communism. So I became a pacifist, and pacifism was also strong after 1936... '37, '38, this was the high tide of pacifism in England, when people saw the war approaching, and what could you do? The only thing you could possibly do was - the war clearly wasn't going to solve any problems, if we got into it we were probably all going to die anyway. People were very much aware of biological weapons; we weren't aware of nuclear weapons, but of course the anthrax bombs were in Aldous Huxley's book, Brave New World, so everybody was aware of anthrax bombs at that time and that's what we expected World War II to be: we would all die of plague, probably anthrax or something worse. So that was not a hopeful way out. So the best way out was to have total repudiation of war, and there was then a powerful political movement in England called the Peace Pledge Union which I joined and that was just uncompromising pacifism, it just said, 'I pledge I will not bear arms or take any part in military activities.' And if you joined the Peace Pledge Union that was what you had to pledge. So I did that, I became a pacifist and we had a little group of pacifists in the school. We were always a minority so we were determined we would actually be able to overcome the forces of evil just by quiet conversation, and if you were up against anybody who was unreasonable you just had to talk to them for six hours and convince them that they were doing it in the wrong way, and then problems would be solved. And so the ultimate goal was to talk to Hitler for six hours and convince him that he should also be a man of peace! So that was where I put my heart and soul, and it was, I think, a not unreasonable point of view at that time, and it might even have worked - but of course the reality of World War II turned out to be so ludicrously different, when we got into World War II and the anthrax bombs didn't materialise and the bombing that did happen was a hundred times less than we had imagined. So World War II turned out to be not as bad as World War I, in fact, as far as England was concerned.
Freeman Dyson (1923-2020), who was born in England, moved to Cornell University after graduating from Cambridge University with a BA in Mathematics. He subsequently became a professor and worked on nuclear reactors, solid state physics, ferromagnetism, astrophysics and biology. He published several books and, among other honours, was awarded the Heineman Prize and the Royal Society's Hughes Medal.
Title: Political feelings in the '30s: Communism and pacifism
Listeners: Sam Schweber
Silvan Sam Schweber is the Koret Professor of the History of Ideas and Professor of Physics at Brandeis University, and a Faculty Associate in the Department of the History of Science at Harvard University. He is the author of a history of the development of quantum electro mechanics, "QED and the men who made it", and has recently completed a biography of Hans Bethe and the history of nuclear weapons development, "In the Shadow of the Bomb: Oppenheimer, Bethe, and the Moral Responsibility of the Scientist" (Princeton University Press, 2000).
Tags: Winchester College, 1936, 1941, Spanish Civil War, Communist Party, Left Book Club, Cambridge, WWII, WWI, Brave New World, Peace Pledge Union, UK, Adolf Hitler, Aldous Huxley
Duration: 5 minutes, 28 seconds
Date story recorded: June 1998
Date story went live: 24 January 2008