NEXT STORY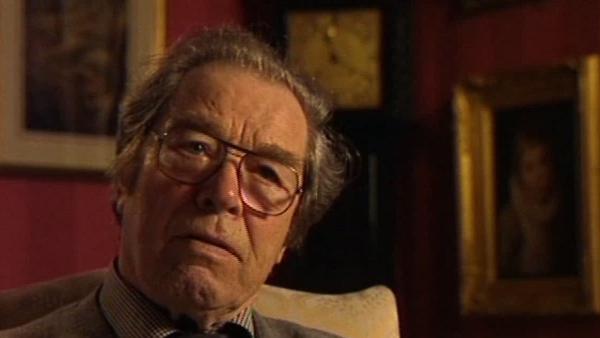 The Clockmakers' Company and an historic document
Sam Clutton introduced me to the upper echelons of horology
George Daniels
Master watchmaker
1
2
3
4
5
...
9
So there I was in about 1960, and I was quite enjoying life and I had plenty of money, and the hours I worked were phenomenal. I mean often I would work all day Monday, all night Monday and all day Tuesday and then go to bed and deliver the work on Wednesday, and the reason for that was it left me with four days spare in the week to work on the motorcars. So I worked hard at the watches and made money to spend on the motorcars, which also meant hard work. So it was a very gruelling period in my life, but it was what I wanted to do and the only way to get it was to do it myself.
Well through the motorcars, I then met a friend, who became a very great friend, Sam Clutton. Cecil Clutton always called Sam Clutton, he was a crown agent, and a CBE and an expert in vintage cars, clocks, watches, keyboard instruments, motorcycles, aeroplanes, architecture. He'd written about all these subjects. So he was a very dynamic chap and a very, very difficult man and I set myself the task of becoming his friend. It wasn't going to be easy because he was rather snobbish and he'd had a very good education and he rather liked people who came from the right side of the sheets, you see. But, however, I set myself the task of ingratiating myself into his company, which I succeed in doing and we got on very well and wrote books together and drove motorcars together. And, of course, through him, I met all his high-flown friends who were collectors of horology and historians, and so life took on an entirely new aspect for me. It was a very... suddenly it became very exciting, very interesting and a lot to learn, and fortunately I had an ability to assess the worth of an object immediately and how it worked and all about it, so that was very fortunate I could do that.
And so I decided to take on some restoration work, which in a way was like an apprentice. I'd never had an apprentice you see... apprenticeship... I'd never had an apprenticeship, and to work on these things was a bit like being an apprentice because whatever one does to an antique machine, one has got to forget one's own personality and put oneself into the mind of the maker so you must not be able to tell it's been restored. This causes a good deal of concern in the antiquarian world because I've always insisted that you must not be able to detect the change in the work or the style or anything and it doesn't suit those who like it to be known that they know enough to make these alterations, and it doesn't suit those who feel that for instance you should make every restoration recognisable as your work. So there's these different views on that subject. My view was that you must not detect a change in the works, and the way to do that is to become... enter the mind of the maker and do it his way.
George Daniels, CBE, DSc, FBHI, FSA (19 August 1926 - 21 October 2011) was an English watchmaker most famous for creating the co-axial escapement. Daniels was one of the few modern watchmakers who could create a complete watch by hand, including the case and dial. He was a former Master of the Clockmakers' Company of London and had been awarded their Gold Medal, a rare honour, as well as the Gold Medal of the British Horological Institute, the Gold Medal of the City of London and the Kullberg Medal of the Stockholm Watchmakers' Guild.
Title: Sam Clutton introduced me to the upper echelons of horology
Listeners: Roger Smith
Roger Smith was born in 1970 in Bolton, Lancashire. He began training as a watchmaker at the age of 16 at the Manchester School of Horology and in 1989 won the British Horological Institute Bronze Medal. His first hand made watch, made between 1991 and 1998, was inspired by George Daniels' book "Watchmaking" and was created while Smith was working as a self-employed watch repairer and maker. His second was made after he had shown Dr Daniels the first, and in 1998 Daniels invited him to work with him on the creation of the 'Millennium Watches', a series of hand made wrist watches using the Daniels co-axial escapement produced by Omega. Roger Smith now lives and works on the Isle of Man, and is considered the finest watchmaker of his generation.
Tags: Cecil Clutton, Cecil (Sam) Clutton
Duration: 3 minutes, 42 seconds
Date story recorded: May 2003
Date story went live: 24 January 2008