NEXT STORY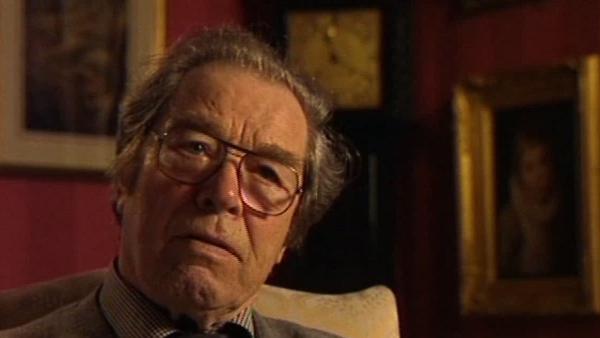 Breguet really influenced the horology profession
Breguet had a peculiar talent
George Daniels
Master watchmaker
1
2
3
4
5
...
9
The thing about Breguet is that he was recognised very early as having a curious talent, not for watch or clock making, because he wasn't a very good workman, but for his designs and his comprehension of what to do. And then there was later his ability to find the right men to do what he wanted to do, which again was a very difficult thing. And then he was brilliant at public relations and I mean, for example, he was very popular in all the grand houses in Paris and one day he strode into the house at a party, a meeting, a soirée, and he drew a watch from his pocket and he said the time is 9 o'clock and he threw the watch across the floor and then went and picked it up and showed it was still going, which was the object of the exercise because he'd made this shockproof watch you see. And he had several little... what do you call them, well, several ideas along those lines for demonstrating his work. He was very interested in automatic winding watches. He didn't invent them and never claimed it, but he did make them very successful and all the crown heads of Europe and Russia carried these watches. Marie Antoinette was one of the first recipients of a Breguet perpetual watch. They were very, very expensive, enormous sum of money, but again, Breguet managed to organize a series of workshops right though Europe so that no matter which country you were in, if your Breguet watch went wrong you could get it repaired.
The variety of things he made, well, they covered every aspect of horology, the watches and clocks and timers, and thermometers. Of course, one could name 20 different kinds of clocks he would make, all different in some way or other, many of them with striking mechanisms, of Breguet's own devising, which was superior to the earlier mechanisms. They would strike the hours and the quarters and even the minutes. And there were astronomical devices for checking the transit of stars, all mechanical. And there were pace watches for the army to use, measuring out the number of paces per minute. Any watches... he made the slimmest watch, it was just a few millimetres thick, or bulky watches for those... no matter what kind of watch you wanted, you could have it, he would make absolutely anything. And he became internationally known, so famous that I mean the great writers of the day all found excuses for getting Breguet into their books. He's in Around The World in 80 Days. Balzac's writing features him two or three times.
George Daniels, CBE, DSc, FBHI, FSA (19 August 1926 - 21 October 2011) was an English watchmaker most famous for creating the co-axial escapement. Daniels was one of the few modern watchmakers who could create a complete watch by hand, including the case and dial. He was a former Master of the Clockmakers' Company of London and had been awarded their Gold Medal, a rare honour, as well as the Gold Medal of the British Horological Institute, the Gold Medal of the City of London and the Kullberg Medal of the Stockholm Watchmakers' Guild.
Title: Breguet had a peculiar talent
Listeners: Roger Smith
Roger Smith was born in 1970 in Bolton, Lancashire. He began training as a watchmaker at the age of 16 at the Manchester School of Horology and in 1989 won the British Horological Institute Bronze Medal. His first hand made watch, made between 1991 and 1998, was inspired by George Daniels' book "Watchmaking" and was created while Smith was working as a self-employed watch repairer and maker. His second was made after he had shown Dr Daniels the first, and in 1998 Daniels invited him to work with him on the creation of the 'Millennium Watches', a series of hand made wrist watches using the Daniels co-axial escapement produced by Omega. Roger Smith now lives and works on the Isle of Man, and is considered the finest watchmaker of his generation.
Tags: Breguet, Breguet perpetual watch, Around the World in Eighty Days, Abraham-Louis Breguet, Marie Antoinette, Honoré de Balzac, Jules Verne
Duration: 3 minutes, 33 seconds
Date story recorded: May 2003
Date story went live: 24 January 2008