NEXT STORY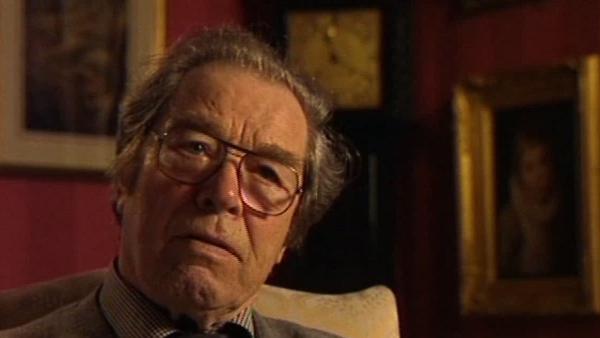 Selling and rebuying my first watch
Working for nearly two years on my first watch
George Daniels
Master watchmaker
1
2
3
4
5
...
9
So I'm now thinking seriously about making this watch and I found it was quite a hard task because I didn't have the sufficient equipment or tools. I had very primitive... I managed to get some tools together, I bought a second hand lathe, which demonstrated the foolhardiness of buying second hand lathes, they're only sold because they're worn out. Mine was worn out and there was nothing I could do but learn how to use it and get the best I could out of it.
And so I started on this watch. I made a couple of drawings of it. I got into a bit of a tangle now and again and realised that designing watches on paper and then making them wasn't the way I was going to go through life. I had to make the watch without any drawings, and then when it was finished, make the drawings to use perhaps on some later occasion. And I found that has influenced the whole of my watchmaking career, that I cannot make a drawing and then make a watch from the drawing, which is what most people do. My way suits me better, and of course, since there are no drawings, I can change my mind as often as I like in midway and change the design. One thinks of ways of improving. While one's working, one thinks of ways of improving the details of watches. And I worked for nearly two years on this watch, one way or another. First I had to spend many, many hours late at night practicing engine turning in order to make the dials and so forth. All that took a lot of time, everything needed practice, everything needed making, even special files had to be ground to shape and formed to do some of the work. And it took as I say two years, and at the end of that time, it was done and... it wasn't finished, but the movement was done and ready for final status, which meant the dial and hands and the case. And the case was a problem, because I had no experience of case making. I had no materials for case making, no tools... case making tools, and so I struck a deal with a watchmaker in Clerkenwell. I've got to think of his name. Oliver... Oliver. Struck a deal with Oliver, who had a Dickensian workshop in Clerkenwell and was a brilliant case maker, not because he had any special talent for making cases, but because he'd been whipped as a boy into doing it perfect all the time. And being in Clerkenwell, he was incapable of doing anything else, but perfect. And so, I wanted him to make the case. I noted on his bench several watch movements just lying in open boxes, obviously all taken in to have cases made and I was a bit reluctant to leave my watch there. I took out the delicate parts and I took the watch to him and he put it in a box on his bench and I went back some five or six weeks later, it was still in the box on the bench and it hadn't been moved, and I realised he wasn't going to make this case. He had every willing intention of doing it, but it wouldn't be possible for him to do it, he couldn't. You know he was too old and he couldn't get himself motivated and why anyway should he do anything for a young whippersnapper like me, you know. I mean he was a proper chap and top of his profession, why should he help me, and that was the Clerkenwell attitude. And so I struck a deal with him and I said if you show me in your workshop how to make a case, I will pay you as if you had made the case for me. And he agreed, and I think the sum was £40. That was in 1968, so it wasn't a bad sum of money really for Oliver to take, and he showed me how to make the case. He didn't do anything, he was most careful not to touch anything to do with the case or the tools or anything. He would just point me to do that and you want to do this, and eventually I got the case made. It wasn't terribly difficult to do, but I learnt the techniques, and that was the important thing I got from Oliver.
So there was my case finished, and I took it to the Assay Office and they said they couldn't assay it because it had the wrong proportion of silver and gold. And I was devastated, you know my beautiful case, they wouldn't hallmark it. But the Assay Master was a very congenial chap and he said look, if I were you, I would remake a new front bezel for it in silver and then bring it back and have it assayed, and then you can take off the silver bezel and put the gold on. So I did that and it worked out well and I got my case hallmarked. And I picked the case up from the Hall... from the Goldsmith's Assay Hall about 6 o'clock in the evening and I was so thrilled I ran every step of the way to London Bridge Station to get the train home again, and I think that's a distance of about four miles. I ran it all the way there.
George Daniels, CBE, DSc, FBHI, FSA (19 August 1926 - 21 October 2011) was an English watchmaker most famous for creating the co-axial escapement. Daniels was one of the few modern watchmakers who could create a complete watch by hand, including the case and dial. He was a former Master of the Clockmakers' Company of London and had been awarded their Gold Medal, a rare honour, as well as the Gold Medal of the British Horological Institute, the Gold Medal of the City of London and the Kullberg Medal of the Stockholm Watchmakers' Guild.
Title: Working for nearly two years on my first watch
Listeners: Roger Smith
Roger Smith was born in 1970 in Bolton, Lancashire. He began training as a watchmaker at the age of 16 at the Manchester School of Horology and in 1989 won the British Horological Institute Bronze Medal. His first hand made watch, made between 1991 and 1998, was inspired by George Daniels' book "Watchmaking" and was created while Smith was working as a self-employed watch repairer and maker. His second was made after he had shown Dr Daniels the first, and in 1998 Daniels invited him to work with him on the creation of the 'Millennium Watches', a series of hand made wrist watches using the Daniels co-axial escapement produced by Omega. Roger Smith now lives and works on the Isle of Man, and is considered the finest watchmaker of his generation.
Tags: Clerkenwell, Goldsmith's Company Assay Office, bezel, Assay Master
Duration: 5 minutes, 58 seconds
Date story recorded: May 2003
Date story went live: 24 January 2008