NEXT STORY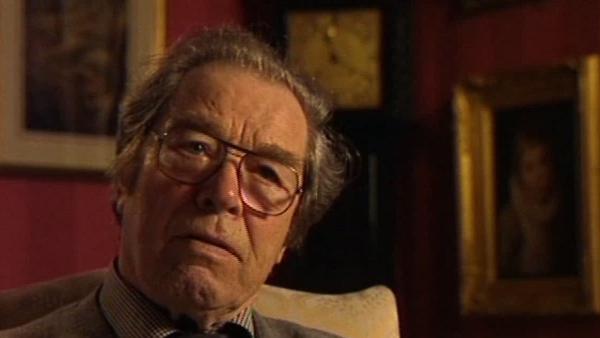 The Daniels cipher
I beat the quartz watch for timekeeping
George Daniels
Master watchmaker
1
2
3
4
5
6
...
9
Then I met an American, a man called Atwood, who was frightfully wealthy, I mean wealthy beyond the wildest dreams of avarice, and he wanted me to make him a watch and I had said I would never undertake a commission because the watches I knew would be expensive and I didn't want to be left with the watch. It's too humiliating not to be able to dispose of the watch if you made it for someone. But I took a shine to this chap and I said yes, I would make him a watch. And so I set to and designed a new kind of watch, which was inspired by the necessity for beating the quartz watch for timekeeping. Because the quartz had been introduced in the 1960s... early 1960s, late 1950s, and they kept phenomenal rates of time. I mean two or three seconds a month in those days was very close. And I reckoned I could make a watch to beat that.
And so I gave a lot of thought to what to do to it and the solution was very simple, simply because I didn't want it to be complicated. When a thing becomes complicated, it has less chance of succeeding, the simpler it is the more likely it is to succeed. And so this mechanism was complex, but not complicated, and it proved to be a first class timekeeper and I did a lot of experimenting because I knew very little about watchmaking. I'd only made one watch and there was a great deal to learn about, especially about timing, because the problem with a watch is that having overcome all the difficulties of design and construction, conception, you've then got to make it keep time. You don't have to do that with any other object in the world. Once you've made it, it's gone. I mean a sewing machine will sew and a motorcar will go, but a watch has got to go straight down the middle, and that's the problem for watchmakers. And so I experimented with ways of overcoming some of the errors that were naturally manifest in watches, and had been for the whole of the life of the profession, which was about 500 years.
And so that watch was a success and and it was that which prompted Sam Clutton to allow me to buy back the first watch I made for him because he wanted one of these new watches. As ever I knew that once Sam was satisfied with something, the whole world would know and he'd be very emphatic you know, and always very willing to push on any new ideas that one might have and he was a great benefactor in that way. He liked progress, he was never happy unless he was improving himself and he loved to help to improve others. So I made him one of these watches and it may have been a lucky thing, but it kept such extraordinary time that on a journey to Tokyo and back, which took 32 days, when he got home, he'd worn the watch all the time, pocket watch, taken it off at night and laid it down, back in his pocket during the day, and therefore changes of temperature and position and so forth, and he found that it was just under one second slower when he got back. So, of course, that was a great coup for me. I mean an awful lot of luck involved in that. I mean he never checked it at any other time excepting when he left and when he came back. And so there was no criticism of anything in the intermediate and it did subsequently prove to be a very close timekeeper, because I sent it down to Herstmonceux, to the Royal Observatory for testing. It put up a very good show. It was within 0.2 seconds per day mean variation, which was a very close rate.
George Daniels, CBE, DSc, FBHI, FSA (19 August 1926 - 21 October 2011) was an English watchmaker most famous for creating the co-axial escapement. Daniels was one of the few modern watchmakers who could create a complete watch by hand, including the case and dial. He was a former Master of the Clockmakers' Company of London and had been awarded their Gold Medal, a rare honour, as well as the Gold Medal of the British Horological Institute, the Gold Medal of the City of London and the Kullberg Medal of the Stockholm Watchmakers' Guild.
Title: I beat the quartz watch for timekeeping
Listeners: Roger Smith
Roger Smith was born in 1970 in Bolton, Lancashire. He began training as a watchmaker at the age of 16 at the Manchester School of Horology and in 1989 won the British Horological Institute Bronze Medal. His first hand made watch, made between 1991 and 1998, was inspired by George Daniels' book "Watchmaking" and was created while Smith was working as a self-employed watch repairer and maker. His second was made after he had shown Dr Daniels the first, and in 1998 Daniels invited him to work with him on the creation of the 'Millennium Watches', a series of hand made wrist watches using the Daniels co-axial escapement produced by Omega. Roger Smith now lives and works on the Isle of Man, and is considered the finest watchmaker of his generation.
Tags: Herstmonceux, Royal Greenwich Observatory, Cecil Clutton, Cecil (Sam) Clutton, Seth Glanville Atwood
Duration: 4 minutes, 24 seconds
Date story recorded: May 2003
Date story went live: 24 January 2008