NEXT STORY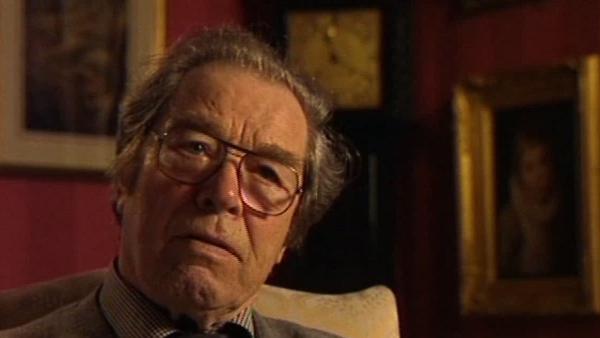 The origins of the co-axial escapement
The Space Traveller's Watch
George Daniels
Master watchmaker
1
2
3
4
5
6
...
9
Well then I went on and made more watches and I got more and more bold. I was one day sitting in a restaurant in Zürich and having dinner with a man called Teddy Beyer, who was the seventh generation of watchmakers in his family. He is the proprietor of an enormous chronometric store, and he was a great watch collector and had a wonderful collection, separate from his business, and he wanted a Daniels watch. And we were having dinner in Zürich and he nudged me in the ribs and said, 'What have you got in your pocket?' So I showed him the watch. 'Ah yes', he said, 'that's very nice', he said, 'you just tell me how much it is. I want to buy it'. And I said, 'Well no, it's not for sale', and I really didn't want to sell it because I didn't want to have to make another one. And about an hour later he nudged me in the ribs, 'Let's have another look at the watch'. And so he had another look at the watch and he says, 'You know, just tell me do you want cash or a cheque? Have it which way you like'. And I said, 'Well you know, really, I don't want to sell it'. And then I thought well I really must sell him this watch because it's an enormous compliment. You know he didn't ask how much it was; he just said I'll have it. So I said he could have it and I went home.
And I regretted selling that watch and I had to make another, because I wanted it as an example myself. And it suddenly occurred to me that I hadn't fully exploited the original watch, which was two watches in one box. But I could exploit it scientifically if I turned it into one train mean solar and the other train sidereal. So I set to... on that to calculate how to jumble up these numbers to produce this ratio, which I think is 1:1.002737942, and that's the ratio between solar and sidereal time. And how to get this figure? Well the great George Margetts built some solo sidereal watches in the days when they were a practical necessity when in order to check the time of your watch you had to have an accurate clock and the clock had to be set by the star. You choose a star and you can calculate the sidereal day from that. And if you had a watch that could give sidereal and solar time, then all you have to do is take a sight on your star and the mean solar half will show exactly what your clock should be showing. So, it was a calculator, you know, it calculated because you had to make this calculation every day, this difference of 3.555 seconds every day, you had to make that calculation. This watch did it for you. But it was only accurate to 1.8 seconds a day, and I felt... that was quite close enough, but I felt I ought to beat it. And so I worked very hard at this and I'm no good at mathematics, but I got it down to .8 seconds a day. And I thought well that's pretty good and it's better than Margetts so at least honour is saved on my part, but I wonder if there is a better ratio somewhere? There must be a mathematician somewhere who could give me the results I wanted, and so I made enquiries of a friend in Cambridge: 'Do you know a professor of mathematics who knows about watches?'
Well you'd think it would be impossible, but a man turned up almost immediately, and most extraordinary, his name was Daniels ‒ Professor Daniels, mathematician, fellow of the Royal Society. And he was very interested in this subject, which he treated very lightly. He said, 'Oh it's nothing, I've got a book, I'll just go through it'. He said, 'I'll find you some numbers for that'. And he gamely suddenly he produced these numbers all within a few days and they were accurate to 0.28 seconds a day, and he said, 'I'll get closer if you want'. But, no, the numbers suited me because when you turn these equations into a practical manifestation, you're dealing with gears and there's a limit to how many gears you can get on a wheel. You've got to proportion everything so that you can make a satisfactory mechanical explanation of the equation. So I was happy with those figures and accordingly I set to and made the watch.
And in addition to the sidereal and solar mechanism, it had a chronograph, which you could slip into mean solar or sidereal at will. You had a lever and you could switch it in, and I dined out on that for a couple of years because I used to say to people, 'When you're on your package tour to Mars, you need a watch like this. And when you're using the telephone, you know long distance calls are frightfully expensive so you just switch your chronograph into sidereal and it will cut your bills by 3.555 seconds a day'. So that always went down very well and I then decided that the Daniels... the watch up to that time had been called the Daniels Squared, because that was Henry Daniels and me, so we called it the Daniels Squared. And... but I thought that's not really good enough, and so I named it the Space Traveller's Watch, in honour of the American landing on the moon, which was the greatest space exploratory journey of the century.
George Daniels, CBE, DSc, FBHI, FSA (19 August 1926 - 21 October 2011) was an English watchmaker most famous for creating the co-axial escapement. Daniels was one of the few modern watchmakers who could create a complete watch by hand, including the case and dial. He was a former Master of the Clockmakers' Company of London and had been awarded their Gold Medal, a rare honour, as well as the Gold Medal of the British Horological Institute, the Gold Medal of the City of London and the Kullberg Medal of the Stockholm Watchmakers' Guild.
Title: The Space Traveller's Watch
Listeners: Roger Smith
Roger Smith was born in 1970 in Bolton, Lancashire. He began training as a watchmaker at the age of 16 at the Manchester School of Horology and in 1989 won the British Horological Institute Bronze Medal. His first hand made watch, made between 1991 and 1998, was inspired by George Daniels' book "Watchmaking" and was created while Smith was working as a self-employed watch repairer and maker. His second was made after he had shown Dr Daniels the first, and in 1998 Daniels invited him to work with him on the creation of the 'Millennium Watches', a series of hand made wrist watches using the Daniels co-axial escapement produced by Omega. Roger Smith now lives and works on the Isle of Man, and is considered the finest watchmaker of his generation.
Tags: sidereal time, mean solar time, Space Traveller's watch, Daniels Squared, Apollo Moon Landing, George Margetts, Theodore Beyer, Teddy Beyer, Henry Ellis Daniels
Duration: 6 minutes, 22 seconds
Date story recorded: May 2003
Date story went live: 24 January 2008