NEXT STORY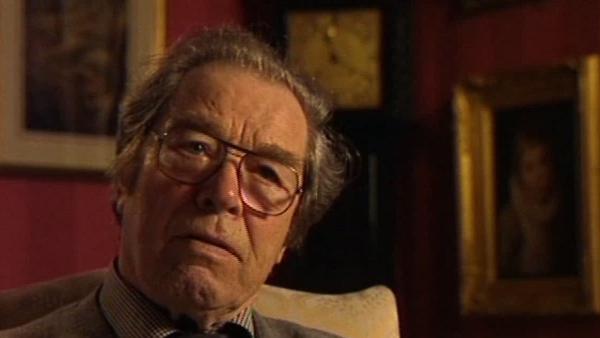 I very much like the early primitive cars
Birkin's track record car
George Daniels
Master watchmaker
1
...
5
6
7
8
9
It was a most extraordinary thing. I didn't really want to buy that supercharged car but I did because, well, I wanted my name to go in the logbook with all those famous names like Birkin and Barnato, they were all in this logbook. So I very proudly wrote my name in the bottom and signed it so that it's part of the history of the car. And to my astonishment Birkin's track record car, which was also a 4½ litre supercharged racing car single seater was offered to me. Telephone rang and I answered and it was Jack Seers, a very famous race driver sports car champion, and he said this car was for sale and he thought it would suit me. Well, I wasn't very pleased because I knew I was going to have to make a hard decision. I couldn't let the car go without my name being on it at some time. So eventually I said to him I'd come down and have a look at the car. In don't know why I had to look at it, I mean I know it's a very famous car, but there it is. I was stalling a bit, I thought, and not committing myself too early and I went down to see it in Surrey, and there it was in all its glory. And Jack Seers was looking after the sale and he put a price on it and I said, 'I can't afford that, I haven't got that much money, so therefore there's no sale'. And, 'Well', he said, 'How much could you pay?' So I made him an offer and he said, 'Well what about all the spares?' 'Well', I said, 'you know if they don't go with the car, I can't buy the car because there's no point if I don't have the spares. I must have it'. And then Audrey Russ-Turner who owned the car, her husband having died in it while racing it at Silverstone, so that was my inheritance you see to drive this car in which my friend had died, and Audrey piped up and said, 'Well Jack, I want George to have that car'. So that was it, I got it and at a price I could afford, and I've been racing it ever since. And it's a wonderful car, very fast, and Birkin took the lap record at Brooklands in it in 1932 at 139.65 miles an hour, which was a very high speed at Brooklands, which was notorious for its rough surface which would slow the cars down. But Birkin described the race in which he got with the lap record and he said that he was racing against John Cobb who had a much bigger car, he had a 24 litre car, Birkin's was 4½ litres, and yet Birkin won. And Birkin describes it, he says, 'As I came into the bend, I felt the car shudder at the crossroads', which was a notorious place for sliding about, but he says, 'I was resolved to keep my foot flat on the floor', which he did and he won the race. He won it by a fifth of a second, but that gave the car that record, which it still holds because Brooklands was broken up and you couldn't take any more lap records. So I've still got that car.
George Daniels, CBE, DSc, FBHI, FSA (19 August 1926 - 21 October 2011) was an English watchmaker most famous for creating the co-axial escapement. Daniels was one of the few modern watchmakers who could create a complete watch by hand, including the case and dial. He was a former Master of the Clockmakers' Company of London and had been awarded their Gold Medal, a rare honour, as well as the Gold Medal of the British Horological Institute, the Gold Medal of the City of London and the Kullberg Medal of the Stockholm Watchmakers' Guild.
Title: Birkin's track record car
Listeners: Roger Smith
Roger Smith was born in 1970 in Bolton, Lancashire. He began training as a watchmaker at the age of 16 at the Manchester School of Horology and in 1989 won the British Horological Institute Bronze Medal. His first hand made watch, made between 1991 and 1998, was inspired by George Daniels' book "Watchmaking" and was created while Smith was working as a self-employed watch repairer and maker. His second was made after he had shown Dr Daniels the first, and in 1998 Daniels invited him to work with him on the creation of the 'Millennium Watches', a series of hand made wrist watches using the Daniels co-axial escapement produced by Omega. Roger Smith now lives and works on the Isle of Man, and is considered the finest watchmaker of his generation.
Tags: Silverstone, Brooklands, 4½ litre supercharged Bentley, Tim Birkin, Joel Woolf Barnato, Jack Seers, John Rhodes Cobb, Sir Henry Ralph Stanley "Tim" Birkin, Audrey Russ-Turner, "Rusty"' Russ-Turner
Duration: 3 minutes, 20 seconds
Date story recorded: May 2003
Date story went live: 24 January 2008