NEXT STORY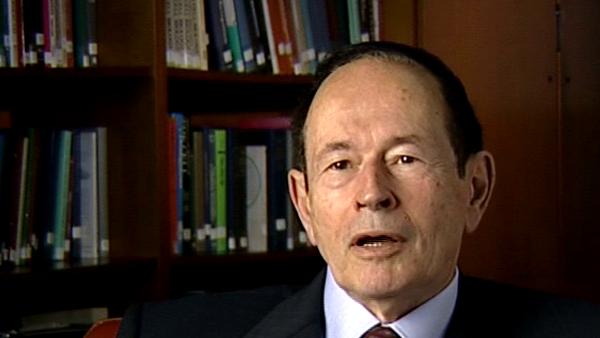 Conscious artifacts
The idea of self and consciousness
1
...
4
5
6
7
8
9
Let's talk for a moment about the Self. How do you get a Self? Well, if this is that consciousness arises out of this re-entry and reaction of the posterior and the anterior parts of the brain, the perceptual ones with the memory ones. The first thing you have, even in the fetal state, is nerve signals that discriminate you from the outside. For example, if a fetus moves, which they do a lot – remember the mothers who say feel it thumping – the proprioceptive system is already sending your brain different signals than the kind that you get when your mother pushes on her belly, right, so there's already that distinction of the inner and the outer. And as it develops after birth, certainly, in an explosion of activity, these fundamental parts of your body – remember how your body affects the brain – antecedent, they are well before anything else. And they're with us all the time, even though they're not as, how shall I say, as strong and evident as say a visual thing. You're aware of your body; you're getting proprioceptive, kinesthetic, and all that stuff, and that is a kind of contextual foundations of self. Now the problem is this: once you get language you've elaborated self in a completely different way – for example it's hard for me to believe that a mother pushes on her baby that the baby be insulted, but later on with higher order consciousness, if somebody calls you a fool you are insulted.
[Q] So with language you get ego?
So Mr Freud said. Or the other way around; I'm not sure what he said. But... but in effect, yes. The issue is... and that's a very interesting issue because it brings me to the next statement which is by way of conjecture. If you have a solid notion of consciousness and how it arises, and I have no doubt that that will happen, what, what is the impact? What does it really mean, all right? Now, if I have Einstein in Berne doing E = mc², which wasn't in the original paper but which is essential in the special theory... well, you know what happened, nuclear energy and atomic bombs and things of that kind; a deep... a deep change also by the time he had the general theory in all of physics. But what can we say about what a consciousness does, what a knowledge of consciousness would do? Well, that's interesting, because as we said before, ego... people work I think by what philosophers call propositional attitudes: beliefs, desires and intentions. Is it likely, if I know all of how my brain is conscious, that I'm going to stop working by beliefs, desires and intentions, when everybody who's speaking to me is working the same way? Well, I don't think that'll work. It won't change our basic nature, will it? But it will change how we approach psychiatry and psychology. It will change how we do teaching maybe and, above all, it's going to change the whole view of what things are like if we ever make a conscious artifact.
US biologist Gerald Edelman (1929-2014) successfully constructed a precise model of an antibody, a protein used by the body to neutralise harmful bacteria or viruses and it was this work that won him the Nobel Prize in Physiology or Medicine in 1972 jointly with Rodney R Porter. He then turned his attention to neuroscience, focusing on neural Darwinism, an influential theory of brain function.
Title: The idea of self and consciousness
Listeners: Ralph J. Greenspan
Dr. Greenspan has worked on the genetic and neurobiological basis of behavior in fruit flies (Drosophila melanogaster) almost since the inception of the field, studying with one of its founders, Jeffery Hall, at Brandeis University in Massachusetts, where he received his Ph.D. in biology in 1979. He subsequently taught and conducted research at Princeton University and New York University where he ran the W.M. Keck Laboratory of Molecular Neurobiology, relocating to San Diego in 1997 to become a Senior Fellow in Experimental Neurobiology at The Neurosciences Institute. Dr. Greenspan's research accomplishments include studies of physiological and behavioral consequences of mutations in a neurotransmitter system affecting one of the brain's principal chemical signals, studies making highly localized genetic alterations in the nervous system to alter behavior, molecular identification of genes causing naturally occurring variation in behavior, and the demonstration that the fly has sleep-like and attention-like behavior similar to that of mammals. Dr. Greenspan has been awarded fellowships from the Helen Hay Whitney Foundation, the Searle Scholars Program, the McKnight Foundation, the Sloan Foundation and the Klingenstein Foundation. In addition to authoring research papers in journals such as "Science", "Nature", "Cell", "Neuron", and "Current Biology", he is also author of an article on the subject of genes and behavior for "Scientific American" and several books, including "Genetic Neurobiology" with Jeffrey Hall and William Harris, "Flexibility and Constraint in Behavioral Systems" with C.P. Kyriacou, and "Fly Pushing: The Theory and Practice of Drosophila Genetics", which has become a standard work in all fruit fly laboratories.
Tags: Sigmund Freud, Albert Einstein
Duration: 2 minutes, 59 seconds
Date story recorded: July 2005
Date story went live: 24 January 2008