NEXT STORY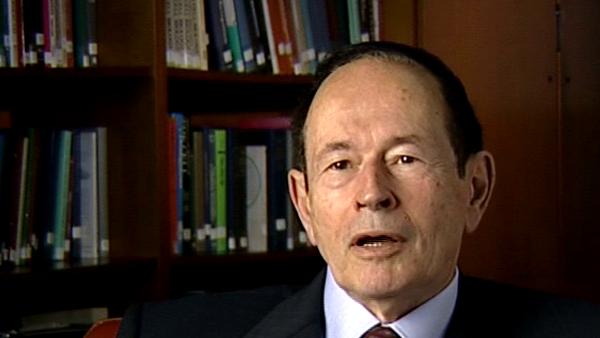 The crossing of fields
The human need to make sense of life
1
...
5
6
7
8
9
[Q] What about the view... the... the reaction to all of these ideas that says: is that all?
Ah, well, you know the human need to make sense of the story is something that I have observed as a doctor when patients are subjected to real serious disease and possibly even dying, because then the question comes up: 'Well, what's it all about, right?' And we know... well, I think one of the best cases is... I should stop and say it's a hobby of mine to collect dying words so I don't duplicate anybody else's. It's a little bit like Thoreau... Henry Thoreau – his sister shook him out of semi-coma and he opened his eyes, looked at her. She said, 'Henry, have you made peace with your Maker?' And he said, 'I was not aware we had quarreled.' So if you look at Gertrude Stein when she looked up at Alice B Toklas and said, 'What's the answer?' And Toklas shook her head: no. She said, 'In that case, what's the question?' So people have a need, a narrative need... this is an observation of psychologists, right? Of Jerry Bruner... for example, that people... that human beings rely enormously on narrative structure to make sense out of things, and one of the things is not to be able to make sense of your own life story is an extremely distressing thing and it probably is one of the motivations for religious belief – I'm not sure.
You remember the one book that I think Freud wrote that was pretty impressive is Civilization and its Discontents, and it begins with this beautiful statement that says, you know, 'I have a friend who is trying to explain the religious impulse.' It happened to be Romain Rolland – the man who won the Nobel Prize in Literature and has never been heard from since. He said, 'I had this friend who thinks that the religious motif comes from the oceanic feeling of the baby fondled, perfectly harm free, at the mother's breast. I disagree with my friend. I think religion arises from fear of the father.' And he goes on in typical Freudian terms to describe. And so there... there is an issue here, and it's an issue that's facing us right now at this moment in our own history, isn't it – namely the need of human beings to have some kind of belief and that belief that transcends any evidence, credo quia absurdum, however absurd I believe. And, if taken to extremes, we know what that's leading to right now: a set of tragedies. So this is... this is a really interesting thing because if you take it to the human mind, and you say your question about neuroscience, even after you've explained it all, do you really think you're going to change what evolution implanted by selection in any finite time that you can affect, except in a negative sense of drugging people, do you really think you're going to... that knowledge will change the basics of how we are? Given the rate of evolution I think probably not. However there's always this issue: hey, if you went back to, what, 150 years back, there were horses in the streets, not BMWs and Rolls, and so who knows? I mean you... you have to keep an open-ended view, I think.
US biologist Gerald Edelman (1929-2014) successfully constructed a precise model of an antibody, a protein used by the body to neutralise harmful bacteria or viruses and it was this work that won him the Nobel Prize in Physiology or Medicine in 1972 jointly with Rodney R Porter. He then turned his attention to neuroscience, focusing on neural Darwinism, an influential theory of brain function.
Title: The human need to make sense of life
Listeners: Ralph J. Greenspan
Dr. Greenspan has worked on the genetic and neurobiological basis of behavior in fruit flies (Drosophila melanogaster) almost since the inception of the field, studying with one of its founders, Jeffery Hall, at Brandeis University in Massachusetts, where he received his Ph.D. in biology in 1979. He subsequently taught and conducted research at Princeton University and New York University where he ran the W.M. Keck Laboratory of Molecular Neurobiology, relocating to San Diego in 1997 to become a Senior Fellow in Experimental Neurobiology at The Neurosciences Institute. Dr. Greenspan's research accomplishments include studies of physiological and behavioral consequences of mutations in a neurotransmitter system affecting one of the brain's principal chemical signals, studies making highly localized genetic alterations in the nervous system to alter behavior, molecular identification of genes causing naturally occurring variation in behavior, and the demonstration that the fly has sleep-like and attention-like behavior similar to that of mammals. Dr. Greenspan has been awarded fellowships from the Helen Hay Whitney Foundation, the Searle Scholars Program, the McKnight Foundation, the Sloan Foundation and the Klingenstein Foundation. In addition to authoring research papers in journals such as "Science", "Nature", "Cell", "Neuron", and "Current Biology", he is also author of an article on the subject of genes and behavior for "Scientific American" and several books, including "Genetic Neurobiology" with Jeffrey Hall and William Harris, "Flexibility and Constraint in Behavioral Systems" with C.P. Kyriacou, and "Fly Pushing: The Theory and Practice of Drosophila Genetics", which has become a standard work in all fruit fly laboratories.
Tags: Civilization and its Discontents, Henry Thoreau, Gertrude Stein, Alice B Toklas, Jerry Bruner, Sigmund Freud, Romain Rolland
Duration: 3 minutes, 29 seconds
Date story recorded: July 2005
Date story went live: 24 January 2008