NEXT STORY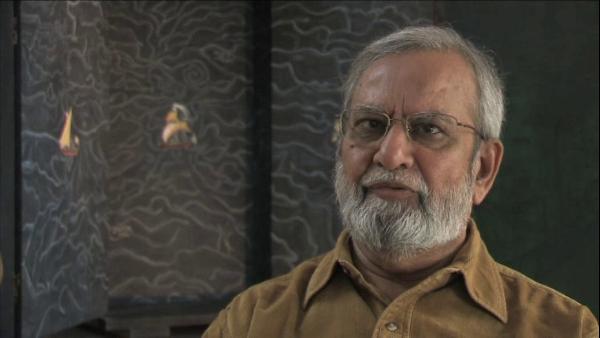 The art scene in the '60s and my subject matter
Meeting other artists and developing my own style
Gulammohammed Sheikh
Artist
1
2
3
4
5
...
7
I think it also in a way opened doors for us to go out of Baroda to see, you know, places like Bombay and Delhi. And I think Bombay was closer because we had this Bombay Art [Society]... we had this show at Baroda, a group of artists, and we learnt, you know, about holding exhibitions, you know, we were all groomed into having a one-man show and we looked at this, you know... wide-eyed, you know, in a way we looked at all our seniors, you know, who had done that. Shanti Dave was a major figure in those days. Jyoti Bhatt was regarded as, you know, because he had won an award in the National Academy. And so I think it served us as a kind of a springboard and a lot of people came to Baroda. A lot of artists came to Baroda and in a few years time I realised that though I was very involved, very much involved in what was being produced, I had not found my way of how do I work, what do I do, and I must admit that I felt slightly constricted, so, going out was a great experience. In fact, I went to Bombay and I saw this centre. It was in a place called Bulabai Desai Memorial on, I think, what is it, that area, Warden Road. It's now called Bhulabhai Desai Road. That had literally, let us say, about 20 artists working, Hussain, Tyeb Mehta, Gaitonde, at a later stage Nasreen, then my friend Prafull Dave, who had studied in Baroda. I frequented that place. I used to go and look at, and they were very open. They would show their work, and I think it opened many avenues for me and I think perhaps it was Hussain whose work must have appealed to me and some of the earliest paintings that I did, you know, were of horses. Quite likely but then my horse was not like Die Brucke horse or it's not anonymous running horse, it was perhaps, and I think I may not be wrong, it was a horse of a tanga, tonga. It's a horse carriage. It was perhaps Surendranagar, of that region. In those days we didn't have any of these vehicles, motorised vehicles, you know. You always travelled by tonga, and I think I was quite attracted to them. I had done a lot of drawings of tongas. Anyway, but that was just a kind of a beginning, you know, but when I had my first show I requested Hussain and he opened it. He even read out a poem at the opening of my show in Jehangir Art Gallery.
That was 1960, I think.
'60,'61, I think. I must have second year or, I mean, or, yes, '56 to that would come to that. And I met all these artists. Besides them I also met Alkazi. Alkazi came to my show and sort of was... seemed to be quite impressed. Invited me home, we had dinner with him, and then I got, he was conducting classes on modern art in Bombay at the Bulabai Desai Institute. Nasreen was showing her work in a gallery. She, what is it... '59, whatever gallery, that, Bal Chhabra who was a friend of Hussain and others, opened there. So, it was a kind of a culture centre, you know, Bhulabhai Memorial Institute, and I greatly benefited from meeting those artists. And so I think in a way my work started or took off, from that.
Gulammohammed Sheikh is an Indian painter, writer and art critic who has been a major figure in the Indian art world for half a century. His artistic career is closely associated with the renowned MS University of Baroda in Gujarat where after gaining his Master's degree, Sheikh went on to teach in the Faculty of Fine Arts, and where he was appointed Professor of Painting in 1982.
Title: Meeting other artists and developing my own style
Listeners: Timothy Hyman
Timothy Hyman is a graduate of Slade School of Fine Art, London, in which he has also taught. In 1980 and 1982, he was Visiting Professor in Baroda, India. Timothy Hyman has curated many significant art exhibitions and has published articles and monographs on both European and Indian artists.
Duration: 4 minutes, 33 seconds
Date story recorded: December 2008
Date story went live: 18 November 2010