NEXT STORY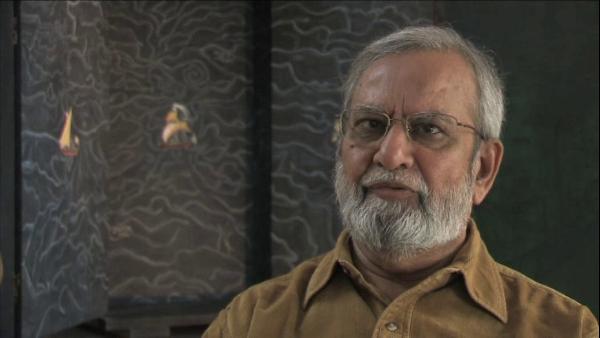 Literary activities (Part 2)
Literary activities (Part 1)
Gulammohammed Sheikh
Artist
1
2
3
4
5
...
7
Well, Baroda also became a place to test my kind of writing. I had leant to write, you know, in kind of a metrical verse. I had learnt so many other things from my friend and mentor Labhshankar. But it was my exposure to Suresh Joshi, a major literary figure who literally changed the course of Gujarati in the 60s by his short stories and his criticism. My association with him, you know, began almost as soon as I arrived. I sought him out, I think, in the first few days because I knew that he lived in Baroda. And we immediately started sort of kind of joint activities. In those days I lived in the house of another literary and political figure. Political, he was a political analyst, Bhogilal Gandhi. And we started a kind of a, what shall we call it, literary group, and we met every Saturday, or perhaps Saturday and Sunday but at least once a week, and it was mostly Suresh Joshi who read poetry or whatever that he knew. And we read Saint-John Perse at that time, before he got the Nobel prize. So, we were all very impressed when he got the prize. We said we knew a great poet. We had an income tax commissioner who knew French and he would read it in French, original French. And we were exposed to, I mean, among the great poets it was Lorca and Rilke, Kafka and there was, these were the great writers which Suresh Joshi introduced to us and we got into translating them. One journal started by Bhogilal Gandhi in the, in whose house we met, called Vishwamanav, 'world man', and Suresh Joshi then took over the journal. He had edited another journal but that journal which was originally a journal, Sarvodaya, that is Vinoba or Gandhian, it, Suresh Joshi turned into a literary magazine. It was called Kshitij, that is, that means 'horizon'. And I became closely associated with that. I published all my free verse poems there and I also began to write on art, first for Bhogilal Gandhi journal and then for Kshitij, and Kshitij I edited a special number on visual art in '63. So, these were the years, along with what was happening in the college, painting away. There were these literary activities which continued. And it was through literary activities that I knew Sunil Kothari, a dance critic who lived in Bombay and who wrote about dance, also a painter who is also a poet Pradumna Tana, also lived in Bombay, and through them Bhupen Khakhar, painter, who became more or less a lifelong friend. I met him in Bombay. Well, among the three, two of them, including Bhupen, were chartered accountants and Bhupen wanted to give up a kind of a lucrative job that he had. He had attended sort of evening classes in Bombay, in JJ School of Art, but was not happy. He wanted to come to Baroda and he confided in me. He wanted me to influence his family and somehow I managed. I think family first was very... I think they were not really happy with it. But eventually they realised, recognised, that was partly because I... Bhupen and I became very good friends in the very first year and I used to go to his place. I used to stay there in that Ketwadi Lane. Especially I hit it off with his mother and he was very, I think, he was kind of a mother's boy in one sense because he had no father. And I remember having eaten the most delicious meals, you know, in Bhupen's house. Interesting, Hindu family, but they do eat meat. Women cook but don't eat often, and this lady would cook me fish. Fish is not called fish. Fish is called bazaar. They say today they have bazaar. Then everybody would understand, by that name, that today fish is cooked in the house. Anyway, this was one experience and Suresh Joshi was in a way very, I would say, was crucial in my mind, literary... whatever work that I did.
Gulammohammed Sheikh is an Indian painter, writer and art critic who has been a major figure in the Indian art world for half a century. His artistic career is closely associated with the renowned MS University of Baroda in Gujarat where after gaining his Master's degree, Sheikh went on to teach in the Faculty of Fine Arts, and where he was appointed Professor of Painting in 1982.
Title: Literary activities (Part 1)
Listeners: Timothy Hyman
Timothy Hyman is a graduate of Slade School of Fine Art, London, in which he has also taught. In 1980 and 1982, he was Visiting Professor in Baroda, India. Timothy Hyman has curated many significant art exhibitions and has published articles and monographs on both European and Indian artists.
Duration: 6 minutes, 3 seconds
Date story recorded: December 2008
Date story went live: 18 November 2010