NEXT STORY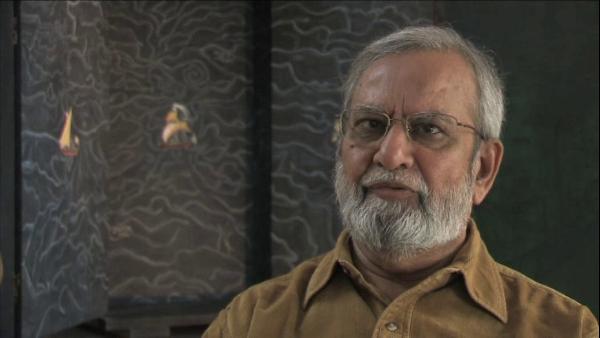 Group 1890 and having a show
Literary activities (Part 2)
Gulammohammed Sheikh
Artist
1
2
3
4
5
...
7
I wrote in a very strong Gujarati, or strong Kathiyawadi dialect. This is very kind of a robust sort of, you see, Kathiyawadi Gujarati is rather rough and raw. It also has certain musicality. I used that and I had written and I had already broken the metre while I was there but with Suresh Joshi and with my painting, well, in the Fine Art College, a ground seemed to have been prepared for me to break all rules and to throw them away. So, it is something which I wrote in the flush of, you know, kind of a, sometimes imagination, sometimes something which happened. But I wrote very feverishly. So, the language changed. It was not a language which I had chosen for poetry. It was a language which was spoken language, which was spoken. So, all words which would otherwise be barred from, you know, that kind of poetry or poetry with, you know, capital P, I sort of broke them sort of without... So, I think that was a great release. It was also a catharsis in a way and in a way it went with all this new excitement in art, you know, that was happening at other level. So, in a way writing and poetry went hand in hand.
Except that wasn't it much harder to find a vernacular in art than in poetry?
It was very difficult. That came at a very late stage. You know, it was not that. Art at that point of time was in that sense quote unquote modern with M capital. Modern with M capital at that point of time for us was great Henry Moore or Ben Nicholson or, then, as we moved away, it came to pop. You know, it was Rauschenberg and, you know, these are American artists. And in India it was the previous generation that is progressive artists, you know. You had Souza, you had Husain, you had Tyeb and all that. So, in a way it was within that circuit. So, the space for local was not created but even, for that matter, the poetry actually went from local to the other. Kathiyawadi was more localised, you know, that language in which I wrote, whereas when I began to break metres and wrote in free verse, it was sort of any Gujarati. It was not... there is no Baroda Gujarati or such thing. So, that was the next phase. So, I think literary in that sense was for me a great kind of a... it was not only a release but I think it was also a fulfilling experience, that, you know, it allowed me to do what I had wanted to do. I had never thought I would do, you know, it's something which, actually, you sort of... you know, broke all kinds of, you know... and feel free. You know, it broke all the sort of, no, it didn't, you were not bothered about what you were taught. Got out of that. And I think it was, I... you don't do great paintings perhaps but it was in a great flush of, you know, emotion and anxiety and all that. It allowed me to sort of come out of some of my, whatever obsessions that I... I think the poets in that sense were Baudelaire or Lorca, you know, and that these were immediate touch stones of that time.
Gulammohammed Sheikh is an Indian painter, writer and art critic who has been a major figure in the Indian art world for half a century. His artistic career is closely associated with the renowned MS University of Baroda in Gujarat where after gaining his Master's degree, Sheikh went on to teach in the Faculty of Fine Arts, and where he was appointed Professor of Painting in 1982.
Title: Literary activities (Part 2)
Listeners: Timothy Hyman
Timothy Hyman is a graduate of Slade School of Fine Art, London, in which he has also taught. In 1980 and 1982, he was Visiting Professor in Baroda, India. Timothy Hyman has curated many significant art exhibitions and has published articles and monographs on both European and Indian artists.
Duration: 4 minutes, 16 seconds
Date story recorded: December 2008
Date story went live: 18 November 2010