NEXT STORY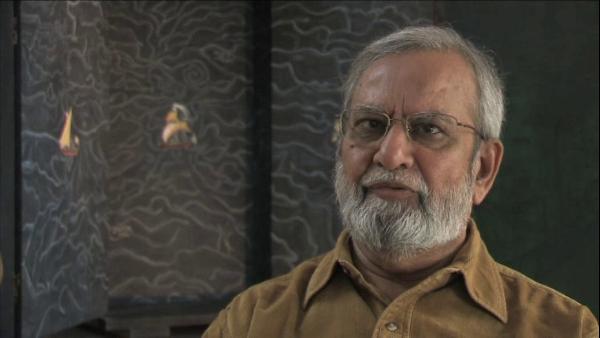 Other members of Group 1890 and our beliefs
Group 1890 and having a show
Gulammohammed Sheikh
Artist
1
2
3
4
5
...
7
In the early 60s some of us thought of coming together to form a group. I was in communication with artist Swaminathan who lived in Delhi and with a series of meetings some of them decided to meet in Bhavnagar where a couple, then Jayant and Jyoti Pandya, hosted us. And these 12 artists then decided to form a group which was called Group 1890, partly because there was a lot of discussion about the name and eventually it was agreed that the number of the house that Jyoti and Jayant Pandya owned would be adopted because that is where we met. Well, this was roughly to project a kind of a new generation of ideas, you know, which were, you know, in a sense very deeply sort of... born out of our concern for the modern, but at the same time there was a desire to sort of break away from the earlier Modernism, that is of the progressive artists group. It was also to, let us say, distance ourselves from the academic realism, at the same time sort of kind of a sentimentalism of a certain brand of Bengal school. So, in fact, we adopted a manifesto, largely drafted by Swaminathan, approved by all of us, and we then planned the show. It was going to be a large show, very large, because each artist was represented by eight to ten works and we hired Lalit Kala Gallery, the big hall, where it eventually took place. Well, around that period of time we had come into contact with a poet, Octavio Paz, who happened to be a Mexican ambassador in India. In fact, we discovered him, actually. I had been told by my literary friends who had translated his work into Gujarati, had read an item that Octavio was appointed Mexican ambassador and it was Vivan, Vivan Sundaram, the artist, his sister Davina Sundaram who became a film-maker and I, all went to see him and we found him in Ashok Hotel because he had not yet found a proper residence. He was absolutely delighted to meet artists and then he became a friend of Group 1890 and became very closely associated with it, to the extent that he wrote a piece for the catalogue which is published in the catalogue. Eventually he also became very close to Swaminathan and wrote a poem on Swaminathan, which is included in his collection, called Eastern Slope. Well, I... sort of was leaving for England at that point of time, so I was not present when the exhibition took place. But it was opened by the Prime Minister, Jawaharlal Nehru and I remember that we went to meet him to ask him whether he would open the show. Nehru appeared to be a broken man just after the China War, and sort of first he hesitated. He said, 'Oh, why me?' So, Swaminathan was quick to add that, 'Sir, we have come to invite you as a writer'. So, he was very pleased that he was being considered by artists as a writer. So, he happily agreed and I believe he did the job. Swaminathan was in one sense very political. He had a political career. He was in, I think, Congress and then he was with the Communist Party and then he renounced it all, after, I think, the Hungarian operation, the Soviet and... but he remained engaged in politics. He had among his friends some of the well-known politicians of the country. So, that is how we were able to, you know, reach Nehru. And I believe the exhibition was received very well and in a way it became a kind of a landmark.
Gulammohammed Sheikh is an Indian painter, writer and art critic who has been a major figure in the Indian art world for half a century. His artistic career is closely associated with the renowned MS University of Baroda in Gujarat where after gaining his Master's degree, Sheikh went on to teach in the Faculty of Fine Arts, and where he was appointed Professor of Painting in 1982.
Title: Group 1890 and having a show
Listeners: Timothy Hyman
Timothy Hyman is a graduate of Slade School of Fine Art, London, in which he has also taught. In 1980 and 1982, he was Visiting Professor in Baroda, India. Timothy Hyman has curated many significant art exhibitions and has published articles and monographs on both European and Indian artists.
Duration: 5 minutes, 53 seconds
Date story recorded: December 2008
Date story went live: 18 November 2010