NEXT STORY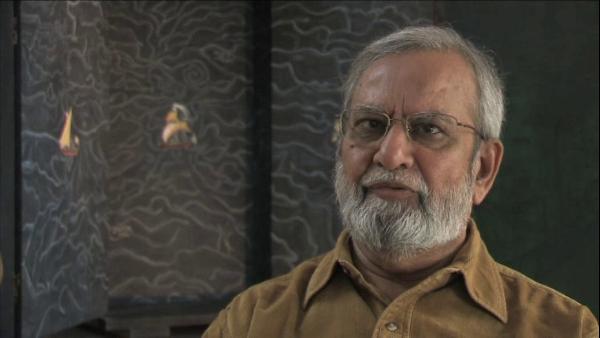 Visiting museums and travelling in Europe
Going to study at the Royal College of Art in London
Gulammohammed Sheikh
Artist
1
2
3
4
5
...
7
But, as I said, I was leaving for England. I had Commonwealth Scholarship and I then went to Royal College of Art. But this was a... big experience. I was thrilled because, first, I wanted to see great works of art and that would be available in the museums. I wanted to travel and see what was not only in England but elsewhere in Europe. I also was drawn towards great cinema and I thought that I'd be able to see those films I had read about and I learnt that 8½ was running and it was my very first day in England that I went to see 8½. And so the first whole year I spent sort of watching all the great films. You know, all Kurosawa and Buñuel and Godard and whatnot. Well, Royal College was an experience in itself. There was a very kind and sort of fatherly figure called Carel Weight who happened to be the principal at that point of time, and he used to sort of ask very warmly about my wellbeing and usually come and ask, you know, when, whether I was settled or not. Anyway, I must say... very heart-warming. I eventually discovered his work and I found that there was something in it that was sort of, you know, a bit of a British Bonnard in him, which I loved, actually. I saw some of his paintings and I was very... I thought that kind of a gentleness with which he dealt with later was quite unusual. I don't know whether he was considered a great artist or not. Well, I had, among my tutors, Merlin Evans, Sandra Blow and Peter Blake. Well, they were all very nice. They... I communicated with most of them. But I think it was a period when I think these teachers had not yet dealt with artists or students from the East. Or, if they were, there were very few. I think it was in those days that the process began. There was an artist from Sudan, I remember, Kemala, a girl, and, now I don't remember but I think there were a few other artists from Europe and from America and perhaps from other countries as well. So, it was in a way slightly alien for me to be in that atmosphere, but gradually I got used to working in the studio. It was very strange because I was already teaching here in India and then I had to be a student again in a little sort of cubicle. You know, you had to produce your work. I didn't do much in the first 2 years. In the last year I did some paintings and then, it was just to get my RCA. But I must say that I had some very, very fine sort of, you know, I met some very fine people and I heard some very find people there during that period of time at the RCA. One was Peter de Francia. Peter de Francia was teaching in what you called general studies in those days but I didn't know him and I didn't know his work either. But I attended his lectures and I found that there was something that he was talking which I was not familiar with, particularly with regard to work of Léger, Fernand Léger, and I remember that he gave a series of talks on Léger. I must admit that I had a block about Léger and after hearing his lectures I think I got, I warmed up to Léger and I do remember, even in those days, I don't know because I was sitting in the audience or whatever but he talked about Kalighat and he connected Kalighat with the genre of that, the French colony in Calcutta, possible that some works of Kalighat reached French capital and that Léger was aware of it. But that apart, there were other teachers like Iris Murdoch was there, but I did not know much about... I occasionally attended but, there were a number of visitors, including George Steiner, and all these things at one level, at academic level or at the level of, let us say, ideas, help.
Gulammohammed Sheikh is an Indian painter, writer and art critic who has been a major figure in the Indian art world for half a century. His artistic career is closely associated with the renowned MS University of Baroda in Gujarat where after gaining his Master's degree, Sheikh went on to teach in the Faculty of Fine Arts, and where he was appointed Professor of Painting in 1982.
Title: Going to study at the Royal College of Art in London
Listeners: Timothy Hyman
Timothy Hyman is a graduate of Slade School of Fine Art, London, in which he has also taught. In 1980 and 1982, he was Visiting Professor in Baroda, India. Timothy Hyman has curated many significant art exhibitions and has published articles and monographs on both European and Indian artists.
Duration: 5 minutes, 39 seconds
Date story recorded: December 2008
Date story went live: 18 November 2010