NEXT STORY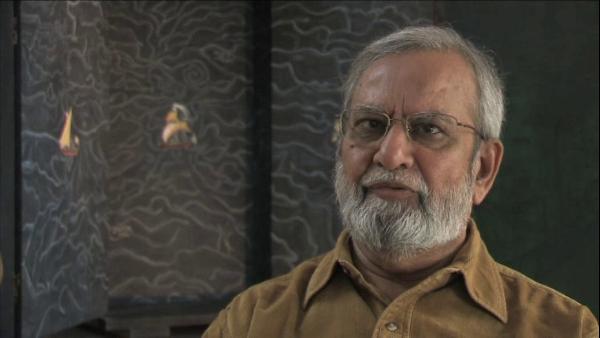 Developing my work, David Hockney and RB Kitaj
Visiting museums and travelling in Europe
Gulammohammed Sheikh
Artist
1
2
3
4
5
...
7
Well, besides that, the Royal College was also, they called it part of swinging London. So it was the time of Beatles, Carnaby Street and whatnot. Well, to an extent I was also you know, part of that and I enjoyed looking at what was happening, including the dance parties at the RCA common room. But what I was most interested in being in England was to both learn about great works of art, to know about great works of art and I visited museums. First it was V&A, Victoria and Albert Museum, because it was next door to painting school, and in fact we had a pass to go directly into the V&A. We used to have our lunch there, and there I discovered a lot of Indian paintings. I thought about Indian art while I was in Baroda, but this was even more so because you saw at close quarters literally every day, and I think I saw Hamdra paintings, I saw the Kota works, and I was very moved by them and I thought there is something in them which I don't know why don't I have this. And I discussed this later when I came into contact with Robert Skelton and he became my mentor of sorts and that he showed me a lot, you know. In fact, he introduced me to this great scholar called Stuart Cary Welch who had written on Kota painting, and I became more and more engaged, and eventually I wrote a short dissertation on Kota painting. But beyond that I also visited the British Museum a lot, and more so, even more, the National Gallery, and I got quite glued to that place because it attracted me all the time, and especially the Italian section. I would repeatedly go and look at the Piero della Francesca, Sassetta, Duccio, Giotto and also of course other great masters. But these are the ones whom I got more and more involved and interested in, and I thought that I should go and see more of it, and so I decided to travel. I think the very first year I travelled to Paris, I think it was December, if I remember it was quite cold, very, very dark and cold Paris. I lived in a, you know, stayed in a place which was not very far from the centre, just opposite the Notre Dame, and I even remember from my window I could see a view of the pipes and the little house, all dark and grimy, that Amrita Shergill had painted. So it struck a bell somewhere and I saw the Louvre, I saw Musée Guimet, I saw all these and I still remember that despite it was cold, I walked. I literally walked, and partly because I didn't have that much money, but my interest was to see all, see the places and discover it, and that way Paris was the first, in fact, that kind of point of discovery. And then I thought that I should be now making trips to Italy and other places, and the 3 years I was, I literally went to Italy every year. But I went to Spain, I went to Germany, I saw part of France, but it's mostly the north of Europe. And Italy I went repeatedly, and once I literally went up to Bari, from there to Brindisi, and I think twice I hitch-hiked in Italy, almost all through, from Milan to Naples. Wonderful experience of meeting people you know, who take you even to a short distance and take you home. It was in a way very, very sort of heartening because it was a bit like India, you know, because they responded sort of very, with open-hearted, I mean that warmth was almost contagious, and I remember meeting all kinds, even a motorcyclist would come and give you a lift, and I remember I wanted to see Madonna del Parto by Piero della Francesca which was in small village beyond Sansepolcro, and I reached Monterchi in the ramshackle car of a priest. I do remember seeing it and I was absolutely transported looking at that work. I mean also it was part of my journey, and that journey sort of in that sense was fulfilled like that. Similarly, going to see Duccio was a very, very moving experience, and seeing the great Master was, I think it still continues to haunt me, and then of course the great Sienese Masters, both Ambrogio Lorenzetti, Pietro Lorenzetti, and Simone Martini. Looking at those things was sort of, you know, being transported to a world one had dreamt of, and their world remained part of my world, you know, and it still remains, and I continued to go there. So I feel extremely grateful that I was able to travel to England and I went there and my teachers were very helpful, and most of them gave me tips when I went abroad, and I came back with renewed vigour. But somehow or other it didn't feed into my art.
Gulammohammed Sheikh is an Indian painter, writer and art critic who has been a major figure in the Indian art world for half a century. His artistic career is closely associated with the renowned MS University of Baroda in Gujarat where after gaining his Master's degree, Sheikh went on to teach in the Faculty of Fine Arts, and where he was appointed Professor of Painting in 1982.
Title: Visiting museums and travelling in Europe
Listeners: Timothy Hyman
Timothy Hyman is a graduate of Slade School of Fine Art, London, in which he has also taught. In 1980 and 1982, he was Visiting Professor in Baroda, India. Timothy Hyman has curated many significant art exhibitions and has published articles and monographs on both European and Indian artists.
Duration: 6 minutes, 40 seconds
Date story recorded: December 2008
Date story went live: 18 November 2010