NEXT STORY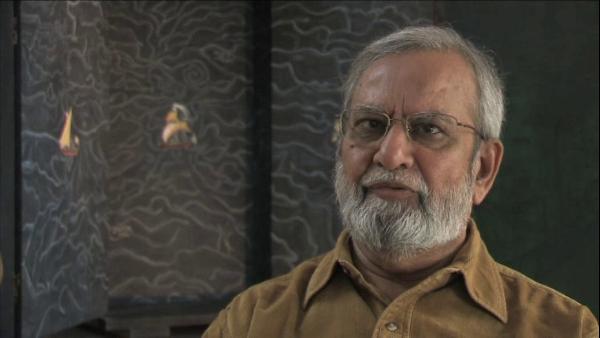 Moving back to India and my love of travelling
Gulammohammed Sheikh
Artist
1
2
3
4
5
...
7
Well, I was living alone, yes I had, but in that last year I stayed with two, three architects, in Addison Gardens with Shree Marathe, an Indian architect, David, I don't know, the Scot, and there was an English architect called Martin Hewitt. One year I spent, and incidentally, Howard lived on the same street. That is how I came to know him. I came to know him a little later through...
Howard Hodgkin?
Howard Hodgkin and Robert Skelton. Robert Skelton is a great friend, particularly with regard to his acquisition of Indian miniatures. The second year was a bit bleak. I couldn't find accommodation and actually, first year I was in Hampstead with Praful Dave and eventually I stayed on my own, but I was very... in fact, I enjoyed it. Praful was around, but I liked that area, the place. Living in Hampstead was a wonderful experience, walk around the heath, go across and see the... you know, the great museum, small museum, what is it, near...?
Kenwood?
Kenwood, even go to the chamber music programmes that they had on the weekends, and also see the great Rembrandt there. You know, it was a wonderful Rembrandt that I greatly enjoyed. I used my time in looking at all that I wanted to see. I went to see Hampton Court, I, you know, go to all these places and spend my time, and the rest of the time I used to see good films, and Hampstead had a wonderful theatre called Everyman Cinema, and I saw, I remember, whole series of Pasolini right from the beginning, from Accattone to other... great, great experience, and a very educative experience. Well, I had friends in the Royal College of Art, many, both men and women, and they were all... and some of them have remained my friends still now. Gabrielle Nesfield, who became Gabrielle Turner, you know, now lives in Kent, was a very, very close friend of mine. Then through her I met her French connections and they were there, you know, Sabine and Joel and these are still my good friends. It's quite interesting, in fact we had a photograph taken in '64 or something like that when I was in Paris, and then I went to Paris in '85 with my exhibition at the Pompadour, and Joel saw that all the friends who were there in '64, she collected them and we had a photograph with the same friends, you know, in '85, quite a moving, very lovely experience.
'85 was when you had your show at the Pompidou?
'85 I had a show at the Pompidou. So... well, England was I think a very learning experience in that sense. I collected lots of books, I collected lots of catalogues, I collected lots. In fact, the first year I bought a lot of poetry, all beat poetry. Unfortunately I lost it all because the second year there was, I had left it with a friend whose house was robbed and I lost everything. But I remember that I used to go to all the small bookshops and they had little magazines. That was the period of little magazines which continued right through the '60s, and in a way Vrishchik is part of that same story because we continued with a small magazine in India. So that was, those 3 years were very... very important years of my life.
Gulammohammed Sheikh is an Indian painter, writer and art critic who has been a major figure in the Indian art world for half a century. His artistic career is closely associated with the renowned MS University of Baroda in Gujarat where after gaining his Master's degree, Sheikh went on to teach in the Faculty of Fine Arts, and where he was appointed Professor of Painting in 1982.
Title: Social life in London
Listeners: Timothy Hyman
Timothy Hyman is a graduate of Slade School of Fine Art, London, in which he has also taught. In 1980 and 1982, he was Visiting Professor in Baroda, India. Timothy Hyman has curated many significant art exhibitions and has published articles and monographs on both European and Indian artists.
Duration: 4 minutes, 2 seconds
Date story recorded: December 2008
Date story went live: 18 November 2010