NEXT STORY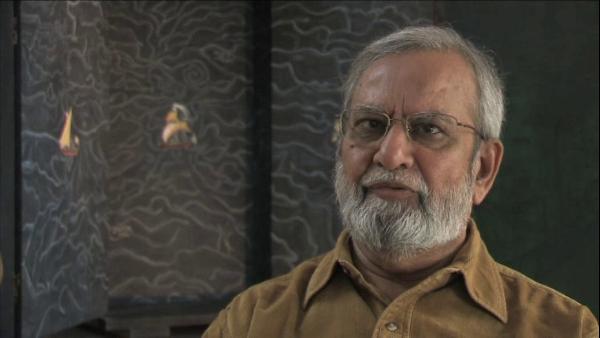 Meeting my wife, Nilima, and company painting
Moving back to India and my love of travelling
Gulammohammed Sheikh
Artist
1
2
3
4
5
...
7
When you came back, was it a shock?
Yes, a bit of a shock, yes, true, because I had sort of lived away from all the things that I was associated with. And so going to Surendranagar was quite an experience. It was difficult to, it was very difficult to sort of bring the two worlds together, and I didn't understand what it was, you know, to have these two worlds. You know, is it possible to live in those two worlds? That is what I had gained in England. In a way it was also Baroda which had paved the way for England. We had by the way an English artist called Gene Donovan, you know, perhaps the first British scholar in post-independent India. The second one was...
Derek Boshier?
Derek Boshier. Derek Boshier went to Calcutta, he didn't come to Baroda, and Gene was a good friend. He stayed on when I was leaving, and he became also a very good friend of Bhupen, my friend. So I had known, you know, and we knew about British art or British institutions, particularly art institutions, Courtauld and all because Parimoo had been there, and even my teachers had been to England. Subramanyan had been to an art school there.
He'd been to The Slade.
Yah. So, that way I was in a way familiar, so Baroda, or the passage towards that. So it became a kind of a consolidated kind of an art package, you know, of education, but I wanted to get away from that and return to my work. And in a way, going to Surendranagar, coming back to Baroda where I got the job again, again teaching art history, that was available to me, and so within a few months I was teaching again. And then it was a discovery. But I must speak about one more thing, and that is my hobbyhorse of travelling, that I had always enjoyed travelling and while I was a student in Baroda I joined every tour that was organised and knew literally, knew India through that. Ajanta, we went to Daipur, we went to Mahabalipuram, we went to Konarak, we went to Badami, literally, you know, almost four corners. And so that bug was still there, you know. As they say, there is a kind of a chakra in your heels because you don't want to sit somewhere. If you sit too long, you know, you always want to go away and do something. So, England provided that opportunity to travel in Europe, and I did most of it, and on return, again, I travelled in India. I went to Majapradesh, I went to Rajasthan and parts of South, and I think it was during that period when I was painting that I began to experiment. And it was I think around late 60s, '69 that I sort of stumbled upon using sort of Indian art, whatever... Persian imagery in my work. Well, it was a period when I was teaching and I also met my future wife there. She was a student and then we got married.
Gulammohammed Sheikh is an Indian painter, writer and art critic who has been a major figure in the Indian art world for half a century. His artistic career is closely associated with the renowned MS University of Baroda in Gujarat where after gaining his Master's degree, Sheikh went on to teach in the Faculty of Fine Arts, and where he was appointed Professor of Painting in 1982.
Title: Moving back to India and my love of travelling
Listeners: Timothy Hyman
Timothy Hyman is a graduate of Slade School of Fine Art, London, in which he has also taught. In 1980 and 1982, he was Visiting Professor in Baroda, India. Timothy Hyman has curated many significant art exhibitions and has published articles and monographs on both European and Indian artists.
Duration: 3 minutes, 59 seconds
Date story recorded: December 2008
Date story went live: 18 November 2010