NEXT STORY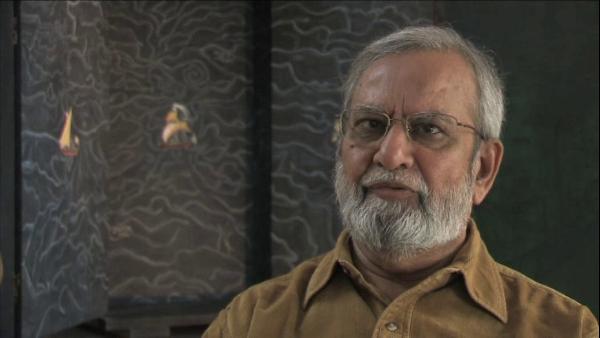 Realism and the Ajanta Cave paintings
Meeting my wife, Nilima, and company painting
Gulammohammed Sheikh
Artist
1
2
3
4
5
...
7
Well, Nilima was from Delhi. She had done history at the University of Delhi and then joined Baroda, because her teacher, an art teacher called Kanwal Krishna had sort of directed her to go and study under Bendre, so she came to Baroda and she was studying here. When I came, I think she was in second or third year, and then we got sort of, you know, involved, and later on I got married to her. So anyway, that was the period when we, Bhupen and I sort of were dreaming of something in our own work. When I came back, I saw Bhupen doing, he had already given up doing those collages in which he used to have these images of gods and goddesses and pictures, you know, pasted, and then he would make something like a shrine, and then with the graffiti and all that, and he was looking for something else. Well, it was that period from September to January, September '66 to January '67 when I was jobless, and both of us applied for a job in Chandigarh, Bhupen and I, and we went for an interview. Dr BN Goswamy was, I think, head of the department, if I am not mistaken at that, yeah, he was there, and we knew that perhaps we will never get the job, but we went there anyway, and we never got it. But it was a very crucial experience for us both. We both talked a lot about what we wanted to do. I remember Bhupen talking about 19th century company painting, and he said that there is something in that, and I was talking about let us say a little earlier, both19th and 18th century, and I said that, you know, why can't we use this idiom? Can we use it? It was a big struggle, and I remember when we came back we both embarked upon our own journeys, and Bhupen did his view from Dharamsala. It was very fine and very... I think it was a kind of a, what shall we call it? It was kind of a turning for him.
A breakthrough?
A breakthrough in his work, and we were all taken by that, it was remarkable. But I did four or five small paintings during that period of time, but I was sort of in a territory slightly different from his. I was referring to, I was also doing collage, but I sort of dealt with imagery in a different way. Bhupen had already got his humour in that work itself, you know, when he put them, Nathdwara images, these four men seated at the bottom.
Did you feel you were breaking with the ethos of the 1890 position?
Yes. Well, it was both. At one level, what we thought we would do, which we promised in 1890, was in a way being fruition [sic] there, at the same time breaking from the work that we were doing up till then. So it was not only a break from the progressive, it was a break from our previous work as well. So it was actually entering into something quite different and quite... at that time point of time, quite unusual, quite different, difficult.
Can you say a little about company painting and what would be implicit in that?
Well, it was I who was interested in the late miniature painting, and I sort of spoke to Bhupen. I said there is something in the way one would see that it could continue, that it shouldn't have died down. It would have, that language would have remained alive, and we could have extended that vision, that, and one thing, Bhupen did that. Bhupen picked up from that actually, you know. His paintings, if you remember the painting of man sort of you know, a gardener in Goa and also the painting with the cannon under the tree, they were all inspired by that kind of painting, you know, which was in a way referring to classical Indian painting but at the same time sort of moving towards a new era. The images of new era, you know, were appearing in his work, and also with a sense of, in a way it was a sense of involvement and detachment both, that also commenting upon it and also turning it upside down. And I think that is something which he was able to do at that point of time, and it continued for about 3 or 4 years.
Gulammohammed Sheikh is an Indian painter, writer and art critic who has been a major figure in the Indian art world for half a century. His artistic career is closely associated with the renowned MS University of Baroda in Gujarat where after gaining his Master's degree, Sheikh went on to teach in the Faculty of Fine Arts, and where he was appointed Professor of Painting in 1982.
Title: Meeting my wife, Nilima, and company painting
Listeners: Timothy Hyman
Timothy Hyman is a graduate of Slade School of Fine Art, London, in which he has also taught. In 1980 and 1982, he was Visiting Professor in Baroda, India. Timothy Hyman has curated many significant art exhibitions and has published articles and monographs on both European and Indian artists.
Duration: 5 minutes, 18 seconds
Date story recorded: December 2008
Date story went live: 18 November 2010