NEXT STORY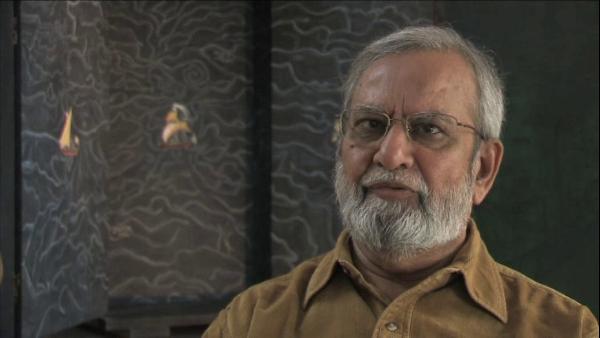 Emperor Akbar and the Hamzanama
Realism and the Ajanta Cave paintings
Gulammohammed Sheikh
Artist
1
2
3
4
5
...
7
You had rejected academic realism, but wasn't this another kind of realism?
Well, that was my hobbyhorse, not to actually articulate what, you know, all these terms naturalism, realism, illusionism, etc. So once we came to, let us say, sort of articulate that, we found that Indian art also had within it a great deal of naturalism, and somehow it was misunderstood. You know, even our art historians didn't talk about it. Either they were feeling guilty about it or there was some other issue, partialy because it was connected with the Mughal. But then I would say it was not Mughal, it goes back to Ajanta. There is a kind of naturalism which is employed in the paintings of Ajanta, you know, which you could connect with a lot of later paintings.
Tell... tell the listeners about Ajanta, because they won't know what Ajanta is.
I would say that a lot of Ajanta painting is very physical.
Tell them what Ajanta is though. They won't even know what Ajanta is.
Ajanta is... basically it's sort of these are caves. They are monolithic caves carved in Northern Deccan, that is Maharashtra now, and from, let us say roughly from 5th century onwards, but the earliest caves go even back to 2nd century BC till about 7th to 8th century. Quite a few paintings have remained, despite, you know, the passage of time, and these were lost. But what remains is a treasure, it's a great, great treasure. These are all about either previous lives of Buddha or about Buddha, but then it has a panorama of life because it deals with in fact people, and it's something, you know, very physic, the body, the human body, you know, plays a central role. You see, it doesn't deal with something which you call landscape, because in a way it all comes out of the wall, you know. Everything is predicted forth rather than receding in the background. So it is a vision, you know, of a kind, and if you were in Ajanta, if you walked through the caves, you would know that you are literally in a crowd. You know, you are walking through a crowd, and those bodies literally you brush your body with. They are remarkable paintings, great paintings in the sense that there is a continuity. There are multiple stories, and the stories are interwoven, and if you know the stories you would see that a character from here moves from here and then goes further and you can then, it unfolds another story. So Jataka tales or the tales of the previous lives of Buddha are similar to Katan, Katha Sarit Sagara, the ocean of stories, ocean and river of stories, where the story within a story within a story is told in multiple volumes, and I think it even goes back to Mahabharata, you know, the great epic. So, in a sense Ajanta is a culmination of that narrative tradition. Now, that fantastic narrative tradition of Ajanta was derived from, I think, perception, which was physical, and so they articulated the stories through physicality, and that physicality in essence, you know, can only be expressed in a language which is whatever, naturalistic of a kind. So that kind of a naturalism which doesn't deal with letters of foreshortening or doesn't deal with Chiaroscuro but is using naturalism in every special sort of way. So I think that existed within the Indian craft tradition, or Indian art tradition, and it was transmitted differently, you know, in different regions. It was Mughal where this naturalism found a kind of a different form, partly because Mughal was formed of multiple traditions. One was it was the artists who had worked, I mean who were from India, from different parts of India, and then the artists who came from Persia, who interacted with them, then European art which was shown to them. So all three together formed a kind of a basis for a new language which is Mughal, and it incorporates elements of all in different ways, and most interestingly what it does is that it incorporates but it doesn't swallow the origins of these traditions. The element of the... elements of the original language remains alive. I think this is something which is often not accepted. People would think that it is hybrid, you know, that doesn't gel, doesn't mix. I found it fascinating. Amongst these were the paintings of Hamzanama.
Gulammohammed Sheikh is an Indian painter, writer and art critic who has been a major figure in the Indian art world for half a century. His artistic career is closely associated with the renowned MS University of Baroda in Gujarat where after gaining his Master's degree, Sheikh went on to teach in the Faculty of Fine Arts, and where he was appointed Professor of Painting in 1982.
Title: Realism and the Ajanta Cave paintings
Listeners: Timothy Hyman
Timothy Hyman is a graduate of Slade School of Fine Art, London, in which he has also taught. In 1980 and 1982, he was Visiting Professor in Baroda, India. Timothy Hyman has curated many significant art exhibitions and has published articles and monographs on both European and Indian artists.
Duration: 5 minutes, 50 seconds
Date story recorded: December 2008
Date story went live: 18 November 2010