NEXT STORY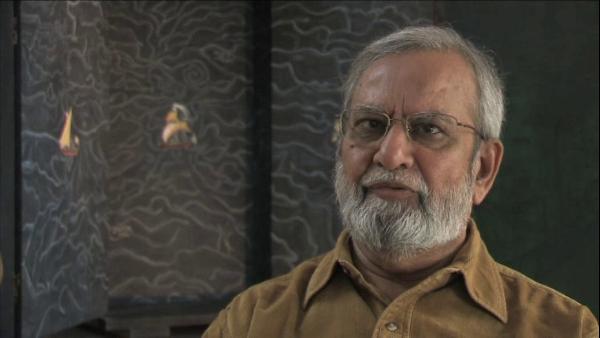 Geeta Kapur and the Baroda school
Vrishchick and Lali Kala
Gulammohammed Sheikh
Artist
1
2
3
4
5
6
7
Vrishchik had begun in '69. It continued until '73.
And Vrishchik means scorpion?
Yah, it was a peculiar, you are asking why the name. We were in residence in Bangalore and we wanted to start a journal, and we all thought up a name and we said oh, what could it be? All kinds of names were suggested, and eventually, like 1890, you know, we fell upon, we said what is, what you call Rashi that is the astrological sign... that is Scorpio, and there were, we were about five or six persons there and four of them were Scorpio. Nilima is Scorpio by the way. So you know, that is how it was adopted. But anyway, it did some work of stinging, you know, at the Lalit Kala Academy.
And in a way was that... did that begin to form a core of fellow travellers?
Vrishchik?
Yes.
Well, that was the need of the day, that there was no communication channel, there was no art journal. There was one magazine which Lalit Kala published, which was very indefinite, and there were hardly any other, you know, channels through which the artists could talk. So our idea was to open that channel to actually make it possible for artists to communicate and then also raise issues. I think what Swaminathan had talked about Lalit Kala Academy, we took it up and we actually mounted a protest against Lalit Kala and the great, you know, exhibition called the Triennale that was to take place that year. So Vrishchik became the forum for sort of these views and comments and ideas and criticism.
Perhaps it's worth just saying a little more about the art world in that way, what Lalit Kala represented, sort of like the Royal Academy.
Well, Lalit Kala was set up, if I am not mistaken, in 1955 and it was supposed to be, it was meant to be a national art academy to deal with visual arts. And so it would have an exhibition, a national exhibition which would also award prizes which would be called national awards, and then it was supposed to in general look after, let us say, or you know, make publications, etc. But you see, it was all composed of nominated members. A large number of them from the government hierarchy, and many came from all kinds of organisations, and so basically it was not representative. It was not representative of artists. It had members, you know, who had some kind of association or connection with art, but most of them were inactive. They were not doing anything, and the level of national exhibition had also fallen, and hence I think there was a great need, you know, to revamp that, you know, to do something. But should we or should we not, you know, because at that point of time we were not thinking politically, but we were only talking about reforming Lalit Kala Academy. But it became a political movement because we all got together and we had artists writing about them, and Vrishchik became a forum. So we published letters of artists in Vrishchik. They aired their views, both sides, and eventually the government appointed a committee. There is a whole story about that.
Bhupen Khakhar was the other editor, but something of a sleep... you were the real editor?
Well, Bhupen was not really interested in anything, but I wanted that kind of moral support at the same time, you know. He was a... I mean in my life at that point of time, he was a very important figure, and so we wanted to work together. He remained, he didn't do much. Occasionally he would contribute, but he was around, but he was supportive, I must say, yah.
Gulammohammed Sheikh is an Indian painter, writer and art critic who has been a major figure in the Indian art world for half a century. His artistic career is closely associated with the renowned MS University of Baroda in Gujarat where after gaining his Master's degree, Sheikh went on to teach in the Faculty of Fine Arts, and where he was appointed Professor of Painting in 1982.
Title: "Vrishchick" and Lali Kala
Listeners: Timothy Hyman
Timothy Hyman is a graduate of Slade School of Fine Art, London, in which he has also taught. In 1980 and 1982, he was Visiting Professor in Baroda, India. Timothy Hyman has curated many significant art exhibitions and has published articles and monographs on both European and Indian artists.
Duration: 4 minutes, 33 seconds
Date story recorded: December 2008
Date story went live: 18 November 2010