NEXT STORY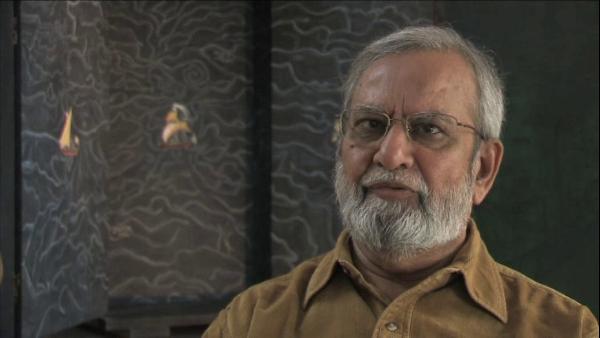 Kabir
The 1975-77 state of emergency
Gulammohammed Sheikh
Artist
1
2
3
4
5
6
7
Was the Emergency an important event for you and for this circle of friends?
Yes. Emergency shook us all, I think. It was a terrible time. In a way, one sees sometimes it as a, you know, when you look back, as a kind of a portent of things to come. It is one of those things that I remember came after the communal strife, communal tensions and communal conflict, the first one that we encountered in 1969 in Ahmedabad, among the worst. That was also a kind of an awakening of sort, you know, because here you were sort of, we became marked, your name became marked, and so suddenly identity became an issue, and then it was Emergency where everyone got marked. Literally all who sort of stood for, in a way, very simply freedom or you know, not just freedom of expression, you know, became targets.
Will you just explain a little to the ignorant what the Emergency was?
Well, it was a time when the then Prime Minister Indira Gandhi's election was set aside by a court of law. And she... and there was a great kind of a protest against the way in which the ruling party handled affairs. It culminated into a nationwide protest, with leaders like Jaya Prakash Narayan, you know, a sort of a liberal Gandhian, sort of very non-violent protests, but sort of, you know... that was viewed by the government as being a kind of a secession, secession, and so Emergency was invoked by the government in '75, and it continued for 2 years. Well, it sort of eventually lifted and it augured new politics in India of coalition instead of two parties. Now, politicians of different hues came together and they formed a government which was called the Janata government. But those 2 years of Emergency were sort of, you know, sort of, it was a dark chapter in our history, and many innocent, you know, activists and writers and theatre persons and also of course politicians, were not only put behind bars, some of them were tortured and many lost their lives. So that is the time. I think... I was doing a painting with sort of houses on two sides. It was mostly architecture, in fact something which would relate to company painting. The houses are in perspective, and it is sort of literally triangular streets, and I had figures in them and then eventually I had a figure with multiple hands who was a kind of a figure on the run. It was sort of being... it was right in the centre of it. Well, as I painted for, I think, a few months, eventually I removed the figure totally, leaving just the architecture and animals around. It was called A Speechless City. Vivan did a series of drawings, and eventually even paintings, and I think he was marked at that point of time, but luckily, you know, he escaped being arrested. But anything could have happened.
Gulammohammed Sheikh is an Indian painter, writer and art critic who has been a major figure in the Indian art world for half a century. His artistic career is closely associated with the renowned MS University of Baroda in Gujarat where after gaining his Master's degree, Sheikh went on to teach in the Faculty of Fine Arts, and where he was appointed Professor of Painting in 1982.
Title: The 1975-77 state of emergency
Listeners: Timothy Hyman
Timothy Hyman is a graduate of Slade School of Fine Art, London, in which he has also taught. In 1980 and 1982, he was Visiting Professor in Baroda, India. Timothy Hyman has curated many significant art exhibitions and has published articles and monographs on both European and Indian artists.
Duration: 5 minutes, 16 seconds
Date story recorded: December 2008
Date story went live: 18 November 2010