NEXT STORY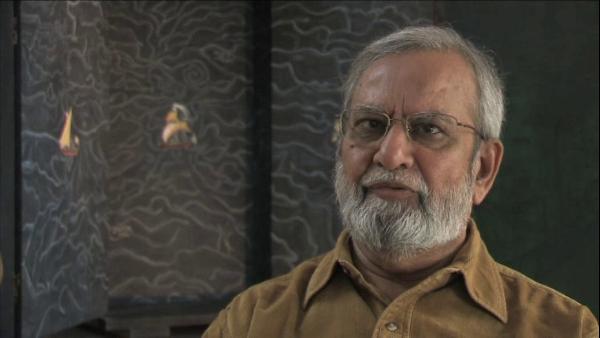 Creating panels for The Times of India office
About my paintings (Part 2)
Gulammohammed Sheikh
Artist
1
...
3
4
5
6
7
So the second painting, I mean the companion piece was in a way a kind of a journey, and I literally divide it in four parts, but also make a kind of a circular journey. On the left top it is invocation of my childhood imagery, like the dervishes or the fakirs dancing, but you also have the reference to Rabindranath playing here a Baul. I mean something, you know, you...
Explain that to... a little more.
Rabindranath actually...
Rabindranath Tagore?
Acted, acted, acted as a Baul saint, and there is a painting that Abanindranath made of Rabindranath of that. So, there is that kind of, but then there is, you know, a bridge that, a kind of a riverside area which would go back to my hometown. And if you come down, there is a little slaughter house and there are animals and there is meat and all that, but if you move on the right, then it was the house that I lived in. It was residency bungalow, and we had a big, large champa tree, a beautiful tree, and the monkeys used to frequent it because it was full of vegetation. I think the tall figure is that of Nilima, my wife, and then there is a little girl, I think it was Samira at that point of time, and it was the back of that house. Right down as you come on the bottom, you have the ambience of the university, the college where I taught, and you have Timothy Hyman, Mr Hyman, you, giving a talk showing Balthus. But then there are all kinds of characters, a man on a motorbike. All the young folks used motorbikes in those days. Then there is Rodin's 'Thinker', and there are a few odd things, and then the streetscape that opens is roughly on the, I think houses in Baroda, and there is also a gateway, which is similar to the gateway near Nyayamandir. And then you come round the circle and at the end bottom left you have a speaking tree in which there are five or six faces, one of Bhupen, one of Subramanyan.
Talk about 'The Speaking Tree'.
'Speaking Tree' is an image which I learnt about you know, while I was teaching, and later on I also saw that Richard Lannoy had done a book on using that metaphor for India. So I think the story is that in Sikandar Nama, the story of Alexander in the Persian texts, he had encountered on his way to India a speaking tree which spoke in many tongues. So mostly when it is painted, it has heads of animals and birds and human beings all sort of growing out of the tree. It was a fascinating image. So I sort of used it in my own way. So these are the five or six of my friends and mentors, you know, whom I put them in the tree, and there is a flying figure around. So altogether it becomes a kind of a circular journey, you know, and then centres into the middle where I am sitting, and then there are images of Bruegel and well, perhaps some other references. But that is how that painting was construed. So in a way, these two are autobiographical, specifically related to both situations and on my, you know, whatever my concerns are, you know, with regard to quoting, bringing together past and present. The other two are more or less about towns or cities I lived in. 'The Speaking Tree' is like the street that I lived in, in my childhood, in Surendranagar. It has a mosque in the middle, that green building with, there are a few praying there. And then surrounding that are, you know, stories, all sort of little tales, you know, of people in their little houses or homes or places where there is a sort of a man beating a woman. There is also a couple there, there is a woman combing hair, things like that, and there is a little boy watching the whole thing. But also the stories are of slightly different kinds in the sense that there is on the tree a man sitting and reading something. It's like a kind of a genial ghost, you know, we call a sort of a genie. 'Jinnat' is the word that is commonly used, or that up there in the ground just before the streetscape opens, there are two angels who are picking up a figure. That is almost a self-portrait, and in which you don't see anything, there are no shadows. So it relates to, I mean the stories I had heard in my childhood that the angels do not cast shadows, and only dogs can perceive that. So there are two dogs barking there. Anyway, these are all personal things. I don't know whether it makes any sense, you know, whether, the mystery of the painting or the, you know, the magic of the painting or the way it works or the way it doesn't, you know, it is all beyond this. This is just a simple description, you know, it melds. So similarly if I were to describe 'City for Sale' it also would mean that, you know, there is the cinema hall right in the middle, the Bollywood pot boiler, you know, about that triangular lover about sort of a mega star with his wife and his paramour. So they made a film of it. You know, the real life was made into what they call kind of a film, and that was playing while the, what we call riots, you know, communal conflict was raging in the town. So I did the two simultaneous things, you know, which is something which was referred to.
Gulammohammed Sheikh is an Indian painter, writer and art critic who has been a major figure in the Indian art world for half a century. His artistic career is closely associated with the renowned MS University of Baroda in Gujarat where after gaining his Master's degree, Sheikh went on to teach in the Faculty of Fine Arts, and where he was appointed Professor of Painting in 1982.
Title: About my paintings (Part 2)
Listeners: Timothy Hyman
Timothy Hyman is a graduate of Slade School of Fine Art, London, in which he has also taught. In 1980 and 1982, he was Visiting Professor in Baroda, India. Timothy Hyman has curated many significant art exhibitions and has published articles and monographs on both European and Indian artists.
Duration: 7 minutes, 23 seconds
Date story recorded: December 2008
Date story went live: 18 November 2010