NEXT STORY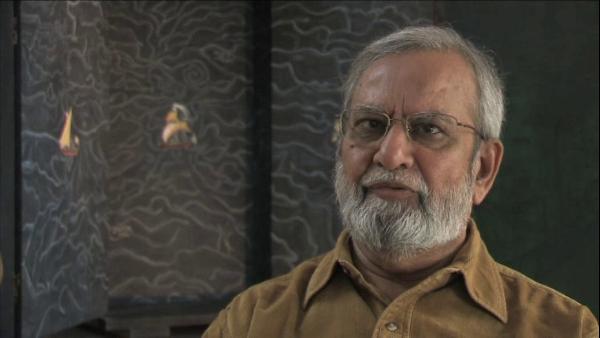 The story of books
Using computers for my work and mappa mundi
Gulammohammed Sheikh
Artist
1
...
3
4
5
6
7
It was in 2000, 2001 when... in fact, the son of my, one of my literary mentors, Bhogilal Gandhi, at whose place I used to stay when I was a student, started... who is a graphic designer and who started a digital art gallery called Art Underground, and he invited artists to come and learn if they wished to use computers to make art. I was quite, sort of, attracted to that and I went and did something which seemed to, in a way, open another avenue. Let me explain it. It was difficult first of all to, you know, how to use the mouse or use photoshop or draw. They said, well, there are hundreds of colours and you can use pencil, you can do it like crayon, you can do it like charcoal, you can... I wasn't interested in that. I said, well, if I can do it manually why do I have to do it on computer? But then it was, the idea struck me that I had done a painting, it was an oil, it's called 'Talisman', and I had made it into, it was like a checker board and in the sections, you know, circular, are in the square and rectangular, I think square sections, I had placed images which were all quotations. I had an image of an angel from Fra Angelico, I had an image of Prophet, I had an image of Mother Goddess from Bengal, I had a Mexican image, etc. And when I showed it to them they said that you have these images, originals so I said they are all from books. So eventually we got all these illustrations from books and we scanned them, and we placed them exactly as they were in the painting. And then we tried to put the same colour at the back and tried to make that painting on computer. But I saw that it looked quite bad; it looked awful. So it is a similar thing, you know, here is a painting that you see through light, it's not physical and also it is something light comes through and through which you see that work. So I said, well, this is not what I want to do and I'm not interested in that. So I said, okay, let's try so then I began to work on the images and I changed colours. And then I said, well, this image can be made bigger, it can be made smaller, it can be shifted around, you can play with them. But originally the idea was, when I was doing a checker board with these images, was of play, placing them in different places. But that one did by talking an image from the book then making a Xerox copy, then making a tracing and then making a drawing and then transferring it on the canvas and then filling up with colour, etc. The process worked, no matter how you tried to keep to the original it changed when you did it by hand. Because you know, your hand, your mind, the way you work, the day you work, you know, you effected some change or you thought that this is not right and you did that. So it was not a replica; it was not. Yes, it was scanned the same maybe, it wouldn't change. So that was the main issue, you know, I was dealing with a different kind of process and the image that I was working with was literally, now, it was identical to the image that I had picked up – it had not gone through that transformation, that change. So the colours that you do when you paint, you know, in an image which you have drawn by your own hand, would be the colours, that imagine the process of, and it takes time, it takes sometimes days, even months. And you feel like changing it, you give it a wash or whatever, you redraw it or you paint, etc. Well, here it's a matter of, not minutes, it's a matter seconds – you can change the colour, you can make it bigger, you can make it smaller, you can place it on the left or on the right, etc. I said, why not? So I started making them smaller and bigger and eventually I made four 'Talisman', four paintings, four digital works out of them. Well, this is how it began but I was not interested in just making prints. I thought that unless there is an intervention of hand I would not feel satisfied. And at that point of time I chanced upon this map called Ebstorf mappa mundi, it was a picture postcard I picked up from the British Library bookshop. I learnt later that Ebstorf map was made on parchment and it was sewn together, it was about 13 feet wide and that it was on display in a church in Hamburg, if I'm not... Hamburg or Hanover, and it was destroyed during bombing, allied bombing in World War II. I said, that is all the more reason to do it, to do the map again, a kind of a world map, which was a 13th century vision and it was a painted map. And it had a sort of image of Christ, His head on top, hands on the right and the feet below. The entire world, in a sense, was Body of Christ. And there was Jerusalem in the centre, there were hell and heaven on one side, there were the great rivers, and the ocean, etc. Well, computer was very handy in this because then I wanted to change places. I wanted to remove hell and heaven, I wanted to replace the image of Christ with something else, but I wanted to retain hands and feet – and I ended up making some 30 odd mappa mundi's out of that. I may still make more because that structure was fascinating, and all I did was to use the structure of the ocean and the land and remove all other images and placing into them Ambrogio Lorenzetti, placing into them an image of Ram chasing a deer, placing into them Majanun of the Persian lore, you know, the archetypal lover who is in search of his beloved Layla. And I was fascinated by the image of Magdalene, Mary Magdalene and especially the one in which she tries to touch Christ when He emerges after Resurrection, and Christ, sort of, says noli me tangere, do not touch me. Somehow I managed to, I thought that perhaps, so I got another map and with that circular map I put a kind of rectangular portion from another map and placed these four, Majanun and old woman, Mary Magelene, there was a dancing man and then I chose an image of Kabir weaving from the painting I have referred to earlier, as four cardinal points, as it is in navigational maps. And then in between I began to change, add to them. And then I printed these maps on simple water colour, often Arches or Waterford, in order to paint over. So in these maps I emptied out a number of areas and these areas I filled up with water colour or gouache and the first time I made a series of 10 and I made a suite of mappa mundi, each one titled differently, then I made many more. And eventually, I also sort of made large images.
Gulammohammed Sheikh is an Indian painter, writer and art critic who has been a major figure in the Indian art world for half a century. His artistic career is closely associated with the renowned MS University of Baroda in Gujarat where after gaining his Master's degree, Sheikh went on to teach in the Faculty of Fine Arts, and where he was appointed Professor of Painting in 1982.
Title: Using computers for my work and mappa mundi
Listeners: Timothy Hyman
Timothy Hyman is a graduate of Slade School of Fine Art, London, in which he has also taught. In 1980 and 1982, he was Visiting Professor in Baroda, India. Timothy Hyman has curated many significant art exhibitions and has published articles and monographs on both European and Indian artists.
Duration: 9 minutes, 43 seconds
Date story recorded: December 2008
Date story went live: 18 November 2010