NEXT STORY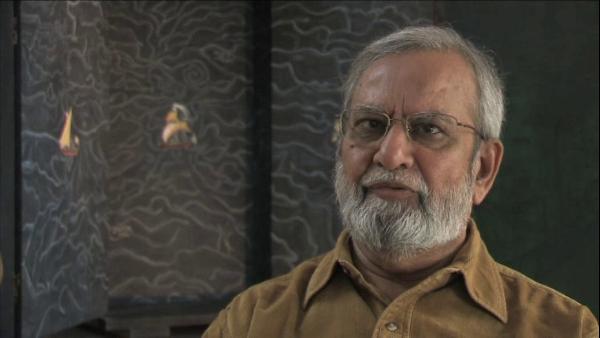 More about my family (Part 1)
Travelling Shrine – Home (Part 2)
Gulammohammed Sheikh
Artist
1
...
3
4
5
6
7
The second one was on the city of Ayodhya, which has become a site of mourning of sort. A mosque has been demolished, and it's sort of city is a kind of a... you know, witness to that kind of an event that took place. So that is sort of a dirge on a city. The third one was on alphabets, alphabet stories. I did a series of paintings as well, and this was in response to what happened in the early 80s when the rightist groups began to change children's textbooks by sort of planting sort of ideas of divides. So in a way, it was poison from, you know, childhood, and I thought it was all done through alphabets. Learning of alphabets was learning of the divide.
The divide between Hindu and Muslims chiefly?
Between Hindus and Muslims and Muslims and Christians, you know, between communities, you know, all in that sense. And so the idea of a book of learning alphabets, I used that, I had done a painting also, and something, you know, in which what one tried was to resurrect the alphabet again through the palimpset you know, of how many types of images have been used and how many ways the alphabet has been articulated in a... like 'a' stands for something, 'ba' stands for, 'ka' stands for something. All these were like 'A' for apple in English. You know, you would have A standing for, you know, aggression, let us say, you know, and it has a different meaning, you know. So, I chose in that shrine words from dictionary beginning with 'a' in the Indian languages, you know, vowel sounds I have separately put, but they are all, each one is written as a full letter. So, I started with 'a', and then I ended with 'gna', this is the last. Now, 'a' the first word is asaliyat. Asaliyat is difficult to translate, but what is genuine, what is real, what is true, could be within the meaning frame of asaliyat, and 'gna' relates to knowledge or wisdom or whatever else that is associated with learning. But if you put 'a' and 'gna' together, it would be a strange combination. 'A' and 'gna' means opposite of knowledge. Anyway, this was just a game, you know, one would play. So, I wrote words which I had picked up, from asaliyat to gnana from the dictionary, sometimes arbitrarily, sometimes specifically chosen, and I sort of worked on it like Rabindranath Tagore was while writing poetry, he used to scribble over them, and so the words would become images.
Erasions?
Erasion. And I did all, I erased them all, all the words. I wrote them and erased them, and that became some kind of a pictorial science, but unreadable. But I got on the door, that is the wooden door of the shrine, all letters carved out, which cannot be erased, you know. They remain. They are actually carved into wood. And then all the words which had been erased are printed inside the centre on two sides, on the front and the back. Another one that I did was about, anyway, it was also about demonic images and about Kabir and about the dancing dervishes and that had in the sanctum poems of Kabir on two sides. So, the one that I was planning to do on a large scale, I thought that here I should again make an autobiographical statement. In some ways, returning to some of the ideas that I had played with earlier, and so I named it Home. It has images which relate to even physical home. For instance, one door has a view of the city of Baroda taken from Google Earth so you have an actual sort of satellite image, which we painted. And in the middle, I have the image of the area I live in, that is called Pratapgunj, with all its lanes and by-lanes showing. And I freely painted over that using images from my old paintings, from Returning Home, from, you know, from... no, it is from About Waiting and Wandering, Speaking Street and all that, and incorporated them into something which, let us say, worked as a kind of a, so it is worked as an image, which was called Niharika, which is the name of this house, from Google Earth. But then in the centre within, you know, the chamber, you know, where you enter, inside, on one side I had a speaking tree, which I constructed out of a Persian painting, and there in the tree are images of various kinds. There are these Sufi dancers, there are these bhakta, that is of Hindu origin. There are the musicians. At the same time there are displaced people from Iraq. There is an image of the Abu Ghraib Prison, there is a car burning which is from 2002, Gujarat, there is an image of the Bamiyan Buddha which was destroyed. So, that speaking tree, you know, is full of these images, and it is an 8 foot image. So, just opposite that I have an image of a big boat which is anchored on the one side by Gandhi and on the other side by Kabir, and behind is sort of a kind of an oceanic backdrop. On top of it floats houses, images of my own home in Surendranagar, including the door of the place where I was born. And on the ceiling I made a sky, photographed sky, and on two sides as you enter, it is an 8 foot image, 8 by 6, as you enter you see houses at the bottom which are from Surendranagar. And when you return on the other side at the opposite end, there are houses from Baroda, and around which in the sky are demons and angels and birds are flying over it, which was a backlit. It was actually lit from above.
Gulammohammed Sheikh is an Indian painter, writer and art critic who has been a major figure in the Indian art world for half a century. His artistic career is closely associated with the renowned MS University of Baroda in Gujarat where after gaining his Master's degree, Sheikh went on to teach in the Faculty of Fine Arts, and where he was appointed Professor of Painting in 1982.
Title: "Travelling Shrine – Home" (Part 2)
Listeners: Timothy Hyman
Timothy Hyman is a graduate of Slade School of Fine Art, London, in which he has also taught. In 1980 and 1982, he was Visiting Professor in Baroda, India. Timothy Hyman has curated many significant art exhibitions and has published articles and monographs on both European and Indian artists.
Duration: 9 minutes, 7 seconds
Date story recorded: December 2008
Date story went live: 18 November 2010