NEXT STORY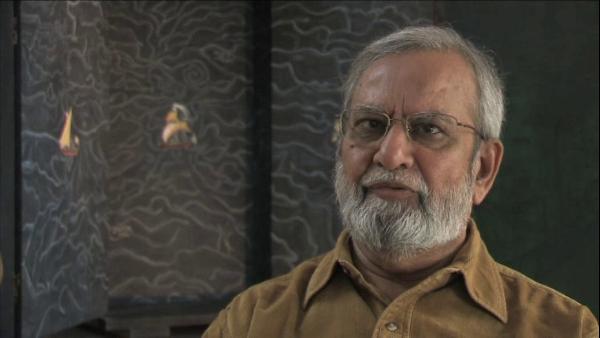 Bhupen Khakhar's sexuality
Gulammohammed Sheikh
Artist
1
...
3
4
5
6
7
Well, obviously there are problems when you have multiple projects on hand. I do feel the strain of it at times, so one needs to have space between two projects. It is better that way. I feel that, you know, if I have done an exhibition of that kind, I won't put aside other things unless, you know, there is a chunk of time I can attend, I can use.
Now, in the case of Benode Bihari it was difficult to continue working, but I did something. I didn't altogether sort of abandon other activities, because there were large gaps, you know, because there was no sanction. I mean, we were waiting for permission of the government, so during that period of time I would either do some writing or I would do some water colours or things like that, but I would not be able to undertake a big project. I did realise that. Similarly, if I have a project like the one that I recently finished, it was next to impossible to do anything else, you know, one had to put one's, you know, all one's time into that. Literally we worked for 5 months without break, you know, no Sundays, no Saturdays, and even my young friends... all the assistants who were working with me, they also had their fixed 6 hours, minimum 6 hours a day, sometimes 8 hours, but those 6 or 8 hours they were there every day. And when you work like that, you have to have that single-minded involvement to achieve that kind of a result. Writing, sometimes I do manage, but I have of late found that even writing, if I... you see, my writing is also partly connected with what I do... otherwise.
Well, it all is. I mean, Benode Bihari is ...
Yah. It's not something I write on something else. You know, it's all about things that I am involved in. Even my Gujarati writing for that matter is related to that. So, that also... unless you have a chunk of time, you can't. So I wait for that period of time and I will do that, but I must say that now I can switch off, you know, after the project is over. So it doesn't take that long to recover, otherwise I used to get too involved in that, too emotionally... and sometimes disturbed, and to get it out of your system took sometimes much longer. It's better now, I think. I don't know why, but it is. So, I did see this time the project was very, very strenuous, very trying. But anyway, I went to England, my daughter invited me, and so I just went and did nothing. Just spent a few days with friends, and I think it helped. You know, I got out of this, so before I undertake a project I will now... I think there is time for considering perhaps a larger project. Let's see how it comes out.
Gulammohammed Sheikh is an Indian painter, writer and art critic who has been a major figure in the Indian art world for half a century. His artistic career is closely associated with the renowned MS University of Baroda in Gujarat where after gaining his Master's degree, Sheikh went on to teach in the Faculty of Fine Arts, and where he was appointed Professor of Painting in 1982.
Title: Fitting it all in
Listeners: Timothy Hyman
Timothy Hyman is a graduate of Slade School of Fine Art, London, in which he has also taught. In 1980 and 1982, he was Visiting Professor in Baroda, India. Timothy Hyman has curated many significant art exhibitions and has published articles and monographs on both European and Indian artists.
Duration: 3 minutes, 33 seconds
Date story recorded: December 2008
Date story went live: 18 November 2010