NEXT STORY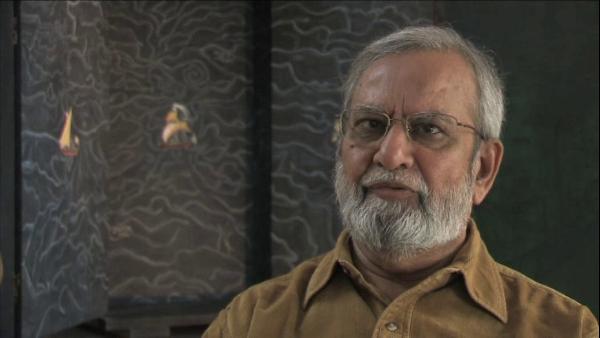 Politics and rivalry
Bhupen Khakhar's sexuality
Gulammohammed Sheikh
Artist
1
...
3
4
5
6
7
I would say to his credit that he handled his sexuality in an enormously, I would say intelligent way. I think it didn't cause any kind of a problem. We were worried. I as a friend had known it, and then I always thought that somebody... because you know, there are... you know, and 30 years ago it was not the same story, you know, because there were people who used to speak very derogatorily about gay people. Even some of those who became his good friends, you know, they also used that language. I remember that, and as you know that Bhupen sort of lived it fully. You know, he had his friends all the time. But the way he conducted himself, you know, even living in that place called Chikuwadi, which is a middle class Gujarati sort of area, and you would think that all those, you know, if they would perhaps be incited about that could have created problems for him. But in a strange sort of way... you know, he... made his, one thing was that his house was open so people could see what he was painting, even the very gay painting like Two Men in Bananas, I remember, or even Yayati. I mean you could literally walk into the house and see, you know, I think everybody must have noticed it. And his own servants, you know, like Pandu and others, and they all saw it day in, day out. Well, I am still a bit sort of, you know... not clear about how he managed it, but despite being right in the middle of such a kind of an area where people would have taken great objection to anybody doing that kind of painting, Bhupen somehow managed, and it happened slowly, gradually. So in a way, the eye of, you know, those who saw these paintings also got trained, as if there was a kind of an anticipation and they were prepared for it... and I think also his image, his... two kinds of image, one image of being a very gentle and amiable man, sort of man older than he was. You know, he projected that, and the second attention he got, because a lot of sort of important people visited his house, especially foreigners. And I think that kept people, you know, impressed, you know, by that - there was something very special about this man, and I think he conducted himself so well that I had no reason to feel anxious about. Earlier I was, I must admit, that in the '60s I was not too sure, but '70s I used to worry about him, and then '80s I think it almost became clear. I know that people were asking questions to me about his sexuality, and I had to hide it, even among the artists. You know, there were those who didn't... or they wanted kind of that I would corroborate.
Were you, were you not hurt that he hadn't... hadn't confided in you earlier on?
I think it must have been very hard on him, hard for him to confide. It must have been very difficult. He did confide to me, we had a correspondence. At one point at an earlier stage, you know, he even wrote to me, but he wouldn't openly tell me. At one point of time he even felt as if sort of I would not approve of it, and I would say that he had every reason to, because we could not talk about it openly. He must have gone through a very difficult kind of a journey, at what stage, when, to whom, where, it's not easy, and in a society like, you know, a middle class Gujarati society, to speak of that was not so, not possible, and I can quite understand that.
Gulammohammed Sheikh is an Indian painter, writer and art critic who has been a major figure in the Indian art world for half a century. His artistic career is closely associated with the renowned MS University of Baroda in Gujarat where after gaining his Master's degree, Sheikh went on to teach in the Faculty of Fine Arts, and where he was appointed Professor of Painting in 1982.
Title: Bhupen Khakhar's sexuality
Listeners: Timothy Hyman
Timothy Hyman is a graduate of Slade School of Fine Art, London, in which he has also taught. In 1980 and 1982, he was Visiting Professor in Baroda, India. Timothy Hyman has curated many significant art exhibitions and has published articles and monographs on both European and Indian artists.
Duration: 4 minutes, 37 seconds
Date story recorded: December 2008
Date story went live: 18 November 2010