NEXT STORY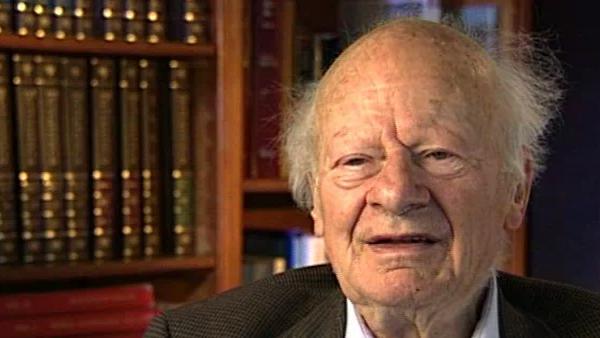 Max Born's papers on the theory of collision phenomena
Controversy over whether electrons are waves or particles
1
2
3
4
5
...
16
Of course there was a lot of... of controversy about the interpretation. There was Schrödinger who wanted to see his waves as something real, just like electric waves. And there was on the other side Niels Bohr, a much bigger authority, who strenuously objected to that; pointing out that after all electrons had been shown to be particles and one had the direct experiments seeing electrons in the tube. And that problem was then enlightened by Heisenberg's uncertainty principle which showed that you had to consider electrons both as waves and as particles, but when you use the particle picture then the position and velocity of the electron could not simultaneously be measured accurately. That fitted right into Niels Bohr's ideas and everybody including Sommerfeld accepted this picture. It took a lot of persuasion for Schrödinger to accept it.
[Q] And he never did.
He finally did.
The late German-American physicist Hans Bethe once described himself as the H-bomb's midwife. He left Nazi Germany in 1933, after which he helped develop the first atomic bomb, won the Nobel Prize in Physics in 1967 for his contribution to the theory of nuclear reactions, advocated tighter controls over nuclear weapons and campaigned vigorously for the peaceful use of nuclear energy.
Title: Controversy over whether electrons are waves or particles
Listeners: Sam Schweber
Silvan Sam Schweber is the Koret Professor of the History of Ideas and Professor of Physics at Brandeis University, and a Faculty Associate in the Department of the History of Science at Harvard University. He is the author of a history of the development of quantum electro mechanics, "QED and the men who made it", and has recently completed a biography of Hans Bethe and the history of nuclear weapons development, "In the Shadow of the Bomb: Oppenheimer, Bethe, and the Moral Responsibility of the Scientist" (Princeton University Press, 2000).
Tags: Erwin Schrödinger, Niels Bohr, Arnold Sommerfeld
Duration: 1 minute, 53 seconds
Date story recorded: December 1996
Date story went live: 24 January 2008