NEXT STORY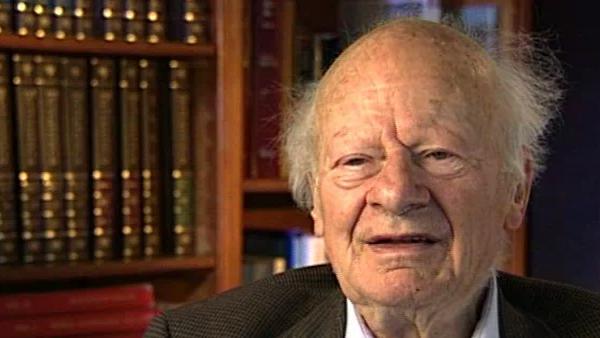 Electrodynamics and becoming a full professor at Cornell
Attending meetings of the American Physical Society
1
...
4
5
6
7
8
...
16
I did go to many meetings of the American Physical Society; most... most of the meetings in New York and all the meetings in Washington which were held at the time of cherry blossoms, which was delightful. And in addition to the Physical Society meetings in Washington, there were small meetings which were organized by George Washington University and by the Carnegie Institution of Washington, jointly. Carnegie Institution had as its main physicist were Tuve who had built an accelerator to get protons up to about a million electron volts with very accurately controlled energy, and they were doing beautiful experiments on the scattering of protons by hydrogen, that is protons by protons, and we learned a great deal about nuclear forces from these experiments. They were carefully evaluated by Gregory Breit and his students. But what I was... wanted to talk about were these meetings. They were about one week long, a little earlier in spring than the Physical Society and there were maybe 20 physicists at each of these meetings, usually... were mostly theorists, but sometimes a couple of experimenters and then later on astrophysicists, but it was mainly theory. And we discussed very much nuclear theory. We discussed the problem of high energy electrons penetrating more matter than... than anybody thought believable. We discussed quantum electrodynamics, Breit was very interested in that.
[Q] And this was organized by Teller and...
By Teller, Gamow and Tuve.
The late German-American physicist Hans Bethe once described himself as the H-bomb's midwife. He left Nazi Germany in 1933, after which he helped develop the first atomic bomb, won the Nobel Prize in Physics in 1967 for his contribution to the theory of nuclear reactions, advocated tighter controls over nuclear weapons and campaigned vigorously for the peaceful use of nuclear energy.
Title: Attending meetings of the American Physical Society
Listeners: Sam Schweber
Silvan Sam Schweber is the Koret Professor of the History of Ideas and Professor of Physics at Brandeis University, and a Faculty Associate in the Department of the History of Science at Harvard University. He is the author of a history of the development of quantum electro mechanics, "QED and the men who made it", and has recently completed a biography of Hans Bethe and the history of nuclear weapons development, "In the Shadow of the Bomb: Oppenheimer, Bethe, and the Moral Responsibility of the Scientist" (Princeton University Press, 2000).
Tags: American Physical Society, New York, Washington, George Washington University, Carnegie Institution, Merle Tuve, Gregory Breit, Edward Teller, George Gamow
Duration: 3 minutes, 12 seconds
Date story recorded: December 1996
Date story went live: 24 January 2008